In praise of the pen
W. Scott Olsen explores the important role and function of the writing instrument in the modern age of typing and paperless living.
FARGO — There is a speed to elegance. It's often slower, more careful, more refined.
The subject really doesn't matter. It could be a fine piece of cloth, a good watch, a well-made tool. Something about the way it is made asks for an appreciation that goes deeper than utility.
There are other versions, of course. Disposable this and one-use that. But then there are examples which approach fine art.
I am thinking about this because a short while ago I was searching for a pen. I am always searching for a pen. I pay no attention at all to where I set them down. In the workroom at my office there are cabinet drawers stuffed with disposable black pens, blue pens, red pens, Sharpies, markers. They are so cheap and commonplace as to have become invisible.
It hasn't always been this way. The pen used to be personal, idiosyncratic, matched to its owner by history and style and temperament. The pen is mightier than the sword because words matter. And because words matter, the act of creating them carries a sense of gravitas. Or at least it should.
In what now seems like pre-history, the world was taught good handwriting. The Palmer method was introduced in 1894, in a book called "Palmer's Guide to Business Writing," and the goal was to compete, legibly, with new-fangled tech: the typewriter. The Palmer method replaced Spencerian script (think the Ford and Coca-Cola logos) and was itself replaced by the Zaner-Bloser method, which taught both block letters and cursive.
Despite the fact that Zaner-Bloser still sponsors a national handwriting contest, very few schools teach handwriting anymore. We teach keyboarding skills. Instead of a thoughtful patience in forming letters and words and paragraphs, we expect 80-plus words a minute with a maximum of three errors. We live by the backspace key and the easy edit.
Larry Tesler, the computer scientist who invented cut, copy and paste, received worldwide tributes when he died in 2020. To be certain, writing as a way to explore new thoughts has never been freer or more creative. And yet, to also be certain, writing as individual artifact has lost cache.
But we still need pens (and pencils). And the good pen remains. More than just a museum piece, more than a Model-A on a dais in an exhibition space, the good pen has never really gone away.
The most expensive pen in the world is the Aurora Diamante, designed and made by Aurora Pens in Turin, Italy. Covered with nearly 2,000 De Beers diamonds (about 30 carats), it boasts a solid platinum barrel, a two-tone, rhodium-treated, 18-karat gold nib, and can be personalized with a signature, portrait or even a coat of arms. A recent pricing was $1.47 million, per pen.
Cesare Verona, the president and CEO of Aurora, is happy to send descriptions and photographs. When asked for more detail, however, he writes, "We do not disclose any info about the pens except what you can see attached."
Greg Danz, owner of Zandbroz Variety in downtown Fargo, is a good deal more forthcoming.
"A lot of stuff has come and gone at Zandbroz," he says, "but pens and books have stayed."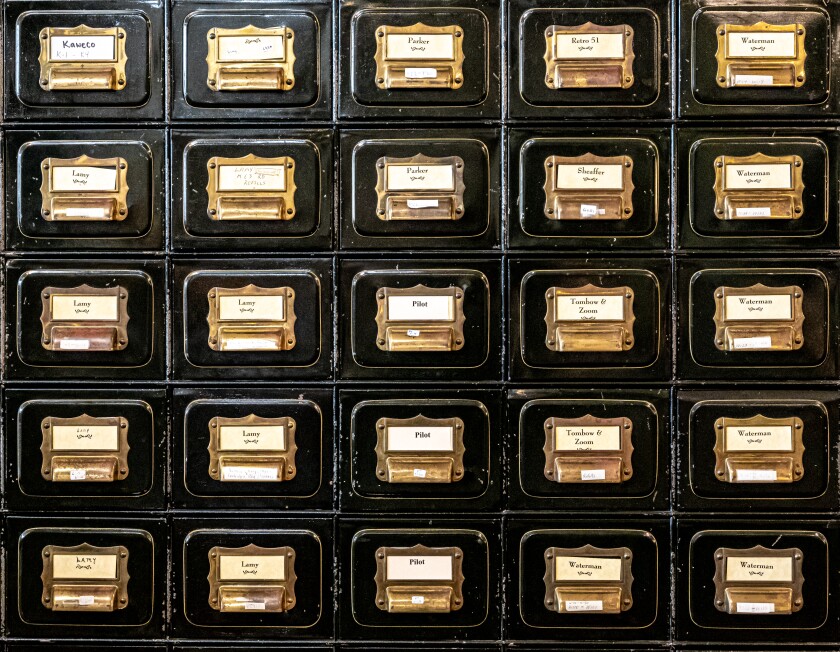 Famously, the center of the store is a case filled with fine pens. Behind it, an impressive set of drawers contains ink, cartridges, nibs, accoutrements of the art.
"There's something about a really well-made pen," he says. "It's just the feel when you find a pen that fits your hand. The appeal of a lot of pens, especially fountain pens, is that you can write better with them. They can be messy, and they are more work, but then you use one, and if you do any amount of writing, it makes life a little more interesting."
Brothers Josh and Nick, "makers" instead of president or CEO at of Birmingham Pens in Pittsburgh, which makes fine pens and custom blended inks, say, "Many of our customers believe a fountain pen connects an author to a reader at a deeper level than pixels on a screen."
"We had a long conversation a few years ago regarding the trajectory of our work," Josh says. "We concluded that ultimately we want to build a business that could last our lifetime (we're both in our 30s), and to do that we'd need to build relationships that would last a lifetime. To build relationships that would last a lifetime, we needed to build products to do the same."
"What's really been fun about this," Danz continues, "is in the beginning, it was mostly old guys who would come in and obsess about fountain pens. But over the last 10 years, young people have gotten into pens. They do a lot more writing than we probably ever did. Not letter writing, but they're incredible journal keepers. Most of our customers for good pens now are younger people."
"Fifteen years ago, we were all worried that the digital age would kill books," he says. "It hasn't. For the young people who grew up typing on a screen, the pen is kind of cool."
The most expensive pen in Zandbroz is a retractable fountain pen from Lamy at $399. Most are less. The store has the Carene, a flagship pen from Waterman, as well as pens from Parker, Pilot, and Retro 51, which has pens honoring Fredrick Douglas, the Smithsonian Institution, Abraham Lincoln, Native Americans and others. Danz shows me a Retro 51 with bright, colorful stripes, and I learn it's the Tornado model, decorated with the art of Gene Davis, who is part of the Smithsonian's American art permanent collection.
At Zandbroz, the Fisher Space Pen is a favorite because, due to a pressurized cartridge, it can write upside-down, underwater or in outer space. At Birmingham, the new model is a sleek black fountain pen called The Raven.
"It really is an art," Danz says. "People want fine nibs or calligraphy nibs or what have you, and we can change those out for some pens. Sometimes, people come in and just want to hang out and talk pens."
Talking pens is like talking cars, or speakers, or hiking boots. We talk about an object, when in truth we're talking about ourselves.
I tell him a popular accessory for the iPad is a screen protector called Paperlike. For people using a stylus, it creates the friction and feel of using an ink pen on paper. The developers call it an improvement.
Readers can reach W. Scott Olsen at olsen@cord.edu.