Lost Italian: Enjoy the freshness and color of spring with Rainbow Layer Salad
We are part of The Trust Project.
Happy first day of spring! Spring is a season of freshness and color, and my new Rainbow Layer Salad with Buttermilk Herb Dressing is a dazzling and delicious way to celebrate its arrival.
With its showy presentation, this big-batch salad is designed to appeal to every palate, making it perfect for potlucks, parties and picnics. An assortment of colorful ingredients, which includes a mix of veggies and protein, are placed in layers to maximize the salad's visual appeal while also providing a balance of flavors and textures.
Iceberg lettuce forms the base layer, and I love how its crisp and refreshing quality complements the salad. Typically, I opt for more nutrient-rich greens in my salads, but this dish requires a hefty lettuce that can support the other layers, and hearty iceberg is a perfect fit.
The ingredients are assembled in layers to create a stunning visual effect, starting with iceberg lettuce, followed by cherry tomatoes, red cabbage, orange bell pepper, fresh baby spinach, hard-boiled eggs, bacon, green onion, cheddar cheese and blanched asparagus. A glass bowl that is the same diameter from top to bottom, like a trifle bowl, is ideal, but any glass bowl will work in a pinch.
The measurements in the recipe are simply suggestions, and you can adjust the amounts and even the ingredients, as you desire. Swap out peas for the fresh asparagus or add diced rotisserie chicken as an additional layer — the possibilities are endless.
While the rainbow of colors might draw you in, the magic of this salad comes from the creamy, herb-filled buttermilk dressing that oozes through every layer.
This recipe was inspired by the classic seven-layer salads that were ubiquitous at school potlucks and church gatherings when I was young. While they looked so pretty and delicious, their thick mayonnaise dressing always stopped me dead in my tracks. As a lifelong sufferer of mayo-phobia (an intense disliking of mayonnaise in any form), those salads were, sadly, beyond my limited palate.
Since sharing my affliction in this column over the years, I have learned that I am not alone in my irrational fear of mayonnaise. Thus, for everyone who has ever suffered the deep disappointment of diving into a multi-layered salad only to get a mouthful of mayo, my luscious, mayo-free buttermilk dressing is dedicated to you.
Equal portions of buttermilk, plain Greek yogurt and sour cream are combined to form the base of the dressing, which receives a robust infusion of flavor from a medley of fresh herbs, including chives, dill, parsley and basil. Dijon mustard, a bit of garlic and olive oil round out the recipe to create a ranch-style dressing that is fresh and oh, so delicious. The dressing will keep in the fridge for up to one week and is best when prepared at least an hour or two in advance to allow the flavors to meld together.
The salad can be assembled up to 24 hours before serving and refrigerated until ready to serve, with the dressing added as the final layer about 30 to 60 minutes before serving, so that it can slowly trickle down into the layers.
Rich in color, flavor and style, my Rainbow Layer Salad with Buttermilk Herb Dressing is the perfect dish to celebrate the arrival of spring.
ARCHIVE: Read more Lost Italian columns and recipes
Rainbow Layer Salad
Serves: 8 to 10
Ingredients:
1 head iceberg lettuce, cut into 1 to 2-inch pieces (bite-size)
1 pint cherry tomatoes, halved
1 to 1 ½ cups red cabbage, shredded
Orange bell pepper, large dice (half-inch)
1 cup baby spinach leaves
6 hard-boiled eggs, quartered
10 strips bacon, cooked and roughly chopped
5 green onions, green and light green parts, finely chopped
Sharp Cheddar cheese, thick shred
10 asparagus spears, cut into 1-inch pieces, blanched
¾ to 1 cup buttermilk herb dressing
Note: Measurements may vary depending on the size of your bowl. A large glass bowl is ideal for this salad, especially one where the base is the same width as the top (like a trifle bowl).
To blanch the asparagus:
Fill a medium saucepan about two-thirds with water and bring to a boil over medium-high heat. Meanwhile, fill a medium bowl with ice and water; set aside. When the water begins to boil, add the chopped asparagus and blanch until bright green and just tender, about 2 to 3 minutes. Transfer asparagus to a strainer and place the strainer in the ice water for 2 minutes. Remove strainer and place asparagus on a layer of paper towels to dry.
Directions for salad:
Line the bottom of the bowl with a thick layer of iceberg lettuce, about 2 inches high. Add a layer of the halved cherry tomatoes, hugging the edge closely and then more loosely spread out toward the middle. Repeat with the cabbage, bell pepper, spinach, eggs, bacon, onion, cheese and asparagus.
Cover bowl and refrigerate for at least 1 hour before serving, or even overnight, to allow the flavors to meld.
About 30 to 60 minutes before serving, pour the dressing evenly over the top of the salad and refrigerate until ready to serve. There is no need to toss or mix the salad before serving, as the dressing will seep into the layers as the salad rests.
Leftovers will keep in the fridge for up to 2 days.
Sarah's Mayo-Free Buttermilk Herb Dressing
Makes: 2 cups
Ingredients:
2 whole scallions, chopped (white and green part)
½ cup fresh basil leaves, lightly packed
2 tablespoons fresh dill fronds
2 tablespoons fresh parsley leaves
¼ cup fresh chives, chopped
1 tablespoon extra-virgin olive oil
1 tablespoon Dijon mustard
1 large garlic clove, peeled
1 teaspoon kosher salt
1 teaspoon freshly ground black pepper
½ cup buttermilk
½ cup sour cream
½ cup plain Greek yogurt
Directions:
In a food processor fitted with the steel blade, add the scallions, basil, dill, parsley, chives, oil, mustard, garlic, salt and pepper and blitz until smooth, about 15 to 20 seconds. Add the buttermilk, sour cream and yogurt and blend until smooth and creamy.
Transfer to an airtight container and refrigerate for at least 1 hour to allow the flavors to meld. Dressing will keep in the refrigerator for up to 1 week.
Recipe Time Capsule:
This week in...
"Home with the Lost Italian" is a weekly column written by Sarah Nasello featuring recipes by her husband, Tony Nasello. The couple owned Sarello's in Moorhead and lives in Fargo with their son, Giovanni. Readers can reach them at sarahnasello@gmail.com.
1
/
2:
The buttermilk herb dressing is poured over the top of the Rainbow Layer Salad in advance to allow the flavors to meld together. David Samson / The Forum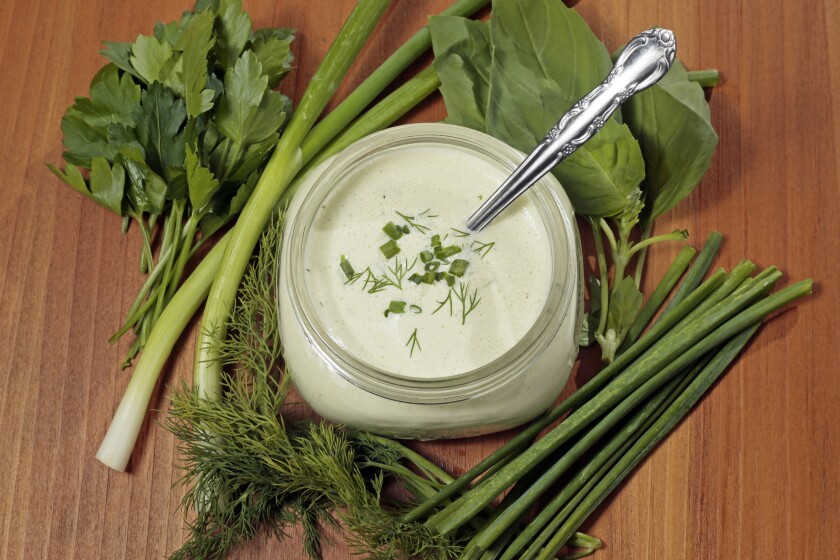 2
/
2:
This buttermilk dressing gets big flavor from a medley of fresh herbs including dill, basil, parsley and chives. David Samson / The Forum