Lost Italian: Made with love, Savory Sicilian Palmiers are a delicious appetizer for Valentine's Day
We are part of The Trust Project.
Valentine's Day is tomorrow, and I'm continuing my theme of aphrodisiac food with Savory Sicilian Palmiers, a delicious and easy-to-make little appetizer filled with love-inspiring ingredients.
A palmier (pronounced "pall-me-ay") is a sweet or savory French delight made from puff pastry that is shaped to resemble an elephant's ear or, in this case, a heart.
With Valentine's Day and my Sicilian family as inspiration, I'm filling my savory palmiers with an abundance of Mediterranean ingredients including sun-dried tomatoes, artichoke hearts, Kalamata olives and pine nuts. These foods have certain aphrodisiac properties that some believe will help stimulate the senses and create feelings of romance and desire; but for most of us, they are simply foods that leave us feeling warm and fuzzy. In other words, they are family-friendly for all to enjoy.
Puff pastry is made with a laminated dough that is patted with butter and folded into layers several times, resulting in a wonderfully light and flaky pastry. You can make puff pastry from scratch or save yourself the hassle and purchase it pre-made in the freezer aisle at most grocery stores.
For this recipe, I use one sheet of frozen pastry that I've let thaw overnight in the refrigerator. I roll the pastry out on a floured surface just a bit until it is about 9 ½ by 11 ½ inches. At this point, the sky is the limit and you can top it with any assortment of sweet or savory ingredients.
For these palmiers, I've created a pesto for the base using sun-dried tomatoes, garlic, Parmesan cheese, pine nuts and extra-virgin olive oil. You can go old school and use a mortar and pestle to make the pesto, but I much prefer the ease and efficiency of my food processor.
To make the pesto, I add all the ingredients except the oil and blitz them until they are well-combined. The olive oil comes next, and it's important to add it in a slow, steady stream or it won't achieve full emulsification. The pesto can be made well in advance and refrigerated, or even frozen, before assembling the palmiers.
To assemble, I spread an even layer of the pesto over the puff pastry sheet, leaving about a quarter-inch free at the border. Next, I sprinkle about a half-cup of soft goat cheese crumbles over the pesto, followed by finely chopped Kalamata olives and artichoke hearts. I finish with a sprinkling of pine nuts that I've toasted in a dry pan over medium heat for about five minutes, which naturally intensifies their pine flavor.
Once assembled, I fold each side of the dough halfway toward the center, lengthwise, then once again until they just touch at the middle, followed by a final fold at the center to create a log. I let the log chill for at least 30 minutes, or even overnight, and then slice it into ¼-inch thick slices to make the palmiers.
Puff pastry performs best when chilled before baking and the palmiers should be refrigerated for at least 30 minutes before baking, or even overnight. Light, flaky and full of flavor, my Savory Sicilian Palmiers are not only made with love, but they taste like it, too. Happy Valentine's Day.
ARCHIVE: Read more Lost Italian columns and recipes
Savory Sicilian Palmiers
Makes: 24 to 30 palmiers
Ingredients:
1 sheet puff pastry, thawed
¾ to 1 cup sun-dried tomato pesto
¼ cup goat cheese, crumbled
½ cup Kalamata olives, pitted and finely chopped
½ cup artichoke hearts, finely chopped
2 tablespoons pine nuts, toasted
¼ teaspoon kosher salt
1 egg
1 tablespoon water
Directions:
Lightly dust a work surface with flour and gently use a rolling pin to roll the puff pastry sheet until approximately 9 ½ by 11 ½ inches.
Spread the sun-dried tomato pesto evenly over the surface of the dough, leaving about ¼ inch free around the borders.
Evenly distribute the crumbled cheese over the pesto, followed by the chopped olives, artichoke hearts and toasted pine nuts. Sprinkle with salt and place the sheet in the refrigerator to chill for 15 minutes until the dough is firm enough to roll.
In a small bowl, beat the egg with the water until combined and frothy; set aside.
After 15 minutes, remove the dough sheet from the fridge. Roll each side of the dough, lengthwise, halfway to the center, then fold each side again until they meet in the center, just barely touching.
Brush the top of each fold with the egg wash and then fold the sides together, pressing gently. Place on a cutting board, cover lightly with plastic wrap and refrigerate for 30 minutes.
Preheat oven to 400 degrees and line a baking sheet with parchment paper. Remove the pastry roll from the fridge and use a sharp knife to cut the roll into slices about ¼-inch thick. Place slices on the prepared baking sheet, face side up, 2 inches apart to allow room to expand while baking.
To create heart-shaped palmiers, pinch the bottom of each slice together to form a point (optional). Bake immediately or refrigerate overnight. The sliced palmiers may also be frozen for up to 1 month and thawed overnight in the refrigerator before baking.
To bake, brush the top of each palmier lightly with the egg wash and place the baking sheet in the center of the oven. Bake for 14 to 16 minutes until the palmiers are a light, golden brown. Remove from oven and serve immediately.
Sun-Dried Tomato Pesto
Makes: about 2 cups
Ingredients:
2 cups sun-dried tomatoes
3 cloves garlic, chopped
2 tablespoons pine nuts, toasted
½ cup grated Parmesan cheese
1/3 to ½ cup extra-virgin olive oil
½ teaspoon kosher salt
Directions:
In a food processor, combine all ingredients, except the olive oil, until well-blended. Keep the processor running and add 1/3 cup of the olive oil through the feed tube in a slow, steady stream until a smooth consistency is achieved. Add more oil as needed, continuing in a slow, steady stream to ensure emulsification.
Use immediately or transfer pesto to an airtight container and refrigerate for up to 2 weeks or freeze for up to 2 months.
Recipe Time Capsule:
This week in...
"Home with the Lost Italian" is a weekly column written by Sarah Nasello featuring recipes by her husband, Tony Nasello. The couple owned Sarello's in Moorhead and lives in Fargo with their son, Giovanni. Readers can reach them at sarahnasello@gmail.com.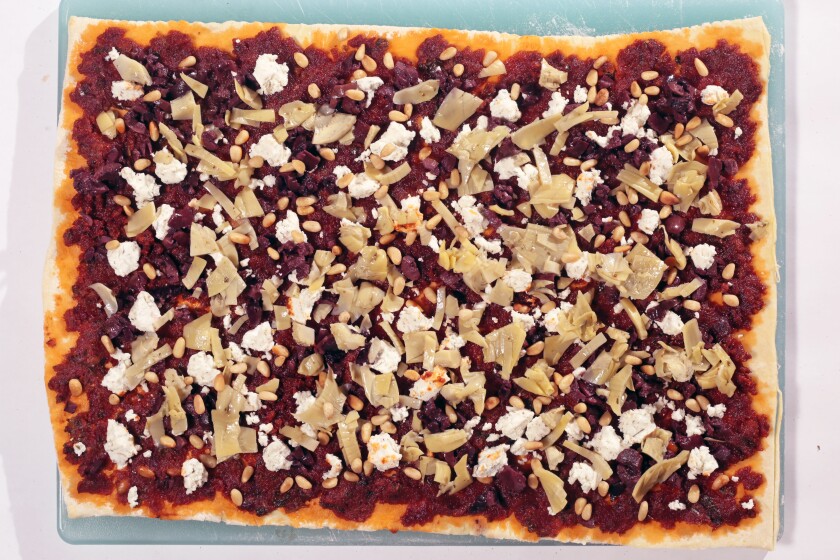 1
/
3:
The palmiers are stuffed with a variety of aphrodisiac foods, including sun-dried tomato pesto, pine nuts, artichoke hearts and kalamata olives. David Samson / The Forum
2
/
3:
To form the palmiers, roll each side lengthwise twice toward the center. David Samson / The Forum
3
/
3:
To create the heart shape, pinch the base point of each palmier before baking. Space them 2 inches apart as the palmiers will expand considerably in the oven. David Samson / The Forum