Nothing sour about these grapes: Try these sweet or savory summer treats
When I was growing up, you could always find a bowl of clean grapes in my mother's and grandmother's refrigerators during the summer months, and I've continued this tradition in my own family. We love grapes, but until a few years ago our experie...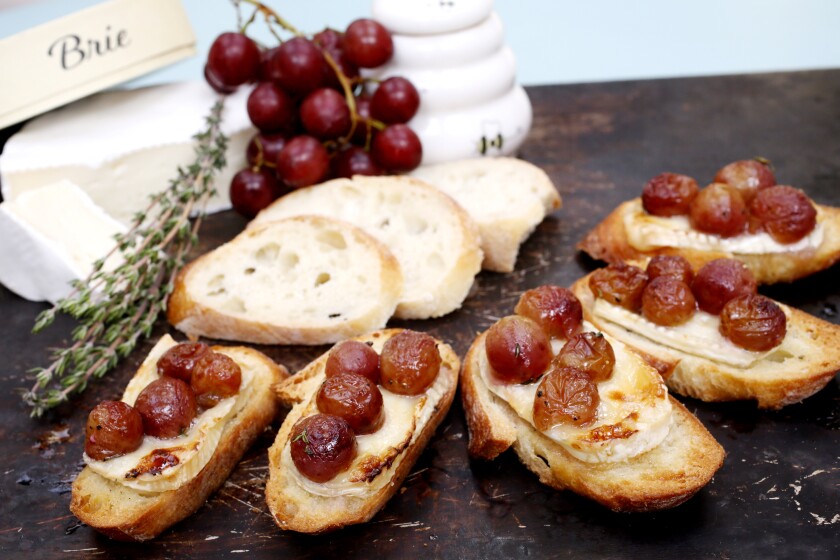 We are part of The Trust Project.
When I was growing up, you could always find a bowl of clean grapes in my mother's and grandmother's refrigerators during the summer months, and I've continued this tradition in my own family. We love grapes, but until a few years ago our experience with this sweet fruit was pretty limited - we'd either enjoy them raw and chilled by the handful, or in a more sophisticated state in a wine glass.
But then a friend introduced us to the world of frozen grapes, and we wondered how we'd ever lived without this delightful, fresh treat. Now I keep a large freezer bag full of frozen grapes in our deep freeze, cleaned and ready to eat whenever someone needs a quick cool down. With their high water content, nutritional value and natural sweetness, grapes freeze beautifully and are a great way to reenergize on a hot summer day.
At last year's Banquet in a Field event, we served frozen grapes with mint simple syrup as the intermezzo, or palate cleanser, course. All of the food we prepared was well received, but on that hot August night this simple treat emerged as one of the stars of the evening. People asked for second, and even third helpings, and luckily we'd prepared enough so that our young crew of FFA and 4-H volunteers were also kept refreshed.
Simple syrup is easy to make, has a long shelf-life and can be infused with nearly any flavor you desire. We use simple syrup to enhance cocktails, drizzle over desserts or dress up a fruit salad. Typically, simple syrup consists of equal parts water and sugar, but since grapes are naturally very sweet, I adjusted the ratio to two parts water, one part sugar.
My mother recently introduced me to a terrific appetizer that also uses grapes, but instead of serving them raw, the grapes are roasted with olive oil, fresh thyme, salt and pepper, and then served over crostini topped with baked brie.
My mom doesn't particularly care for brie cheese or grapes on their own, so I was surprised when she shared this new favorite with me. But flavors change when roasted, and these ingredients blend together so well that few can resist the unique appeal of this appetizer.
I used artisan ciabatta bread to make the crostini, and topped each piece with a slice of brie cheese. To add our own twist, I brushed each piece of brie generously with honey before roasting, and once the cheese began to bubble, I topped each crostini with a helping of the roasted grapes, and then returned them to the oven to bake until hot.
This roasted grape and brie cheese appetizer is delicious, and its lovely presentation will entice any skeptics (like my husband, Tony) to give it a try. And once they do, you'd better have a second batch in the oven, because these crostini will disappear quickly. Plain, frozen or roasted, grapes are the way to go this summer.
Frozen Grapes in Mint Syrup
Serves: Many
Ingredients:
One bunch red or green grapes
1 cup water
½ cup sugar
1 cup fresh mint leaves
Peppermint extract (optional)
Directions:
Before freezing the grapes, separate them from their clusters, wash them well with cold water and then lay them out on paper towels until fully dry to prevent them from sticking together. Grapes can be frozen in a freezer bag or airtight container for several months, even up to a year.
For the simple syrup:
In a small saucepan, combine the water and sugar and bring to a boil over medium heat until the sugar has fully dissolved and the liquid is clear. Remove pan from heat, add the fresh mint, cover and let steep for 1 to 3 hours. A drop or two of peppermint extract may be used in addition to or instead of the fresh mint.
Once the syrup has been infused with the mint, pour into a storage container or squeeze bottle, using a strainer to catch the mint. Refrigerate for at least 1 month.
Serve in small spoons or bowls with frozen grapes as an intermezzo (palate-cleanser) course.
Roasted Grape and Brie Crostini
Makes: at least 12
Ingredients:
3 to 4 cups red grapes, cleaned and separated from cluster
2 tablespoons olive oil, divided
1 tablespoon fresh thyme leaves, stem removed
1 teaspoon kosher salt
½ teaspoon black pepper
12 to 16 pieces of brie cheese, sliced ¼-inch thick
2 tablespoons honey
1 loaf artisan bread (ciabatta or French baguette), cut into slices ¼-inch thick
Directions:
Preheat oven to 350 degrees.
In a medium bowl, toss grapes with 1 tablespoon olive oil, thyme, salt and pepper until evenly coated. Place grapes in a single layer on a baking sheet lined with parchment paper. Roast in 350-degree oven for 8 to 10 minutes, until the juices just begin to run. Remove from oven.
Place bread slices on a baking sheet lined with parchment paper. Brush each slice with remaining olive oil, sprinkle each with salt and pepper and then bake for 5 minutes.
Remove from oven and add a slice of brie cheese atop each crostini. Generously brush the top of the cheese with honey, then return sheet to oven and bake until cheese becomes bubbly and light brown around the edges, about 5 to 8 minutes.
Remove from oven, cover top with roasted grapes and continue baking for 3 to 5 minutes until hot. Serve immediately.
"Home With the Lost Italian" is a weekly column written by Sarah Nasello featuring recipes by her husband, Tony Nasello. The couple owned Sarello's in Moorhead and lives in Fargo with their 12-year-old son, Giovanni. Readers can reach them at sarahnasello//thelostitalian.areavoices.com.