Entrepreneur Kelsey Rasco shares how grit, laughter and authenticity guides her
She uses all three to manage raising a family and a business at the same time
Kelsey Rasco never thought she'd have kids, but today she has two children, two stepsons and a baby business named Dash & White . Talk about a turnaround.
But Kelsey laughs it all off with her signature sense of humor and delightful wit. Even though she'd vowed to never date someone with kids, once Kelsey met Shawn — whom she describes as a complete "smokeshow" and amazing father — and his sons Benjamin (8) and Jackson (7), she completely changed her stance. While she's busy raising a business and empowering women through networking events, Shawn stays home with 3-year-old daughter Rhyan and 18-month-old son Rudy.
Kelsey talks candidly about her "incredibly chaotic" life right now, sharing that even though she owns a home goods store full of chic furniture and beautiful decor, her own house is anything but perfect and likely has Cheeto fingerprints on the door. "And they've probably been there for months!" she laughed.
Her sense of humor as well as her sense of self is what fuels Kelsey every day to keep working and keep dreaming of how she can continue to touch the lives of everyone around her.
Kelsey grew up in Hutchinson, Minnesota, where she had a unique opportunity to work in an art gallery where she fell in love with beautiful things. After high school, Kelsey moved to Moorhead to attend Minnesota State Community and Technical College for business, although her "tenacious" entrepreneurial drive has probably been the driving force behind her professional path, rather than a singular degree, she admits.
She added several more years to her resume by working in FM art galleries and continued to nurture her dream of opening a store with gorgeous items worthy of being in a gallery of their own. When she realized she needed to make a change in her life, Kelsey headed west to Bend, Oregon, and found what she describes as a "beautiful and detrimental experience".
"I went out there and had a super humbling experience," Kelsey shared. "Many people say living in central Oregon is poverty with a view, and I ended up having to piecemeal together a job where I presented to the owners what their faults and inefficiencies were and a plan on what to improve." The business owners hired Kelsey in a managerial position where she executed the plan she'd developed, and it turns out her experience analyzing and honing business practices would come in quite handy down the road. "Oh, yes, Dash & White is run perfectly," Kelsey quipped. "Without a doubt, those experiences really defined and crystalised the direction of Dash & White and how I want to run it."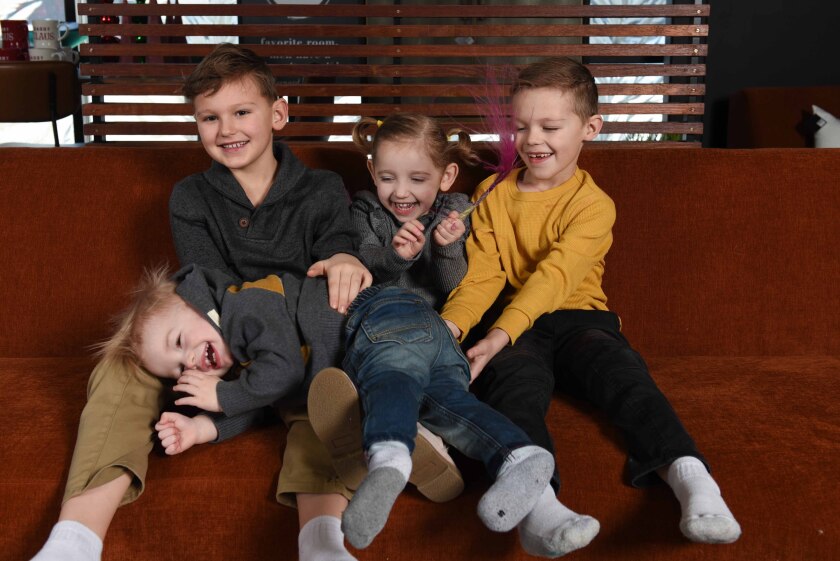 Once Kelsey realized she needed to leave Oregon, Fargo was the last place she thought she'd land. But sure enough, Fargo drew her in. "There's something so sweet about Fargo-Moorhead," she shared. "It's sacred and beautiful and homey with options for growth. Fargo is a really beautiful, youthful city with a calmness about it. It's just delightful."
Armed with her dream, experiences and entrepreneurial spirit, Kelsey decided the time was right to have a store of her own. In August 2019 she opened Dash & White in The Shoppes at Blu Water Creek along 45th Street in south Fargo. Kelsey fills her store with a fun mix of mid-century modern pieces, appliances, accessories, art and hand-crafted pillows and throws.
When she opened her doors, Kelsey didn't have a grand opening or huge celebration; she just quietly unlocked the front door — which was emblazoned with a welcoming "Hi, nice to meet you. Welcome to Dash & White" on it — and waited for customers to find her.
Looking back, Kelsey compared the situation to not telling people it's your birthday but still expecting them to come out and celebrate with you.
"The moral of the story: tell people it's your birthday," Kelsey laughed about her business opening. But she was undeterred, and instead set out to tell her story at networking events where she connected with so many community members and fellow entrepreneurs.
"Entrepreneurship isn't for everyone," she shared. "It's exhausting, and not for the weak of heart. It has ebbs and flows, and some seasons will be grand, and then something like COVID happens."
COVID affected Dash & White like it did so many other businesses in 2020, but then in 2021 Kelsey was dealt another blow: contractor issues that delayed the opening of her store in a new space along 32nd Avenue South. She and a neighboring business, Allison Lunde's Floret & Foliage, planned to open in mid-April only to find the contractor they had hired had not done the work, they told The Forum in an April 30, 2021 story . Instead, the entrepreneurs hired a new company to complete the project, forcing a months-long delay in the reopening, but Kelsey tries to remain positive about everything she learned through the ordeal.
"That whole season was so awful, but you have to stand up and keep marching," she shared. "I had a whole tribe handing me water and a whole community telling me I could do this…so I just kept moving." And even though Kelsey said she is still dealing with the financial fallout of what the contractor situation caused her business, she remains hopeful that soon she will be far enough removed from that "humbling and horrendous season" to move beyond it through Dash & White's success. Once the store reopened in July 2021, Kelsey shared that she was choosing to look at the situation through a positive lens.
"I kind of found joy in the process," she shared in a July 8 Forum story . "Joy doesn't always mean happiness to me. There's lessons learned and being intuitive in the moment, something I really focused on doing, so I found joy in that."
When talk turned to Kelsey's family, joy was clearly evident on her face and in her megawatt smile. She shared honestly some of the challenges regarding a blended family such as distance and different rules, but Kelsey has loved watching the relationships between all four children develop over the years. She recalled her "magical" secret ceremony with Shawn on Dec. 31, 2019, where they shared vows they'd written for one another and how she was able to also vow to her stepsons to always be there for them as well.
"When I met Shawn and his boys, I knew I was protected and loved, and I wanted to give (my stepsons) the tools to flourish as much as my heart had the capacity to allow," she shared. "Then with my firstborn, that love turned ferocious and blew my heart open; (that love) grew like wildfire."
When Kelsey talks about raising babies and a business, she doesn't sugarcoat the situation. "We're doing our best," she answered. "My husband picks up a lot, and I can see how much more taxing it is to stay at home than be a business owner…he filled the gap I didn't know needed to be filled in order to be a mother, and we balance out beautifully."
Shawn is the Daddy Dash to Kelsey's Mama Dash, she laughed, and together they are working every day to raise tiny humans as well as a successful business. As Kelsey looks ahead to the future of her business and her family and how much each of them will change and grow in the coming years. She also hopes that her children will one day look back and know how hard their mom was working every day to create a future for them through her business.
"My kids are just not old enough to see me persevere, and I come home and cry sometimes and sometimes I come home late, and when the boys are here only on weekends, they say I'm working all the time . . . but I hope they know that when I wasn't there (at home), I was here (at the store) for a reason," she said. "I hope every single one of my kids knows they can move mountains. No matter what it is. They don't have to be an entrepreneur to be successful…but as long as you're putting goodness into the world, that's beautiful. That's all I want them to know."
Powerful connections for powerful women
Kelsey loves to talk about how important networking was at the start of her entrepreneurial journey, and she quickly realized that women in particular could benefit from a supportive community where all aspects of their lives are shared and celebrated.
"I always thought if I had a platform I would want to spread goodness and kindness to one another, and I wanted to have a women's group that was nonpolitical and nonreligious where I could be Kelsey without being Mama Dash," she shared.
So Kelsey created the Facebook group Powerful Woman to empower and honor all women and their individual stories. (She shared a raw and honest side-by-side photo of herself that garnered an incredible amount of discussion and empowering encouragement that has become a harbinger of the group.) Since starting the group, Kelsey has hosted small events for members, but in March she is hosting an event aimed at helping women feel great and have some fun.
"Revelry by Powerful Woman" will offer a morning session facilitated by keynote speaker Rebecca Undem with an evening session featuring elegance and entertainment. Tickets can be purchased for one or both sessions, and tickets are on sale at https://checkout.eventcreate.com/revelrybypowerfulwoman/select-buy . The event will be held Friday, March 25 at Riverhaven Events Center in Moorhead.
"It's going to be a mind-blowing event," Kelsey shared.
Dash & White was named Best Furniture Store in the 2021 Best of the Red River Valley competition. Kelsey was honored by the award, noting that her store only exists thanks to customers. "We're not here because of anything else," she said. "Anyone shopping at Dash & White is a sacred guest, no matter what you're buying. You're going to get the best customer service , because no matter what, my family thanks you."