Mark Olsonawski family sponsors Down Home's 100th family move-in in honor of wife, mom Andi
Andi was a volunteer for the organization before losing her battle to brain cancer in June 2020
MOORHEAD — When local nonprofit Down Home welcomed its 100th family to a new home on Tuesday, March 15, the occasion was met with many emotions for everyone involved.
Joy, because the organization was helping another family along on its journey from homelessness to independence.
Excitement, because the sponsor of move-in was the Mark Olsonawski family, which includes Mark, his four children, his parents and his parents-in-law.
Sadness, because a very important member of the Olsonawski family — wife and mother Andi — wasn't able to be there after losing her battle to cancer nearly two years ago .
Awe, because everyone involved said they cannot believe all the ways God brought them all together in such a special way.
* * *
That range of emotions has been ever-present for the Olsonawski family since Andi found out in September 2015 that she had stage 4 brain cancer. It was a devastating blow for the college track star, yet Andi refused to let the diagnosis shake her faith or alter her positive personality . The phrase "Do your best and let God do the rest" became her life's motto, and those words — Andi's words — continue to inspire the people she knew and loved.
Mark and Andi knew Down Home founders Jenessa Fillipi and her husband Jake for years because they'd all grown up in the same area along U.S. Highway 75 in Minnesota. After Jenessa and Jake started Down Home in 2017 , Andi volunteered despite her diagnosis. Charlene Kuznia, co-founder and part-time operations director at Down Home and Jenessa's mom, remembered what a treasure Andi was as a volunteer. "We were just overwhelmed by her kindness," she said.
After Andi passed, Mark had a distinct feeling that God was nudging him toward something more impactful with Down Home. "His plan is so much greater than we realize," Mark shared. "I was hanging out at Jenessa and Jake's and asked what it took to sponsor a move-in. Then I left and prayed on it. I just felt like the good Lord was saying, 'You need to do this.'"
He reached out to Jenessa and they began discussing the logistics, including the date of moving the new family in. Mark chose March 15, because he proposed to Andi on that day back in 2001. "It was just meant to be," Jenessa shared. "The Lord made it evident that they were meant to honor Andi and reflect her beautiful kindness on that day."
Mark and Andi's children — Noel, 17; Aaron, 15; Ryan, 14; and Kate, 10 — helped with the event as well as Mark's parents, Andi's mother and brother and other special guests. Before the move-in, Mark shared that he expects the emotional impact of the day might not sink in for his kids right away, but he's confident they will learn important lessons from it, just as they did from the journey they went through with their mother.
"Having the ability to be thankful and grateful for what you've been given even if there are trials and tribulations will strengthen you and make you a better human being," he shared. "We've grown through that journey by leaning on God and moving forward by Andi's example."
Back in 2018, On the Minds of Moms shared Andi's incredible story . At the time, Andi's cancer was stable but the importance of her journey was not lost on her. "I just knew that God put me in that position to be an example, an example of overcoming, of having a good attitude throughout this whole process, not giving up, still being a bright light of good," she said in the article .
Two years later, Andi died, but her love continues to be felt by everyone who knew her, and it was very present as her family welcomed another family to their new home on March 15. "This is a beautiful story of how God has his hand in all of our lives; He's the one connecting the dots," Mark explained. "So many people think you have to be something or do something big to have impact, but Andi's story and Down Home's story show that wherever you're planted, be a great example…you can be a difference maker."
Jenessa echoed those thoughts. "Andi was truly the most humble and stunning woman; every conversation with her was uplifting," she shared. "When I think about what we at Down Home strive for and who we are, that's who she was. We are so humbled and honored to serve our 100th family in honor of who Andi was and what she did. She really lived, 'Do your best and let God do the rest'."
Down Home seeks to turn the four walls of a house into a furnished, comfortable home for a family emerging from homelessness.
The process involves:

Getting referrals from partner agencies.
Meeting and visiting with the family in their current space.
Coordinating items, a moving van and volunteers.
Transforming an empty house into a home.
Revealing the transformed home to the family.
Following up for additional support.
Sponsors of a move-in provide financial support for the move-in process and help transform the space into a home. The sponsor also gets to help reveal the home to the family and become part of the Down Home family.
Learn more about Down Home and how you can help at https://www.down-home.org/donate .
Currently Down Home is partnering with Life 97.9 for the Share the Light Donation Drive for new or gently used nightstands, lamps and faith decor. Items can also be purchased from the organization's Amazon wishlist .
1
/
4:
Down Home co-founder and director Jenessa Fillipi speaks to the group of volunteers before moving items into the home. In the foreground is move-in sponsor Mark Olsonawski, and in the background is Tyson Kunzia, Jenessa's brother and a Down Home volunteer.
2
/
4:
Mark Olsonawski hugs the homeowner of Down Home's 100th move-in, which was sponsored by Mark and his family in honor of his wife Andi.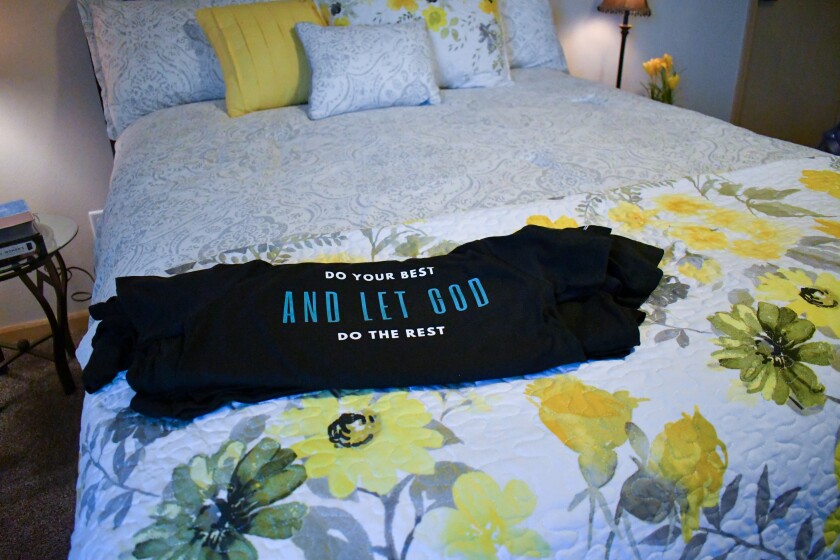 3
/
4:
To celebrate its 100th move-in, Down Home had shirts printed with a saying Andi Olsonawski lived by: "Do your best and let God do the rest."
4
/
4:
The Down Home family of volunteers prepares to move items into the home.