Review: Moorhead's Newroz Kebab continues to serve up consistently good food and friendly service
Forum food critic Eric Daeuber describes the restaurant as a small-town Midwestern diner with decidedly Mideastern flavors.
We are part of The Trust Project.
MOORHEAD — Newroz is the Kurdish version of the Persian festival that welcomes the coming of spring — and also the name of a very good Kurdish restaurant in south Moorhead. Given that spring came late to the Upper Midwest this year, visiting Newroz Kebab in mid-May, two months late for the real Newroz festival, it seemed like a case of better late than never.
Newroz Kebab has not lost any of its charm since it opened three years ago. Consistently good food, spotlessly clean and friendly service. It's what small-town Midwestern diners have tried to be for decades, but, in this case, with decidedly Mideastern flavors.
The menu is basic and covers many of the flavors of the Middle East in dishes such as tikka and shawarma, with their signature spices of cardamom, coriander and cumin.
A good introduction is the chicken tikka with a beef kebab ($11.99) that gives a substantial sampling of these traditional, and unmistakable, flavors.
For flavors of the street food of Iraq, the beef shawarma ($14.99) offers a taste of the shaved kebabs that have become so popular in much of the Western world.
Immigration has meant that these adaptable flavors have become so familiar as to hardly be considered exotic. Newroz is careful with spices to make sure their dishes work for most any set of taste buds.
Be sure to take advantage of side sauces such as the extraordinary green hot sauce. It adds what you may be missing if the traditional bite is what you're craving.
For those steering clear of meat, the falafel meal ($11.99) is substantial and complete. Like most plates at Newroz, the main dish comes with spiced rice and a side of a mild chutney notable for how very fresh it is. The hummus ($5.99) is excellent, made with a good-quality olive oil, and served with naan made in-house, as is almost everything on the menu.
The diner is a small space in a strip mall in south Moorhead, but it's clean and bright, and the walls filled with photos and wooden tables give it a comfortable, accessible feeling like you would find in a small-town diner anywhere in the Midwest.
There are a few nice touches that make visiting Newroz less than an adventure but a bit more than a quick dinner. The Kurdish tea ($2.98) goes very nicely with your meal. And I was rather taken by the Sinalco soda — a German soda that opened its first factory outside its home country in, of all places, Iraq. It's a little bit of culinary history.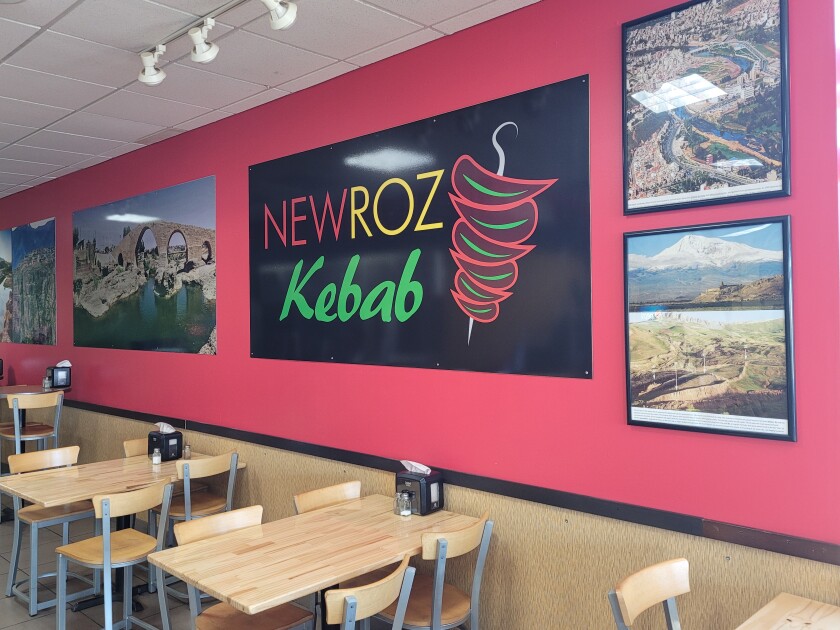 Service is friendly and fast, a bit of surprise given that much of the hospitality industry is struggling with a shortage of service workers. Newroz is run entirely by two people, with the help of customers who pick up their own food from the service counter and bus their own tables. This approach is not meant to solve the problem of hard-to-find service personnel, but it has that effect. And it's in keeping with the casual feel of the restaurant.
There's no reason not give this cuisine a try. It's accessible, relatively inexpensive, very fresh and made with a good deal of care and consideration for its roots.
Where: 2501 8th St. S., Moorhead
Cuisine: Kurdish
Hours: 11 a.m. to 9 p.m. Monday through Saturday
Phone: 218-227-5019
Reservations accepted: no
Alcohol: no
Food: 3 stars
Service: 3 stars
Ambiance: 2 stars
Eric Daeuber is an instructor at Minnesota State Community and Technical College. Readers can reach him at food@daeuber.com .