Sewing supplies sought after by collectors
Women's work in past centuries included cooking, cleaning and sewing. Before the 19th century, women had to shear sheep or cut flax and spin or weave fabric. Then they were expected to know how to make coverlets, curtains and clothing. Everything...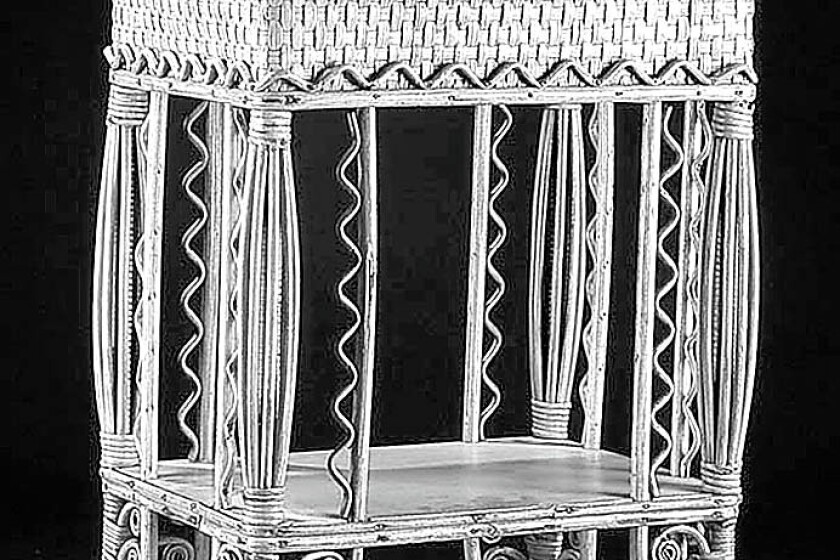 Women's work in past centuries included cooking, cleaning and sewing. Before the 19th century, women had to shear sheep or cut flax and spin or weave fabric. Then they were expected to know how to make coverlets, curtains and clothing. Everything was hand-sewn.
The sewing machine was patented in America in 1846, but machines were not made in quantity until the 1850s. Although many feared the machine would cause mass unemployment for tailors, it was welcomed by housewives who embroidered, sewed buttons, mended and performed other sewing tasks.
Sewing paraphernalia is one of the world's top collecting interests. Some buy 18th-century sewing tables or elaborate fitted boxes holding all sorts of sewing needs. Ivory or mother-of-pearl needles, needle cases, pincushions, chatelaines and more can be found separately.
Others look for 19th-century sewing machines, spool cabinets, spools of thread, sewing birds, patterns, scissors and fitted sewing baskets. Younger collectors like 20th-century packets of needles with advertisements, figural tape measures, wooden spools of thread, patterns, thread holders or trade cards that advertise sewing supplies.
Some find cute figural ceramic or wooden holders for a pair of scissors, a thimble and a tape measure or even special furniture made for a sewing room. Many sewing collectibles can be found in attics or as bargains at yard sales or secondhand stores.
Q: My Camark bowl is marked "Handpainted by Nor-So Art Studio, Camden, Arkansas, U.S.A. 1948." What can you tell me about the decorator?
A: Little has been written about the Nor-So Art Studio. It was owned by Dean A. Mogle and was in business from about 1947 to 1965. He developed a method of decorating in pastel colors and often used 22-karat gold for the trim. The studio was in Camden, Ark., home of Camark Pottery, so from 1947 to 1958, Mogle decorated pieces of Camark Pottery. In 1958, he decided to decorate glassware and used similar decorations and gold trim on milk glass he bought in Ohio. Mogle died in 1976.
A reader told us that the name "Nor-So" was created because Dean came from the North and his wife, who worked for Camark, was from the South. Pieces with the "Nor-So" mark currently sell for very low prices.
Q: A number of years ago, my aunt gave be a beautiful ceramic vase. It has an allover pierced design that is painted and gilded. It's marked "Fischer J., Budapest" on the lid and base. Can you tell me how old it is and if it's valuable?
A: Ignace Fischer founded his company in Pest, Hungary, in 1864. Pest is the eastern half of modern Budapest. It united with the western half (Buda and Obuda) to become one city in 1873. Hungarian surnames are listed first in company names, and the initials "J" and "I" are the same letter - which is why the mark on your vase is "Fischer J."
Fischer decorated china made by other manufacturers before starting to make pottery in 1867. Zsolnay bought the factory in 1895. The value of your vase, depending on condition, is $500 to $700.
Q: I have a folding combination cane and stool from the 1939 New York World's Fair. There is a painted Tryon and Perisphere logo on the plywood seat. Branded into the bottom of the seat is "Kan-O-Seat, Pat'd May 21, 1935, Stafford-Johnson Seating Corp., Ionia, Mich." Can you tell me anything about this piece?
A: The brand on the bottom of your cane seat gives most of the information available. Stafford-Johnson Seating Corp. received a patent in 1935 for a cane that converts to a tripod seat. It was not made exclusively for the 1939 New York World's Fair, and examples can be found without the fair's symbols.
One is included in the collection of the Museum of Modern Art in New York City, with Albin Johnson listed as the designer. One like yours, with the New York World's Fair symbols on the seat, sold at auction last year for $173.
Q: I have found a scratchboard by Alderson Magee and can't find out much about it. Any information you can give me would be helpful.
A: Alderson "Sandy" Magee was born in Hartford, Conn., in 1929. He taught himself how to paint, and in 1971, he quit his job as a technical representative for Pratt & Whitney to work on his art full time. He began working on scratchboard in 1972 and has worked exclusively in that medium since then.
Scratchboard is usually cardboard or heavy paper that has been coated with a layer of white clay or chalky white material and then painted with black ink. The design usually is made by cutting, scraping or sanding away layers of black ink to let white lines show through. The technique was developed in the 19th century and was used instead of engraving to produce images for printing.
Magee's scratchboard design of Canada geese was chosen as the 1976-77 federal duck stamp, a stamp all duck hunters were required to buy.
For more information about antiques and collectibles and free price information, visit Kovel's website, www.kovels.com .