Sick days: Juggling work and sick kids among parents' biggest challenges
THE GREAT MOM DEBATE: The Great Mom Debate is an occasional series on parenting topics, addressing issues women often debate socially and within themselves. ONLINE: Join in the conversation online at http://tracyfrank.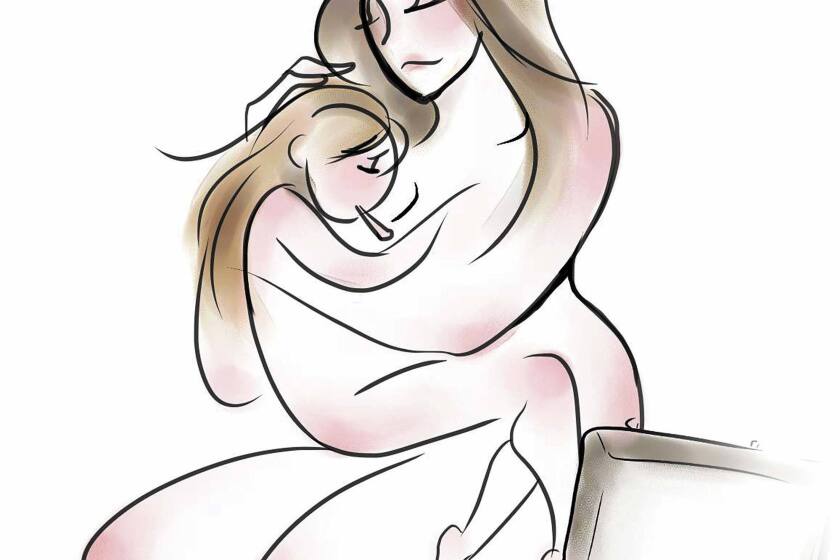 THE GREAT MOM DEBATE: The Great Mom Debate is an occasional series on parenting topics, addressing issues women often debate socially and within themselves. ONLINE: Join in the conversation online at http://tracyfrank.
areavoices.com.
FARGO - Dr. Aaron Jost, a Sanford Health pediatrician, says he talks with moms every day about whether it's better to stay home with their children when they're young to avoid picking up a plethora of illnesses at day care or to expose them to sickness early on to hopefully build up their immune systems before they reach school age.
"I don't want to give parents the guilt trip," he said. "Not everybody can decide not to go to their job because they have to pay their bills. It's a difficult decision to make."
Children who attend day care, especially in the first few years of life, have an increased risk for illness, Jost said. But that exposure could also increase their immunity, and they might then miss fewer school days when they get older, he said.
On the flip side, it's harder to deal with illnesses when children are younger because they can't communicate as well, he said.
Colleen Lanners of Fargo works full-time and has two elementary-school-aged kids. She said her children entered day care at 6 weeks of age, attend an after-school program during the school-year and all-day camps in the summer and were frequently sick.
"There was a point when they were infants where I wondered if they would ever have a week without a runny nose," she said. "It seemed never-ending and what they had, I would sometimes get as well."
But being exposed to illness early on hasn't necessarily made her kids hardier, Lanners said.
While her son seems to be able to fight off infection fairly well, her daughter always gets sick at the beginning of the school year, Lanners said.
"It really comes down to hand washing, keeping your hands out of your mouth and getting plenty of rest for us," she said.
That's advice doctors recommend as well.
Dr. David Clutter, an Essentia Health pediatrician said it's true that kids who go to day care get more colds and infections.
"Whether that's good or bad is a debatable topic," he said. "I don't think it's a bad thing."
But he said parents shouldn't intentionally expose their children to germs in an attempt to build up their immune systems.
Even kids who stay home will get sick, he said.
"Not going to day care does reduce the number of colds, but it doesn't eliminate them," Clutter said. "The idea of trying to isolate children so they don't get colds is misguided. You can't prevent illness no matter how hard you try."
In the first two years of life, children get an average of six to eight viral infections a year. And when those infections can last a couple of weeks, it might seem that toddlers are constantly sick or getting over an illness, especially in the winter, Clutter said.
"The real germ-carriers of the world are the toddlers and the preschoolers," he said. "They lick the floor, they lick each other's' faces."
The only exception is that there is an advantage to avoiding day care for babies who are younger than 6 months and were born premature and for children with chronic immune disorders, Clutter said.
Jost adds that parents should make sure their child care providers don't allow children to be there if they have fevers or significant contagious diseases. Vaccinations are also important in preventing kids from getting serious diseases that could land them in the hospital, he said.
Kari Dahlen of Fargo works full-time in customer service at Swanson Health Products and has a 3-year-old son, but when her child is sick, she is able to stay home with him, she said.
"I definitely prefer to have my son home with me when he is sick so that he doesn't spread the germs to the other children," she said. "I am lucky that my son hasn't brought home any sickness from his day care and that could be because the other parents believe in having their kids home when they are sick, too."
Danielle Odenbach of Thompson, N.D., works part-time and has three grade-school-aged sons. She said the issue of sick kids is the hardest thing to balance as a working parent.
"As a mother, you want to be the one who comforts your child in times of sickness. And your child wants you there with them," she said.
Since she works part-time, Odenbach is usually the one to comfort her kids when they need her, she said. But if one of her boys' falls ill on one of her work days, Odenbach's husband takes off work to stay home with them, she said.
As a funeral director, Lanners wasn't able to take time off when her children were sick. But now that she is a social worker at Sanford, she has more flexibility and is able to use paid time off when her kids are ill. She said it also helps that her boss is very understanding.
"My husband and I will typically try to work things out. If I stayed home last time, he will stay home the next time," she said. "We have thought about splitting up the day, he goes to work in the morning and then stays home in the afternoon, but that is too hard. If you are gone for part of the day you might as well be gone for the whole day."
Odenbach said she stayed home full-time with her kids for a few years, and they didn't seem to be sick any less frequently than kids who went to daycare.
"We still went out and had play dates and did activities outside the home," she said. "Even going to the grocery store can be a germ-filled experience."
Readers can reach Forum reporter Tracy Frank at (701) 241-5526.