Statues of Alexander Griggs prove his contributions were a 'Tale of Two Cities'
"Did You Know That" columnist Curt Eriksmoen continues his story about Alexander Griggs, who is often referred to as the "Father of Grand Forks."
Very few people have played a larger role in founding and developing a city than Alexander Griggs. When he first arrived in 1870, at the site where a post office conferred upon it the name of Grand Forks, he found a couple of residents of European lineage and some Metis woodchoppers. Griggs laid out the townsite and went to his former hometown of Henderson, Minn., where he encouraged a number of his friends, relatives, and acquaintances to relocate to Grand Forks. Often in partnership with others, he built a boarding house, hotel, general store, steamboat repair yard, grain mill, sawmill, churches, a couple of banks, saloons, and a city block of brick building to accommodate the city's growth.
Griggs also held many offices and business positions while living in Grand Forks. Over the years he served as county commissioner, railroad commissioner, Constitution Convention delegate, alderman, mayor, postmaster, school board member, real estate broker, merchant, banker, and boat builder. However, first and foremost, Griggs was a riverboat pilot and, during the 21 years he was in Grand Forks, he transported thousands of passengers and countless tons of cargo up and down the Red River.
After watching the city he founded grow to over 5,000 in the 21 years he lived there, railroad builder James J. Hill needed Griggs for another important favor. Hill was building the Great Northern Railroad from Minneapolis-St. Paul to Seattle. By 1891, he had reached the rapidly-flowing Columbia River, 150 miles east of Seattle, at the small village of Wenatchee, Wash.
Hill needed a skilled riverboat captain to ferry train cars across the Columbia River, until a railroad bridge across the swift-flowing river was built. The Columbia had strong currents, eddies, whirlpools, and several rapids where boats occasionally came to grief. Hill assured Griggs that one day Wenatchee would become an important commercial hub on the Great Northern line and that Griggs could become very wealthy. Griggs saw this as a huge challenge and accepted Hill's offer.
If by 1879 Griggs had not yet been recognized as a prominent leader in the upper Red River Valley, the 1880s should have removed any doubt. On February 18, 1881, the Dakota Territorial Legislature created Griggs County by taking territory from Barnes, Foster, and Traill counties to form the new county. Four days later, the city of Grand Forks was incorporated and, on June 16, 1882, Griggs County was officially organized.
Because of Grand Forks' rapidly growing population, Griggs had a nice hotel built in 1882. It was called the "Griggs House," and he hired Charles Ingalls and Charles Shaw to run it. The hotel was located on Demers Avenue, next to the Great Northern Railroad Depot. At about the same time as the opening of his hotel, Griggs was approached by Oscar Towner with a proposal to create a new town in north-central Dakota Territory. This was not just any town, but a place Towner believed could become the new capital of Dakota Territory. The reason Towner believed this was because he was a member of the Dakota Territorial Legislature, and plans were made to pass legislation removing the capital from Yankton, and relocating it to a more central location. Then, a commission would be established to choose a site for the new capital.
ARCHIVE: "Did You Know That" columns
The proposed name of the town was Odessa, and it would be located on the eastern shore of Devils Lake, the largest water body in northern Dakota Territory. There was already an active riverboat presence on the lake, and almost all of the activity was conducted by Captain Edward Heerman. He piloted the Minnie H seven days a week, making daily runs between the town of Devils Lake and the military base at Fort Totten.
On November 11, Towner and Griggs met with Jacob Eshelman, William Budge, Judson LaMoure and J. M. Waldron in Grand Forks and established the Devils Lake Townsite Company. The men put up $2 million in capital stock and purchased title to the land. The next step was to convince Hill to run his railroad through Odessa. Because of Hill's close friendship with Griggs, members of the company believed that could be accomplished. To sweeten the deal, the company offered Hill over 2,000 acres and an interest in the company. Hill had a different route in mind and turned down their offer.
Members of Towner's company quickly built a few homes and established some basic businesses. On May 21, 1883, members of the capital relocation commission visited Odessa, but with no railroad, and no major active businesses, the commission tarried only so long as a decent respect for the sensibilities of the townsmen required and then hastened on. On June 12, the commission announced that they had chosen Bismarck as the site for the new capital. Odessa soon died, and Griggs returned to Grand Forks.
In 1884, Griggs' misfortunes continued when his favorite riverboat, the Selkirk struck a railroad bridge at Grand Forks and sank into the Red River. Griggs retrieved the pilothouse and brought it home for his children to use as a playhouse.
In 1885, the legislature established a Board of Railroad Commissioners with general jurisdiction over railroads, sleeping car companies, express companies, and telegraph companies. In 1886, Gov. Gilbert Pierce appointed Griggs as one of the three commissioners and, in 1887, the other two commissioners elected Griggs as chairman of the commission.
I wondered about a conflict of interest because for many years a major business partner of Griggs owned a major railroad that ran through Dakota Territory. In 1886, Griggs was elected mayor of Grand Forks and, in 1887, he was reelected. While he was mayor, the first streets were graded and the first sidewalks were built.
With North Dakota approaching statehood, 75 delegates were elected to the North Dakota Constitutional Convention on May 14, 1889. Griggs, Budge, and lawyer Richard Bennett were elected from Grand Forks. Through their work, they got the school of mines established at the University of North Dakota.
When Griggs accepted Hill's offer to move to Wenatchee in 1891, the town had a population of about 100 people. However, the town was about one mile north of where the Great Northern tracks ran, and a new community was established. In 1892, Griggs "took charge of the Thomas L. Nixon, the large sternwheeler used by the Great Northern to ferry train cars across the Columbia River." The Nixon could carry six cars at a time. In 1893, Griggs purchased the Nixon as well as a smaller riverboat. Soon Griggs had a sizable number of riverboats that hauled cargo and passengers up and down the Columbia River. All four of his sons also became riverboat pilots.
As he did in Grand Forks, Griggs also became a pillar of the community in Wenatchee. He helped many businesses get started, and also devoted much of his time assisting in civic matters.
Alexander Griggs died of a stroke in Wenatchee on Jan. 24, 1903. Griggs was held in high esteem by the Wenatchee and Okanogan Indians of the area, and when they learned of his death they held religious pow-wows. The Grand Forks Herald eulogized him with the statement, "Seldom has the news of the death of a pioneer been received in Grand Forks with greater genuine regret and sorrow," and flags were flown at half-mast. In 1997, Griggs' statue in Wenatchee was unveiled, and in 2001, a dedication ceremony for his statue in Grand Forks was held.
"Did You Know That" is written by Curt Eriksmoen and edited by Jan Eriksmoen of Fargo. Send your comments, corrections, or suggestions for columns to the Eriksmoens at cjeriksmoen@cableone.net.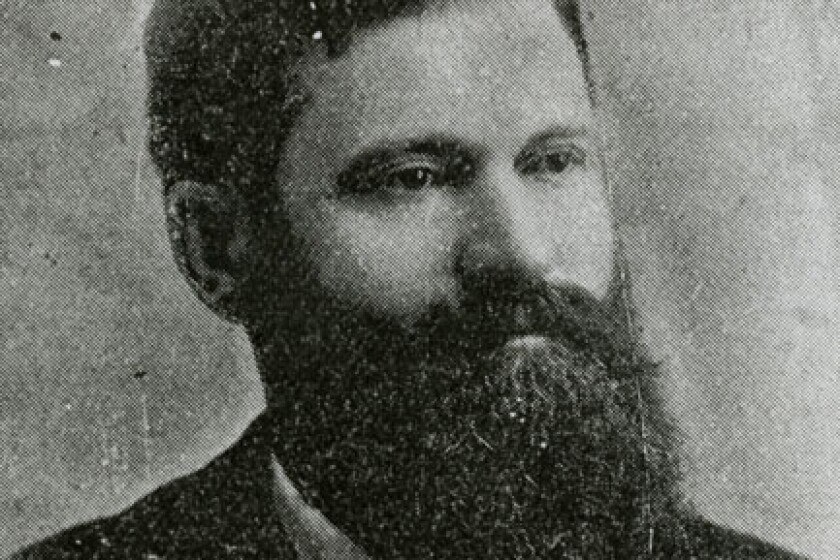 1
/
2:
Alexander Griggs is known as the "Father of Grand Forks." Photo courtesy of the Elwyn B. Robinson Department of Special Collections, Chester Fritz Library, University of North Dakota
2
/
2:
Curt Eriksmoen, Did You Know That? columnist portrait