Stay warm with this hearty soup
Columnist Jessie Veeder shares a recipe for Cheeseburger Chowder, a dish that will fill you up as winter chills much of the country.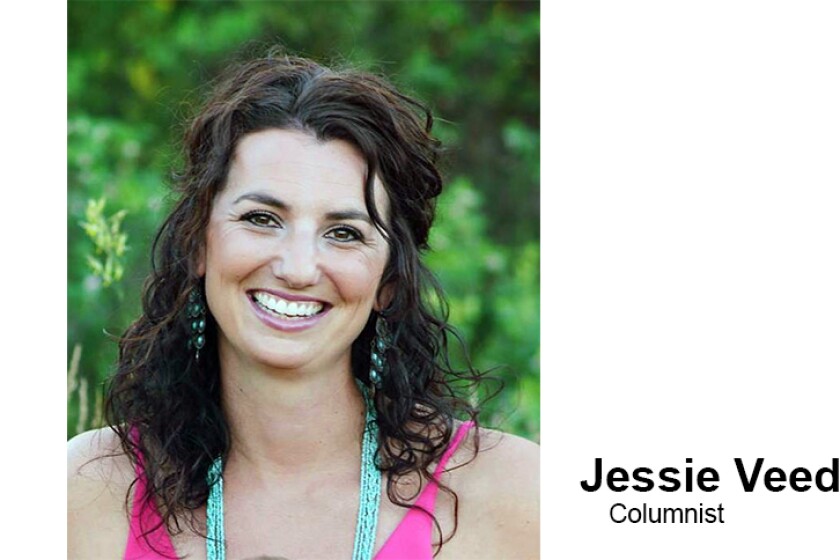 I don't have to say this, because you all know it, but I'm gonna say it anyway — we really got what was coming to us, didn't we? After a few weeks of 40 degrees below zero with minus 100 degree wind chills, I stepped outside this morning and thought, "Wow, it's really warmed up out here." It was minus 4.
But there was no wind, you know, so dang near tropical.
And, as luck would have it, the universe would dish out two weeks of COVID quarantine during the time when bundling up to get some fresh air could literally threaten our lives. So, yeah, we've been a good experiment on what's more dangerous: 40 below zero temperatures, or staying in the house for two weeks with a 5-year-old, a 3-year-old, a husband and a pug.
At least they make neckerchiefs, face masks, Muck boots and hand warmers to help protect us against the weather. There's no protection from a half-naked 5-year-old popping in on the middle of my inspirational Zoom monologue to 80-some school counselors. I mean, I thought there was. I thought his name was Chad and he was my darling husband, but he put too much trust in the fragile promises made by a young child when faced with an iPad that needs charging, so yeah, now my husband needs protection from me.
Turns out he's just fine with taking a chance on the cold. I never thought I'd be jealous of having to fix a water tank in 23 below zero temps, but here we are.
RELATED COLUMNS:
Food is love, and love is everything Jessie Veeder found some insightful wisdom recently when asking younger kids a simple question: What is love?

Husband's rustic take on knoephla soup will warm you up this winter "Coming Home" columnist shares her family's recipe for the comforting dish, but she says it's more about the process instead of meticulous measurements.

You either drive or you pull over In today's "Coming Home" column, Jessie Veeder recalls the advice her dad gave to her during a scary drive through a snowstorm and how it helps show the need to make a choice, eventually.

Anyway, that's how we've been holding up — with an unhealthy helping of Netflix, carbohydrates, arts and crafts, five-day sweatpants and naps. I'm not complaining about the naps. But I guess I am complaining, just a little, but in good fun and with gratitude for the fact that we all came out of it relatively unscathed and no worse for the wear.
I mean, really, it could be worse than having to hunker down for a few weeks during the longest, shortest month of the year in North Dakota. And while we'd all rather be on a tropical vacation somewhere, minus the freezing water tank and extra 5 pounds I likely gained (I don't wanna know) maybe this was the next best thing.
What a weird, uncertain, unprecedented time to be alive and raising children, trying to be optimistic… trying to do the right thing. I want to reach out to you all and tell you that the other side of this pandemic will be easier, and that it's coming, but we don't know that for certain, do we?
Nothing's promised. All we can do is do our best. Sometimes that's letting your kids turn the gymnastics mat into an indoor Slip 'N Slide and sometimes it's a structured and well-executed, sanity-saving Pinterest activity that leaves your kitchen table looking like a tornado went through the craft section of Walmart.
But if I could have you over to our place, I'd sit you down at the counter and serve you crackers and cheese and whiskey or wine or hot tea and listen as you dished your troubles or told me a funny story about how your kid chose the wrong time to drop her first cuss word while we waited for the soup to finish simmering on the stove.
RELATED COLUMNS:
On the porch with Gramma Edie In today's "Coming Home" column, Jessie Veeder is grateful that her daughters' grandparents are nearby.

Looking for my reflection in Grandma's old winter journals In today's "Coming Home" column, Jessie Veeder finds out what the late Edie chose to document in 1982.

Was there ever such a thing as normal? "Coming Home" columnist Jessie Veeder says the more she thinks about wanting to return to "normal," the more absurd she finds the whole concept.

And since we can't do that, I thought I'd fulfill some requests I received to share that cheeseburger chowder recipe I mentioned last week . I hope you take some time to make it and I hope it warms you up a bit. Until then, peace, love and I'd put some bacon in it if I were you...
Cheeseburger Chowder
PRINT: Click here for a printer-friendly version of this recipe
Ingredients:
8 ounces ground beef
¾ cup onion
1 ½ cups frozen vegetables of your choice
1 teaspoon basil
1 teaspoon parsley
4 tablespoons butter, divided
3 cups chicken broth
4 cups diced potatoes
1/4 cup flour
8 ounces Cheez Whiz
1 can cheddar soup
1 cup milk
1/4 cup sour cream
Directions:
Brown beef; drain and set aside. Saute onions, vegetables, basil and parsley in 1 tablespoon butter until tender.
Add chicken broth, potatoes and beef to a soup pot. Bring to a boil. Reduce heat, cover and simmer 10 minutes, or until potatoes are tender.
In small skillet, combine 3 tablespoons melted butter and flour, and cook and stir until bubbly. Add to soup, then stir in Cheez Whiz, cheddar soup, milk and sour cream.
Jessie Veeder is a musician and writer living with her husband and daughters on a ranch near Watford City, N.D. She blogs at https://veederranch.com. Readers can reach her at jessieveeder@gmail.com.