'The Scoop': Is the buzzworthy 'Impossible' burger any good?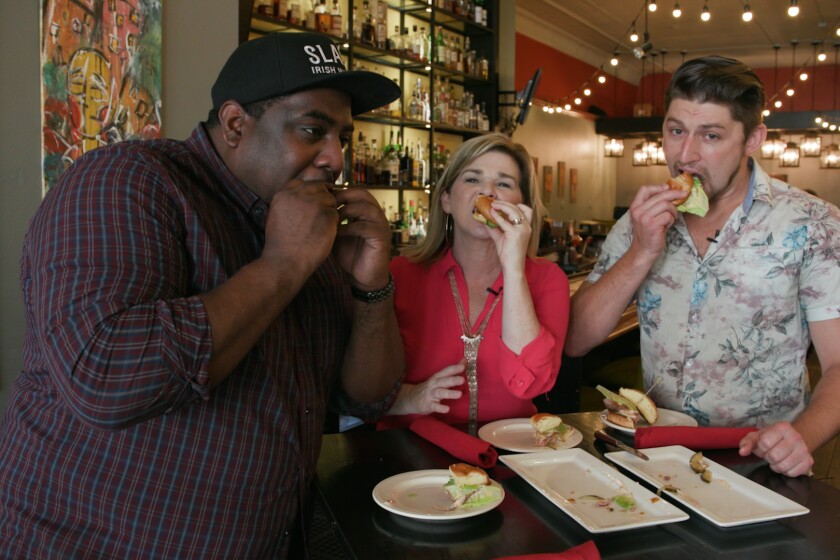 FARGO — A funny thing happened this summer: Fast food giant Burger King started heavily promoting a burger that contained absolutely zero beef.
The chain has carried a veggie burger for years, but in August, they started offering the "Impossible" Whopper — a burger so close to the real thing that Burger King claimed some customers couldn't tell the difference.
Could you? Well, it turns out you won't need to just go to Burger King to find out.
The Impossible brand plant-based meat burger is already being sold at approximately 17,000 restaurants around the nation. And just this week, the burgers became available in some grocery stores on the East and West Coasts.
Here in Fargo-Moorhead, you can find the Impossible burger in restaurants including downtown Fargo's Twist, 220 Broadway N., which started carrying the burgers about a year and a half ago.
"We were the first place in town to have it," says Manager Josh Goedtke. "It's going really well. People seem to love it."
Check out this week's episode of "The Scoop with Tracy Briggs" on Inforum.com to see us taste-test a regular burger versus the Impossible burger at Twist. Could I tell the difference between the Impossible burger and a real hamburger?
Veggie burgers have been around since the early 1980s, so why suddenly has there been such a spike in interest in fake meat burgers? Since last year, sales of plant-based burgers have grown by a whopping 151%.
There are a few reasons for the growing interest.
1. Taste, texture and performance: Most people say the Impossible burger tastes, feels and cooks more like real meat. Traditional plant-based burgers vary in flavor — some might taste like beef, while others have more of a nutty or vegetable flavor. Impossible burgers also seem to sizzle in the pan more like a real burger.
2. Marketing: It's all about packaging. Both Impossible Burgers (which uses genetically modified soy ) and Beyond Meat Burgers (which uses pea protein) have chosen not to include the words "vegan" or "vegetarian" anywhere on their label. They want to push that this is an alternative meat, not that it's a vegetable.
3. Product placement: In grocery stores, Impossible Burger and Beyond Meat Burgers will likely be placed in the meat aisle with regular meat, not in an organic or vegetarian section. Pat Brown, founder and CEO of Impossible Foods, told CNN Business their target audience is people who already buy meat. In fact, 93% of people who have purchased Beyond Meat report also buying conventional meat, while 70% of people who have tried the Impossible Whopper at Burger King say they regularly eat meat. "We absolutely, only categorically care about meat eaters. It doesn't accomplish anything to sell meat to a vegetarian," says Brown.
4. Environmental concerns: Plant-based meats are a desirable option for those people concerned about meat's alleged effect on the environment. According to Beyond Meat, its burger versus a traditional quarter pound burger uses less land and energy, has less impact on water and amounts to fewer greenhouse gas emissions. However, researchers and scientists urge caution in assuming eating plant-based meats is the most climate-friendly thing you can do.
RELATED: Don't fall for the halo-effect of plant-based fast food
The growing popularity of plant-based meats has some farmers concerned about the future. According to the United Nations World Bank, by 2040, it's predicted that less than half of the world's meat will come from slaughtered animals. The other 60 percent will come from plant-based sources.
Some farmers are responding by trying to grow more peas to meet demand for pea protein , while others are using lobbying to discuss the use of the word "meat" to describe non-animal products. Mark Dopp from the North American Meat Association told the New York Times , "About a year and a half ago, this wasn't on my radar whatsoever. All of a sudden, this is getting closer. This is likely to happen in the near future, and we need to have a regulatory system in place to deal with it."
It looks like the agriculture industry will have time to try and figure out its future — alternative meats don't appear to be going anywhere. Beyond Meat has worked up deals with Subway, Dunkin' Donuts and Del Taco.
And it's not just beef. In the last month, KFC started testing a plant-based fried chicken product at one of its locations in Atlanta.
RELATED: Agribusiness giant Cargill raises bet on plant-protein craze
Most nutritionists when it comes to health benefits, the new plant-based burgers aren't much better for you than real beef. In fact, the Impossible Whopper has just 30 fewer calories than a regular Whopper, and it has more sodium.
They say eating whole foods or even a traditional veggie burger are better options. But Twist Bar Manager Torrey Young says he likes that diners now have more choices than ever before, whether they're vegan or meat-eaters just trying to cut back on consumption.
"It's nice that the Impossible Burger is so versatile. We don't have to just use it in burgers. We can use it in taco meat or meatballs, too," he says. "A lot of vegans have gotten scared because it tastes so much like the real thing."