Veeder: A parenting pit stop is more important than you might think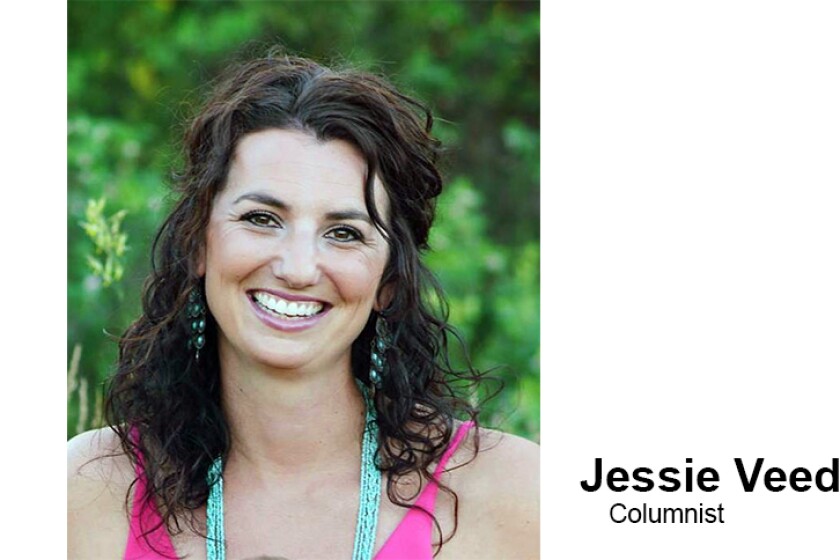 This morning, about 15 miles into our 30-mile trip to town for work and day care, my 3-year-old daughter declared from the back seat, out of the blue, that she had a tummy ache.
I asked if she thought she had to poop and then held my breath for the answer, because (1) we were another 20 minutes from the nearest potty and (2) we were also approaching the busiest intersection between here and there, meaning an emergency ditch stop wasn't likely going to be a private one.
I started to sweat a little as I asked follow-up questions. It wouldn't be our first busy-roadway-ditch-potty-pit-stop, but it turns out it was our first busy-roadway-ditch-puke-pit-stop. And just like that, child No. 1 wasn't going to day care and my plans for a productive day at the office turned into my laptop on the kitchen table surrounded by Play-Doh and a child bouncing back to life minute by minute, begging me to go play on the playground.
Parenthood will surprise you, just like a side-of-the-road puke. And I'm telling you, 11 years ago, when our friends started having children in their mid-20s while my husband and I worked to build our lives around our visits to the infertility clinics, I wish I knew.
And it's not so I could be prepared for this whole motherhood thing myself. Nothing prepares you for this. But looking back, I wish I knew what my friends' lives were like with those young kids in tow. Because, bottom line, it's hard on friendships when the babies come for some and not for others, which has certainly been the case for my husband and me.
But the level of the dust we got left behind in didn't really resonate with me until we started kicking up our own all these years later. And now those friends carpool to hockey practices while we wrestle with car seats and I am starting to realize how crappy I was at being a friend to them back then.
I didn't know what it really takes out of you to raise these tiny humans. I only knew what it took out of me as I hoped to be in their role.
ARCHIVE: Read more of Jessie Veeder's Coming Home columns
And I didn't know what it truly meant to relieve some of the stresses of parenting little kids. Hint: The gestures don't need to be grand. In fact, just the tiniest effort, like offering to watch the kids for an hour so she can go to that hair/dentist/doctor/banking appointment ALONE makes a big difference in the life of a parent of toddlers.
Or maybe it's just swinging by for a few minutes to give her a moment of adult conversation and a chance to pee without company. Especially the ones with limited day care options, like many of us have in these small towns or growing communities.
Before I became a mother myself, I took my free time for granted, free time I could have thought to give to a friend with a young child who might want an hour or so alone to clean the bathrooms or vacuum out her car without a "helper."
Or maybe she wants a date with her husband? That would be nice. I could have done that for her. I didn't get it then, but I get it now.
And I'm doing my best to try to be a better village member, especially out here in the middle of nowhere, where our village is so small. With my little sister now living down the road, a 2-year-old in tow with another on the way, I have a clear view of what she needs.
Because more often than not, parenthood feels like that panicked little voice coming from the back seat, with no ideal pit-stop options for miles.
And I'm going to do my best to be that pit stop.
Jessie Veeder is a musician and writer living with her husband and daughters on a ranch near Watford City, N.D. She blogs at https://veederranch.com. Readers can reach her at jessieveeder@gmail.com.