Veeder: Community runs on heartbeats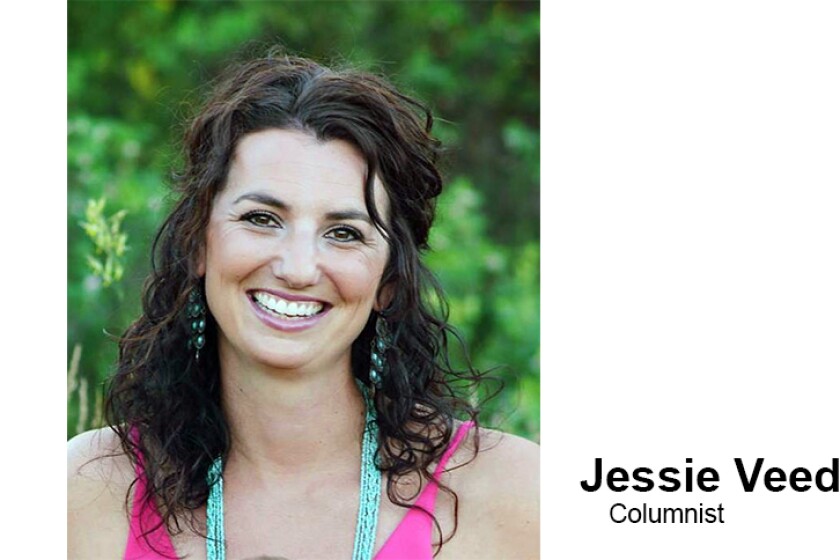 Some days, I imagine my great-grandmother Gudrun at 17 years old, standing with her hands on her hips, 1,000 miles from everything familiar to her, looking around the place, the wind whipping her dark hair and long dress, wondering how she wound up so far away from the fjords of Norway.
Wondering how she was going to do it. Wondering what might come next.
And then I imagine her taking a big breath, letting it out quickly, and getting to work.
In her nearly 100 years of living out along the edge of the Badlands in western North Dakota, she raised 12 children — 14 if you count the ones she didn't give birth to — and helped establish a church and a school, crops and cattle. She served as a "midwife," before midwife was a term, delivering babies in houses on the prairie and teaching her daughters to do the same when they were needed.
I was raised 2 miles from where my great-grandmother raised those children, one of them who was my grandma Edith, the woman I named my first daughter after.
While my grandma Edith was growing up, down the road from her was a young man who laid claim to a homestead when he was just a teenager. He was married, went to war, came home and lost his wife when my grandpa Pete, the youngest of four, was just a child.
And who was there to help him with raising those children when he was trying to raise the crops and the cattle? Gudrun's oldest daughters.
I've been thinking a lot about community lately as I watch the community where I was raised continue to work to meet the demands of an ever-growing population. Everything from groceries to day care to schools to housing is stretched and moving and shifting every day. Back when my great-grandmother was raising her family, community meant survival — and I can't help but notice how much that rings true to us all in the middle of this booming town.
Although I think it's easy to lose sight of it in a time when our access to technology and everything from diapers to refrigerators can be delivered to our doors.
Because community also means support. And support, now more than ever, means working to understand one another by sharing our stories, our concerns, our needs, our ideas and working beyond our differences and finding a way to go beyond survive and into thrive.
I had no idea when I was singing for my supper, driving up and down the middle of the Midwest alone with my guitar at a time when people were moving away instead of back, that I would be married to my high school boyfriend and living at the ranch that raised me before I hit 30 years old. And I certainly didn't have any idea that would be possible because, suddenly, the opportunities in my hometown would be saving people's dreams.
ARCHIVE: Read more of Jessie Veeder's Coming Home columns
Where would we be if we weren't tied here by blood and history? Would we be here anyway?
Last week, my neighbor called. She was raised a mile up the road from me in a time where we could still ride our bikes down the middle of the county road. She came home to start a business and raise her kids on her family's ranch. I came home to do the same.
"The kids set up a lemonade stand on the corner by the highway, come over if you have a minute."
And so my little sister and I loaded up our three little girls and headed to the highway to meet her and her husband and her dad and her mom and her four kids holding up "Get Your Lemonade Here" signs as trucks and pickups slowed down and pulled over to buy a cup and a Rice Krispies bar made by the next generation.
Times change. Our little country road is filled with daddies and mommies and sisters and brothers and husbands and wives and daughters and sons on their way to work and home again.
I stand on that road with my hands on my hips, wondering what the future holds in a world that has somehow become bigger and smaller at the same time, determined to do what it takes, and to never forget that it runs on heartbeats.
Jessie Veeder is a musician and writer living with her husband and daughters on a ranch near Watford City, N.D. She blogs at https://veederranch.com. Readers can reach her at jessieveeder@gmail.com.