Veeder: Country living and grocery store fails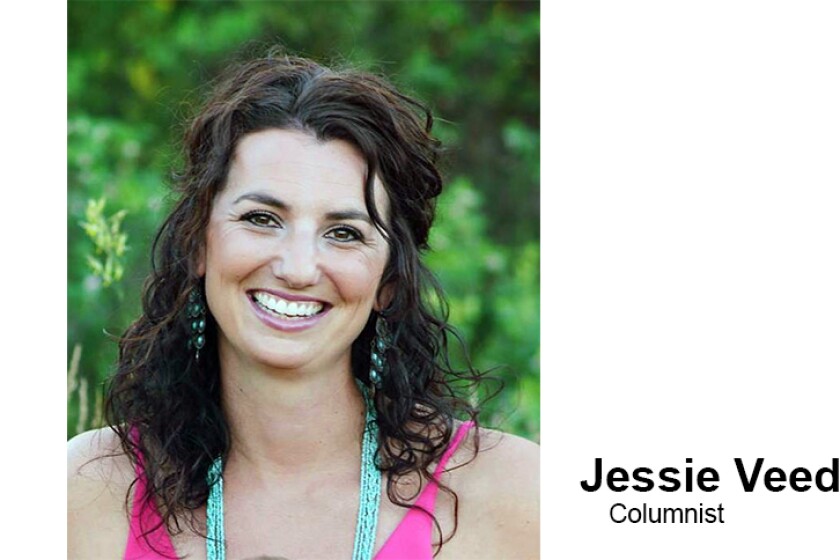 Last night, I did that thing where you have 30 minutes between work and day care pickup to power shop the grocery store and restock the essentials while planning a week's worth of meals in your head because the list you have on hand only says "eggs and milk," but the list in your head screams, "You're all going to be living off of Daddy's secret stash of ramen noodles if I put this grocery shopping trip on the back burner one more day…"
So yeah, I did that thing where I hang out between the canned beans and the pickles and text my husband about the level of our flour supply and he texts back that I should pick up some whiskey. And then I check the time and power walk through the cereal and freezer sections, throwing in a couple pizzas for good measure on my way to the checkout with a cart so full I have to hold the big family-sized box of frozen lasagna under one arm like a spectacle of the failed ranch wife and mother I've become.
And even though I had to take out a second mortgage on the house to pay the bill, I somehow managed to forget the most urgent of my husband's requests: dog food and whiskey. But I'm proud to say, when it came to toilet paper and ranch dressing, my Midwestern country living instincts didn't let me down, because, well, girlfriend don't want to be stranded…
ARCHIVE: Read more of Jessie Veeder's Coming Home columns
But I think those instincts are also to blame for the reason I brought home my fourth box of Minute Rice for the pantry shelves that currently house 17 jars of mayo, bags and bags of dry beans we've never ever cooked with in our entire lives, a bigger noodle selection than the Olive Garden and enough oatmeal to feed a branding crew if we were facing down the apocalypse.
Oh, and because I'm always inspired by the beautiful produce aisle and my snug-fitting jeans, I decided I'm going to start eating healthier, once and for all. So I bought a giant container of mixed greens for all of the salads in my future… Mind you, that was before the aforementioned panicked, time-crunched walk through the freezer section for last-minute chicken nuggets, but I digress.
Because after I got all of my wares and two toddlers into the house in a record-breaking (and arm-breaking, and back-breaking) two trips, I realized I must have had that same salad conversation with myself last time I was at the grocery store when I discovered the same exact container of mixed greens sitting untouched in my produce drawer.
So I did what every goal-oriented and focused career woman, wife and mother of two would do when faced with that moment of clarity — I poured us all big bowls of Peanut Butter Crunch for supper, called my sister to see if she could use some fresh lettuce and called it a day.
Because there's always tomorrow, and tomorrow we're having salad… and dry beans... and Minute Rice…
Jessie Veeder is a musician and writer living with her husband and daughters on a ranch near Watford City, N.D. She blogs at https://veederranch.com. Readers can reach her at jessieveeder@gmail.com.