Veeder: Potty pit stops are not a glamorous part of country living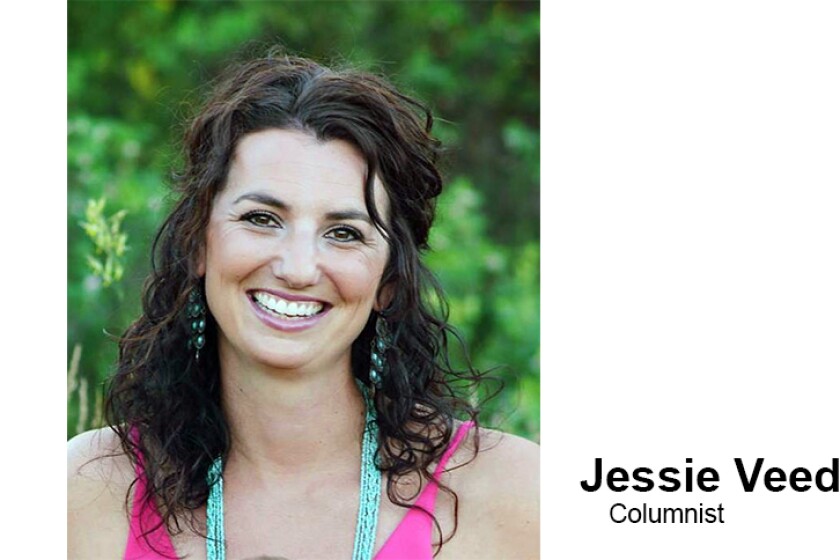 There are times when I'm being whiny about how hard life is with two little kids and two (or three?) jobs plus the ranch and the laundry and the 40-minute trip to town, and I think of the women who came before me who raised their children without air conditioning or microwaveable chicken nuggets, and I tell myself to suck it up.
Because, well, these are First World, privileged Middle-American problems and I am lucky. This is all I ever wanted, (except for maybe $1 million collecting interest in the bank…)
But yesterday, I finally wrapped up my office work for the day at 5 o'clock knowing that I had to get the girls from day care at 5:30 and it took a good 10 minutes to drive from my office to the store, but I needed essentials like milk and granola so I did it anyway and forgot the granola, but made it to day care by 5:29 and then wrestled my dear munchkins into their car seats, distributed an equal share of snack and drink for the long drive home before stopping at the gas station to fill up my tank so I wouldn't have another gas can situation — and just as I turned the corner on the last stoplight out of town with two quiet kids munching on crackers in the back, I dared to think I might actually have it under control.
That's when I heard a panicked voice from the back: "I have to go potty!" And at that moment, I thought that there are a lot of things about raising my children in the country that make me forever grateful for the life that we have, like wide-open spaces and wild plum picking and watching them catch toads in the backyard, but this?
ARCHIVE: Read more of Jessie Veeder's Coming Home columns
This was definitely not one of them. So I did what any good mom would do and I asked her if she could hold it. And she did what any good almost-4-year-old would do and said she would try. Which she did while she argued with her little sister about who had the right milk cup and then who had more crackers and then gave me suggestions on my radio choices before asking, repeatedly, if she could have a piece of gum that did not exist, a request that prompted a full-on meltdown from her little sister who happens to be obsessed with gum, before, finally, about 10 miles from our home, she winced, pulled her knees to her chest and whimpered, "I really, really have to go potty!"
And so I did what any good mom would do and said, "OK, OK, OK, just a minute, hold it just a little bit longer," and then proceeded to cuss under my breath while trying to simultaneously speed up and slow down to prepare to pull over in the nearest approach, which just happened to be an oil location.
And while truck after pickup after SUV rolled by on their way to an oil site or home or to work or to sports practice on a busy Tuesday evening, I crouched in the ditch, my butt in the air, trying and failing to shield passerby's from witnessing my daughter's emergency situation, our hair blowing in the 30 mph North Dakota autumn prairie wind, her bare bum catching that breeze, waiting, er, for the plop which would put us all out of our misery.
Except that plop never came. Turns out she'd rather poop in the potty at home. Which she did, and we all lived happily ever after in our home in the hills 30 miles from the nearest public restroom.
And if you need me, I'll be loading up that portable kids toilet I bought three months ago that's still in the box in the garage.
Jessie Veeder is a musician and writer living with her husband and daughters on a ranch near Watford City, N.D. She blogs at https://veederranch.com. Readers can reach her at jessieveeder@gmail.com.