What do you get when combine cookie butter, cheesecake and Irish Cream liquor? Just the easiest cake mashup for Christmas
Maybe you've thought about making an impressive dessert for the holidays but then just end up on the couch watching reruns of "The Great British Baking Show" instead. Here's a solution: a fun over-the-top cake mashup that includes the rich flavors of cheesecake, Irish cream and cookie butter that's also super easy to make and phenomenally delicious.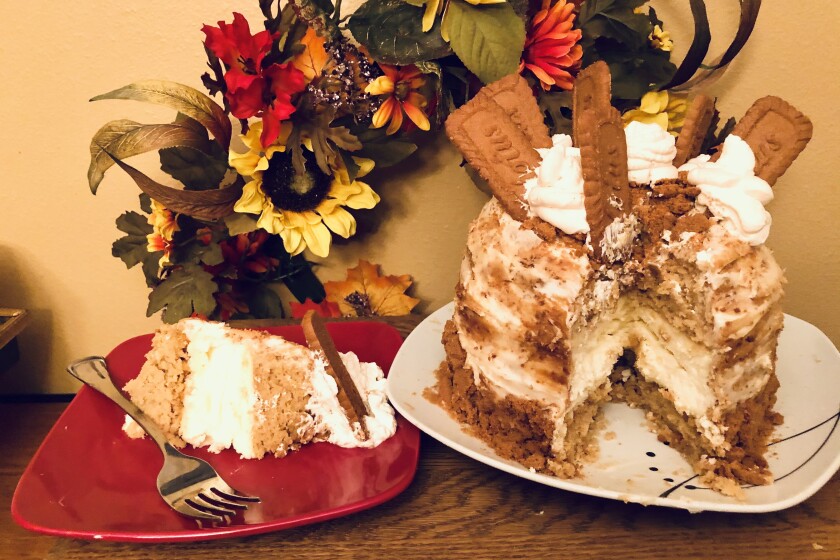 FARGO — It's 2020. The struggle is real. I'm not going to make you scroll down far for the recipe. Here it is. The absolute yummiest, easiest, over-the-top cake for those who want to make an impressive cake for Christmas but don't want to work that hard. This is like Lionel Richie "Easy Like Sunday Morning" easy because it uses a lot of store-bought ingredients. Best of all, it includes three of my favorite flavors: cookie butter, New York Cheesecake and Irish Cream liquor.
After the recipe, please keep reading for important pointers on how to make this fabulous cake and more colossal cakes that you could try.
Easy-Does-it Colossal Cookie Butter Cake with cheesecake filling and Irish Cream topping
Serves: 16
INGREDIENTS:
1 Yellow mix cake mix (and ingredients to make the cake - oil or butter, eggs, water)
1 Package of Biscoff cookies
1 Jar of cookie butter (smooth is best, but chunky is okay)
1 Frozen cheesecake
2 Tubs cream cheese frosting
2 Tablespoons Irish Cream liquor
1 Cup heavy whipping cream
1 Tablespoon sugar
DIRECTIONS:
Combine cake mix with ingredients called for on the back of the cake mix box (oil or butter, water, eggs). Add ½ cup cookie butter. Mix. Pour into greased eight-inch cake pans. Bake as directed on the back of the cake mix box. Let cool completely. After cakes cool, place one layer on a plate, put frozen cheesecake on top, followed by the second layer of cake. If your cheesecake is smaller than your cookie butter cakes, trim the cookie butter cakes to fit the cheesecake until they are the same size. Frost with one tub or so of the cream cheese icing. (This is your crumb coat so it does not need to be smooth and pretty.) Freeze for at least two to three hours. Frost again using a combination of the second tub of cream cheese icing and cookie butter. (Swipe on icing, swipe on cookie butter making marble effect). Crumble up half a package or so of Biscoff cookies and press crumbs into the base of the cake. Let the cake sit at room temperature for at least 4-6 hours. Pour one cup heavy whipping cream, one tablespoon sugar, two tablespoons Irish Cream liquor into a mixing bowl and whip until stiff peaks form. Put whipped cream into a piping bag and put dollops on top of the cake. Add more Biscoff cookies for decoration. Serve. Refrigerate after serving.
People sometimes ask where to find cookie butter. The Lotus brand of cookie butter is usually found in the international food aisle or in the peanut butter aisle of grocery stores. Trader Joe's also sells cookie butter.

The Biscoff cookies can either be found in the international aisle or in the cookie aisle.

I found a six-inch New York cheesecake in the freezer section of the grocery store. If you can find an eight-inch cheesecake, that would be even better so you wouldn't need to trim the rest of the cake.

If you do have to trim the cake, I found using the cardboard ring liner of the cheesecake as a guide was perfect.

If you can't find a frozen cheesecake, you can find tubs of pre-made cheesecake filling in the same area they sell cream cheese. You can use that and just also purchase a premade crust.

While this is a super easy recipe, it requires a bit of time management as you need to let the cake cool after baking, freeze for a couple of hours, then thaw for several more hours. So just make it the day before you want to eat and you'll be fine.

The cake is best served shortly after you put the whipped cream on it, since the cake tastes best at room temperature and the whipped cream cool.

If you don't have a piping bag, just put whipped cream in a Ziploc bag and snip off a corner.

Leftovers should be refrigerated.

This is a rich cake. Small portions are perfect.

If you'd like to make this NOT using store bought ingredients, just substitute your favorite recipes for yellow cake, cheesecake and frosting and have at it, relishing in your superiority over the rest of us lazy bakers.
So what inspired this cookie butter, cheesecake, Irish cream cake? Simple - all of those colossal cake creations that have taken over the internet in years past. They consist of two or three pies baked inside a cake. They're a lot of work and a lot of calories. But if you're looking for something fun to wallow away the hours during the pandemic, give these cakes a try.