5 things to know today: Retention bonus, Campus consolidation, Recounting text, Property tax, Hector addition
A select rundown of stories found on InForum.
We are part of The Trust Project.
1. Fargo School Board approves $1,500 employee retention bonuses
The Fargo School Board voted Tuesday night, Sept. 27, to provide $1,500 retention bonuses for eligible employees.
The plan applies to certified staff and teachers, classified hourly support staff, professional support staff and administrators.
Eligible employees are defined as staff that have regular and permanent work schedules.
Employees who are eligible will receive two payments of $750, one in December and another in May.
The bonuses were suggested in a memo the school board received from the district's planning committee, which stated, in part: "Since the onset of the pandemic, Fargo Public Schools' employees have gone above and beyond to support our students, learning and the community.
"We ask a lot from our employees in a normal year, and the past years have been extremely difficult on everyone," added the memo, which noted money for the bonuses would come from federal funding under the Elementary and Secondary School Emergency Relief Fund.
The cost of the benefits will amount to about $3.5 million in salary and related benefits, according to the memo.
Read more from The Forum's David Olson
2. Fargo schools eye possible consolidation of 3 elementary campuses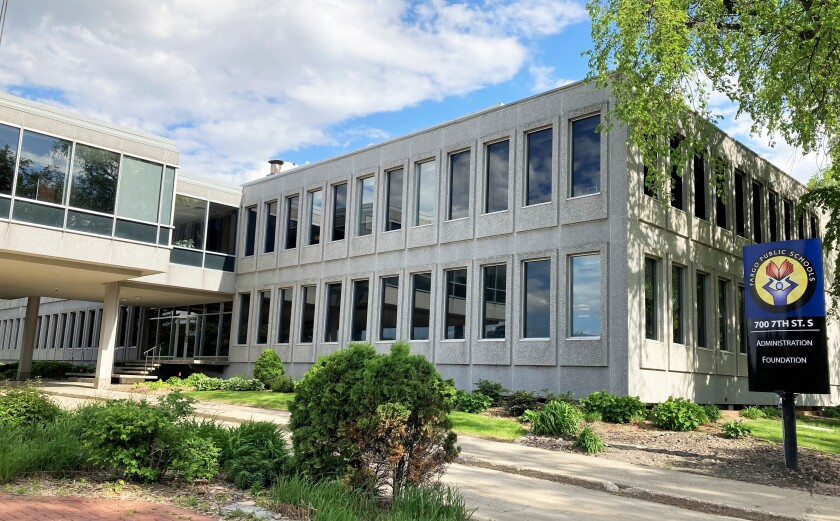 On Tuesday, Sept. 27, the Fargo School Board approved an updated long-range facility plan that includes a call to research the possibility of consolidating elementary campuses.
Consolidation plans include combining Horace Mann and Roosevelt elementary schools and possibly the Madison Elementary campus into one new building that might be built on the site of the Horace Mann property.
Horace Mann and Roosevelt are currently a paired campus.
According to the updated long-range facility plan approved Tuesday, the above-average cost that would be required to provide secure entries to Horace Mann and Roosevelt has rekindled earlier conversations about the needs of the aging buildings.
School administrators and the school board's planning committee recently discussed potential future repair costs or replacement of Horace Mann and Roosevelt.
Those conversations led to a recommendation to the planning committee that the district look into the possibility of consolidating Horace Mann and Roosevelt, and potentially Madison Elementary, into one new building that might be located on the Horace Mann site.
Read more from The Forum's David Olson
3. North Dakota's Wrigley pushed for recounts in contested states after 2020 election, book says
North Dakota Attorney General Drew Wrigley, then serving as a federal prosecutor, allegedly advocated for a "last ditch effort" to demand vote recounts in contested states after the 2020 election, according to a new book about the lead-up to the Jan. 6, 2021, attack on the U.S. Capitol.
Wrigley's idea eventually made it to former President Donald Trump's right-hand man, former Republican Congressman Denver Riggleman writes in "The Breach."
The book published Tuesday, Sept. 27, says U.S. Sen. Kevin Cramer, R-N.D., forwarded a message from Wrigley about possible recounts to then-White House Chief of Staff Mark Meadows as Trump and his legal team disputed the results of the November 2020 election. Riggleman argues Meadows was at the epicenter of a fight to overturn the election.
Trump lost the election to Democratic challenger Joe Biden, but the former Republican president has continuously made unsupported claims that mass voter fraud occurred in the 2020 election.
Wrigley and Cramer say they acted properly after the election and were not part of any effort to overturn its result, but critics say they are complicit in an attempt to dismantle the American democratic process.
Riggleman, who worked as a staffer on a House committee investigating the Jan. 6 attack on the U.S. Capitol, writes:
North Dakota senator Kevin Cramer forwarded Meadows a note from that state's US attorney, Drew Wrigley, who felt "the Trump legal team has made a joke of this whole thing" and had his own idea for a "last ditch effort" in crucial states.
"Demand state wide recount of absentee/mail-in ballots in line with pre-existing state law with regard to signature comparisons. Legislative leaders could pledge to abide by the results, no matter what. If state officials refuse that recount, the legislature would then act under the constitution, selecting the slate of electors," Wrigley explained.
Wrigley suggested a rejection of the demand for a recount would "call into question the vote itself" and lend "credibility" to any alternate electors.
The book does not indicate when Wrigley wrote the note, but Wrigley and Cramer said it would have been after the Nov. 3 election and before the Jan. 6 attack on the Capitol by Trump supporters.
Read more from Forum News Service's Jeremy Turley
4. Moorhead City Council approves preliminary plan to raise property tax by almost 3%
City Council members voted unanimously Monday, Sept. 26, to approve a preliminary budget for 2023 that would raise property tax in Moorhead by nearly 3%.
The city's preliminary tax levy for 2023 totals $18.9 million, a $1.9-million increase over the 2022 levy. To help fund that increase, the property tax rate is projected to rise by 2.96%.
Commercial, industrial and utility properties in Moorhead have property tax rates that are capped at 1.6%, according to Jenica Flanagan, Moorhead's city finance director. Unless there is a change in market value, those properties will not be impacted by the increased rate. Instead, the state picks up the difference and reimburses the city.
Residential properties, however, would see the increase of 2.96%. A median home, valued at $211,500, would see an annual tax increase of $26.98.
There has been upward momentum in the last year for the market value of residential buildings, apartments and commercial and industrial locations, Flanagan said.
Between 2021 and 2022, the city saw a $52.7-million increase in the value added by new improvements and construction in addition to a $231 million increase in market value adjustments, she said.
Overall, the city's total taxable market value for 2022 is $3.6 billion, Flanagan said, noting that marks an 8.4% increase over 2021.
"This was a very excellent year of growth for the city of Moorhead," she said.
Read more from The Forum's Melissa Van Der Stad
5. Hector Airport terminal addition will add 4 gates, greatly expand departure lounge area
Members of the public are getting their first glimpse of conceptual drawings for a 75,000-square-foot, $123-million terminal addition at Hector International Airport.
The unveiling, during an open house on Tuesday, Sept. 27, follows planning that began in January for a project that still requires schematic designs. Construction is planned to begin in the spring of 2024.
The addition, to be built east of the existing 115,000-square-foot terminal, will add four gates, for a total of nine, as well as more departure lounge space and accommodations for travelers who have cleared security, among other features.
"It's time to expand the airport, hopefully get some more airlines," airport executive director Shawn Dobberstein said. "Some of our spaces in our departure lounge are extremely limited."
Although boardings have dropped during the pandemic, planners expect boardings will resume their growth, with annual increases of 2.1% projected over the next 20 years.
Annual boardings at Hector exceeded 339,000 in 2021, then fell because of the COVID-19 pandemic, but are projected to climb to almost 750,000 by 2041, according to Mead & Hunt, consultants hired to conduct the airport's terminal area study.
"The forecasting right now with COVID is almost impossible, but we have to do it," said Justin Anderson, a senior terminal planner for Mead & Hunt.
Historically, airport travel has dropped for periods but always has recovered, he said.