5 things to know today: Enchantasys petition, Spending plan, Library bill, Finance report, Move over
A select rundown of stories found on InForum.
We are part of The Trust Project.
1. Enchantasys petition fails; owners say legal action possible
A petition effort by adult boutique owners seeking the repeal of a new Fargo law has failed after falling nearly 1,000 signatures short of the 2,500 needed.
"I'm humbled by the amount of love and support we received from our community during this time," Enchantasys co-owner Kim Patterson said Tuesday, Jan. 17, at a news conference at her store at 2552 45th St. S.
In the last few weeks people have "flocked" to their stores to sign the petition against zoning regulations regarding adult establishments, and about 1,500 signatures were gathered, according to Patterson. Enchantasys has a second location at 2512 7th Ave. S. in Fargo.
Romantix, another adult boutique, helped Enchantasys by gathering signatures at their store at 417 Northern Pacific Ave., according to Josh Porter, Romantix's vice president of operations in Fargo.
Read more from The Forum's Melissa Van Der Stad
2. Walz proposes billions in child tax credits, education spending, creation of new agency
Minnesota Gov. Tim Walz on Tuesday, Jan. 17, unveiled his administration's education spending plan, proposed child tax credits and made his pitch for the creation of a new state agency dedicated to children and families.
The $12 billion package is the first piece of Walz's budget proposals and includes billions in additional education spending, including more than $800 million for universal lunch for public school students. It would also provide billions in child tax credits over the next few years, something the administration said would put a significant dent in child poverty.
At his second inauguration Jan. 2, Walz said his main priority in his next four years as governor is to put children and education at the center of his agenda. Addressing reporters at Adams Spanish Immersion School in St. Paul on Tuesday, Walz said the plan is the first step toward that goal.
"We're here today to fulfill and put out the pledge that we made, to make Minnesota the best state in the country for a family to live, and to make sure that every child gets the opportunity to thrive," Walz said. "We're going to make sure that that world-class education, that we already deliver, that those opportunities are there for every single child. And we're going to do that in an approach that we think looks at the child holistically."
Read more from Forum News Service's Alex Derosier
3. Bills would ban sexual material in ND public libraries
From the Bismarck Tribune via Forum News Service
Two bills seek to ban sexual content in public libraries in North Dakota, legislation opponents say is censorship.
The House Judiciary Committee on Tuesday, Jan. 17, heard House Bill 1205, brought by House Majority Leader Mike Lefor, R-Dickinson. The bill would ban libraries from maintaining or promoting books with visual depictions of "explicit sexual material," including intercourse, masturbation and other acts.
People could request that libraries remove materials in violation, and libraries would have to take the items out within 30 days. Libraries also would have to develop a policy for ensuring age-appropriate book collections, for evaluating requests for removing materials, and for periodically reviewing collections to ensure there is no sexually explicit material.
Lefor cited visual nudity in drawings in the graphic novel "Let's Talk About It: The Teen's Guide to Sex, Relationships, and Being a Human," for why he brought the bill. The book recently was the subject of a public hearing by the Valley City Barnes County Public Library.
"I think the content of it is disgusting, that at the very least, public libraries should put it in a restricted area where (children) need to get permission from their parents to take a book out like this, but they're offering it to junior high school kids ... and when we grew up, we didn't need things like this," Lefor told the Tribune. "This is not a way to raise our kids, and we have to do everything we can to make sure that this doesn't get into the hands of children, especially without their parents' knowledge."
The bill does make exceptions for "works of art that, when taken as a whole, have serious artistic significance, or works of anthropological significance, or materials used in science courses, including materials used in biology, anatomy, physiology, or sexual education classes."
4. Bills would require North Dakota school board candidates to file campaign finance reports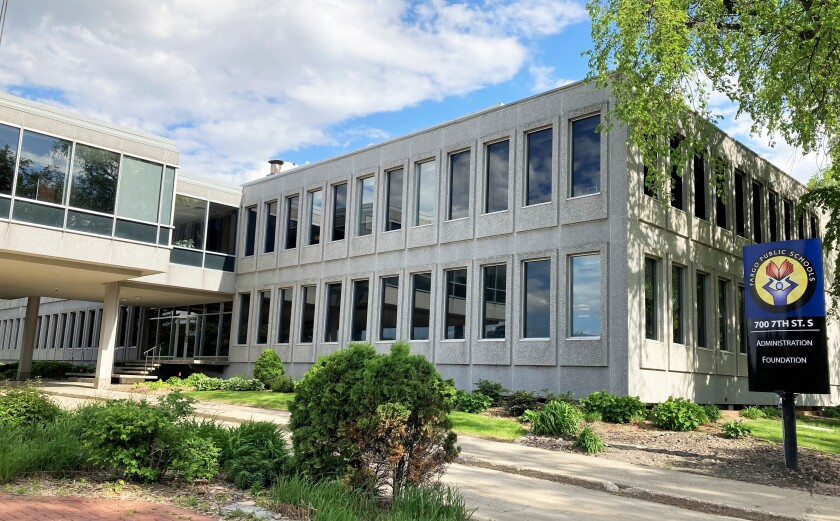 A pair of bills introduced in the North Dakota Legislature would require candidates for school board to file campaign finance reports.
Under current North Dakota law, candidates for county offices, as well as city offices in communities of 5,000 or more, are required to file campaign finance reports, but candidates running for school board don't have to file any campaign finance reports. A Forum story exploring the situation published prior to the local election in June was part of what prompted the legislation.
That picture would change under bills recently introduced in the North Dakota House of Representatives, one of which, House Bill 1257, is backed by a bipartisan group of lawmakers. The other, House Bill 1116, which appears to be identical in wording, is sponsored by Rep. Jeff Hoverson, R-Minot.
If enacted, the bills would amend state law to add school board candidates to the list of candidates who must file campaign finance reports.
The bills exempt school board candidates running in districts with fewer than 750 students.
One of the sponsors of the bipartisan bill, Rep. Liz Conmy, D-Fargo, said two things prompted the bill: the Forum article about school board campaign finance rules and several constituents asking that more disclosure be required of school board candidates.
State Sen. Ryan Braunberger, D-Fargo, described his support for the legislation this way:
"There has been a national movement of pressure on school boards/systems to limit the discussion on diverse issues, including LGBTQ. This pressure is coming from outside sources supporting school board candidates.
Read more from The Forum's David Olson
5. Heads up, highway drivers: North Dakota bill would change 'slow down, move over' law
Highway drivers in North Dakota may soon be required to shift over a lane or slow down when they see any kind of vehicle sitting in the shoulder with its flashers on.
State law dictates that drivers on interstates and multi-lane highways must move over a lane or slow down for police cars, ambulances and other emergency vehicles, but lawmakers are considering a bill that would expand the so-called "slow down, move over" law to all disabled vehicles on the side of the road.
The Republican-led House of Representatives voted 88-5 on Tuesday, Jan. 17, to advance House Bill 1141. The proposal sponsored by Rep. Austen Schauer, R-West Fargo, will go to the Senate when the chambers swap passed legislation in March.
The legislation would impose a $20 fine but no points against drivers' licenses if they are caught failing to move over or slow down for a disabled vehicle on a North Dakota highway, said bill carrier Rep. Scott Wagner, R-Fargo.
"The current law protects vehicles, not the driver or the passenger of the vehicle," Wagner said. "House Bill 1141 is simple. If you see flashing lights on a vehicle — any vehicle — sitting on the side of an interstate or multilane highway in North Dakota, move over a lane or slow down to a safe speed to provide a buffer of safety to the occupants of that vehicle."
The House Transportation Committee heard testimony last week from Joshua Edwards, a Killdeer paramedic who was struck by a passing pickup truck in 2021 while trying to help an injured victim of a vehicle rollover. Edwards said he recovered from the injury and returned to work, but the psychological trauma inflicted by incident will stay with him for life.
"I believe that our current 'Slow Down, Move Over' law statute does not clearly state expectations and should include personal vehicles and penalties," Edwards said.
No one spoke in opposition to the bill.