18 rape kits from Fargo have gone untested for over a year; police chief 'not satisfied'
One of the 18 sexual assault kits has gone untested since January 2021, languishing in storage at North Dakota's crime lab for more than 20 months. Attorney General Drew Wrigley, who oversees the lab, told The Forum on Friday that it was the first time he heard about Fargo's kits waiting that long for testing.
FARGO — More than a dozen sexual assault kits from Fargo have been awaiting DNA testing at the North Dakota crime lab for more than a year, a revelation that has one advocate wondering how many more victims from across the state are waiting for answers in their cases.
The Fargo Police Department told The Forum it had 75 sexual assault nurse examination (SANE) kits at the state crime lab that needed to be tested as of Thursday, Oct. 6. Of those kits, 18 are more than a year old, including one dating back to Jan. 13, 2021.
"I would say as a chief, I'm not satisfied with the turnaround on DNA," Fargo Police Chief David Zibolski told The Forum in a Tuesday interview. "That's not appropriate, and I know that's an issue that's on the attorney general's plate."
Whitney Oxendahl adds democracy and elections to her list of passions, which also includes food security, volunteer manuals and policy writing.
Previously pleading not guilty on all six counts in May 2022, he changes his plea to guilty on two counts in an Oct. 5 hearing. The sentencing is scheduled for Dec. 14.
About 20,600 fentanyl pills were seized in the raid on the Bismarck home of David D. Rogers, with the pills having an estimated street value of about $927,000, according to court documents.
Reached by phone on Friday, Attorney General Drew Wrigley said it was the first time he heard about Fargo's 18 kits waiting that long. It was not immediately clear, as of publication time, how many kits from across the state have gone untested for more than a year at the crime lab.
Wrigley noted the state lab is backlogged in testing evidence in general, including sexual assault kits, due to staffing cuts dating back to 2017, when his predecessor, Wayne Stenehjem, oversaw it. Wrigley, who became attorney general after Stenehjem's death in January, said he has plans to restructure the lab under the state Bureau of Criminal Investigation and seek a budget that will better fund the lab.
"We are addressing that, and we are doing it aggressively," Wrigley said.
North Dakota is not alone in its backlog, said Christopher Johnson, CEO of the Rape and Abuse Crisis Center in Fargo. Crime labs across the country struggle to test kits in a timely manner.
"We know, as an industry, that this has been a problem for quite some time, that they're just not getting processed at a time that makes sense for victims," he said of the kits. "If they're waiting for a year, that is a year that that victim hung in there, went through the process, is trying to work the system, and it becomes a factor where, how much endurance are we going to ask people to have?"
Collecting a kit can take hours
Medical professionals use sexual assault kits to collect evidence from victims. The goal is to swab for DNA that could identify an attacker.
Evidence ideally needs to be collected within 72 hours of the assault, according to the Rape, Abuse & Incest National Network. Authorities typically want victims to avoid showering, bathing, changing clothes and using the bathroom in order to preserve evidence.
An examination during which a sexual assault kit is used can take several hours, according to RAINN.
Not all states disclose their backlogs of sexual assault kits, according to Joyful Heart Foundation Policy and Advocacy Director Ilse Knecht.
Some states, like Massachusetts, can turn around kits in 30 days, she noted. There are places that have yearlong waits, but that is not acceptable, she said.
"Eighteen only from Fargo, there's probably more across the state," she said.
Joyful Heart is a national organization dedicated to sexual assault education and victim advocacy. It runs End the Backlog, an inventory of states' efforts to track and test sexual assault kits. North Dakota and Minnesota are among 32 states that have begun to implement reforms.
North Dakota has a statewide inventory of SANE kits and is working to launch a system that would allow victims to track where their kits are in the process of testing. North Dakota law doesn't mandate testing of all sexual assault kits.
The Fargo Police Department sends its kits to the state lab if a crime has been established, Capt. George Vinson said. That is a low threshold, meaning the agency sends almost all kits to the state lab, he said.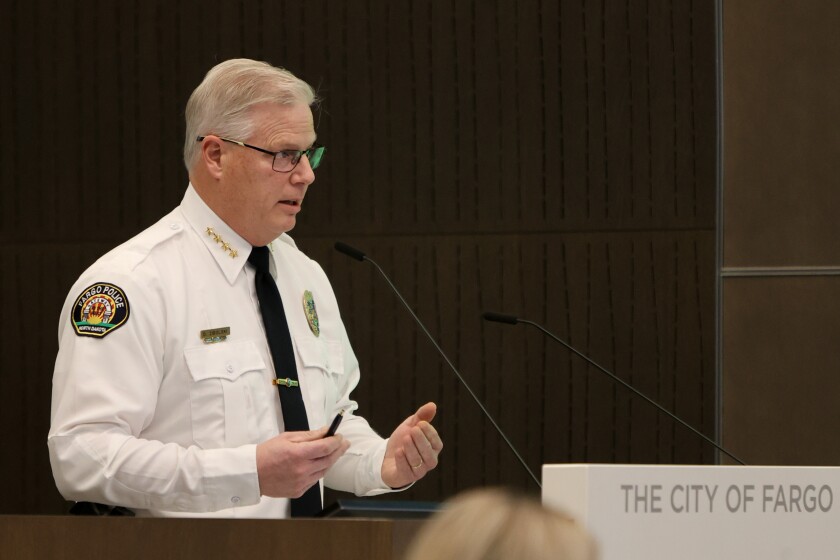 No sexual assault kits awaiting testing at Minnesota's state lab are more than a year old, with the exception of some of its 2015 inventory, Minnesota Bureau of Criminal Apprehension spokeswoman Jill Oliveira said. The state determined from an inventory taken in 2015 there were 3,482 sexual assault kits used over several years, but they were not tested.
About 5% of that inventory is awaiting testing, which should be completed this year, Oliveira said.
Sexual assault causes extreme trauma, Zibolski said. Only a third of cases are reported to police, compared to two-thirds of robberies and assaults, according to the U.S. Department of Justice.
When a sexual assault is reported, law enforcement needs to act quickly, Zibolski said.
"My expectation is that we are on those right away, just like a shooting or homicide. They are on that same level," he said.
'Preventing future victimization'
There were discussions between Stenehjem and the Fargo Police Department to address the backlog, Zibolski said.
"I think we've got a lot of good ideas in the works, but they do have to have the personnel to do it," Zibolski said of the state crime lab.
Wrigley said he doesn't know why the cuts were made at the lab under Stenehjem. Those cuts included letting go of staff who could test firearms evidence. Guns and bullets have been sent out of state to be examined for five years, he noted.
Wrigley said the equipment to test guns at the state lab is still there, and he would like to bring back the staff to use it. There are other updates he would like to make as well, he said.
"It's a point of frustration I have heard across the state," he said of backlogged evidence in general.
It's important to keep victims informed about the process, including about delays, Knecht said. The process is often more important than the outcome, and that process should be transparent, consistent and efficient, she said.
States should ensure labs are fully funded, staffed and have clear rules and guidelines to follow, Knecht said.
Waiting months to test a sexual assault kit sends a message to victims that their cases are not being taken seriously or that the kits are not a priority, Knecht said. They feel like they don't matter, and they lose faith in the justice system, she added.
"That's a terrible feeling," Knecht said. "That's really destructive. It's really harmful to their healing process and to their general well-being."
A victim may not come forward because they feel nothing will happen, she said.
Wrigley said the kits have to get tested. Zibolski said he hopes the attorney general's office is able to do that.
"One of our biggest responsibilities is protecting the vulnerable from harm and preventing future victimization," Zibolski said. "Every one of those cases could likely be another victim in the making when we don't identify a perpetrator, especially if it's not a known suspect."