After 854 days, Fargo cat still waiting for a new home
Unable to locate an owner, the Fargo pound gave Fury to Homeward Animal Shelter so he could find a home. That was back in September of 2020.
FARGO — Barbara J. Nordbo laughed as her foster cat Fury rolled around on the floor, enticing his newfound audience to pet him.
"He's a lovable curmudgeon," she said of the 5-year-old feline.
Fury is staying with Nordbo while he waits to be adopted . Homeward Animal Shelter placed Fury with Nordbo to get him out of the stressful shelter environment where he spent roughly two months, and he's been with her ever since.
All told, he's spent 854 days waiting to find a permanent home.
"It's just really disheartening that he has had to wait so long," said Heather Klefstad, Homeward's marketing director.
The average cat in Homeward's care waits 27 days for their adoption, Klefstad estimated.
Despite Fury's name, Nordbo assured The Forum that he's really a very sweet boy, consistently following her around the house as she goes about her day. He enjoys affection solely on his terms, however.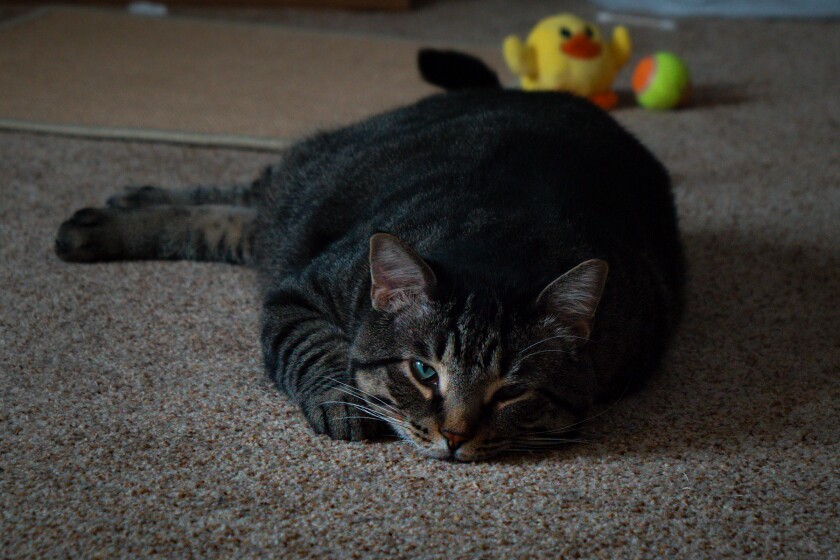 His independent demeanor and unassuming looks are the only things that Klefstad can figure might be holding up his search for his forever home.
Fury is a relatively young cat with no health concerns. It's often older cats with medical problems that see longer waits for homes, Klefstad said.
During a recent visit, Fury welcomed a few pats from Forum staffers before moving himself to the center of the room to observe the unexpected production that intruded into his home.
The evidence of his occupation was everywhere — from the birthday bag turned cat hideaway in the hall to the pile of toys in the living room.
Nordbo has been fostering cats for years, and she's helped 10 cats find homes.
"I would do more if I was able," Nordbo said.
At 87 years old she still lives in the house that she purchased in 1970. Her home is a calm environment for foster cats to relax and recuperate after the stressful life changes that often precede foster care.
"I love it, you know," Nordbo said. "They give me company and I give them love when they want it."
The cats are eager to follow Nordbo, a quilter by trade, around the house as she gathers up supplies. They want to be part of everything she is doing, she said.
Fury is especially excited when she comes home, waiting by the door for her every time.
At night, Fury is the first to arrive when Nordbo gets ready to sleep. He'll wiggle his way under the covers, snuggle up close, and allow himself to be held for about 10 minutes, Nordbo said.
When he's had enough, Fury will settle down at the foot of her bed.
"He lays across the bed, twin bed mind you, so I sleep diagonally because I don't want to disturb his honor the king," Nordbo laughed.
Fury was likely found outside and, unable to locate an owner, the Fargo pound gave him to Homeward Animal Shelter so he could find a new home, Klefstad said. That was back in September of 2020.
His luck was good, initially, and he was adopted shortly after he arrived. However, his new family brought him back to the shelter just eight days later because he wasn't getting along with their other cat.
At that point Fury was moved into foster care with Nordbo in October of 2020 where he's stayed ever since, waiting for adoption.
Mischief, another Homeward foster cat staying with Nordbo , has done her fair share of waiting. She's spent 511 days waiting for a home.
"As her name implies, she has a little cattitude," Klefstad said.
Mischief, a bright 3-year-old cat, had two short chances at a home but was returned each time because it wasn't the right fit, Klefstad said. One man returned her after a few months because she was playing with the cords for his curtains and waking him up.
Mischief was put on antianxiety medication to help ease her transition to Nordbo's home. "We all kind of figured it was because she had been in so many different homes (in so short of a time)," she said.
Now, after some time to settle in and a gentle hand, Mischief is off the medication and doing even better than before, according to Nordbo.
"I feel like these poor animals are so mistreated sometimes," she said. "They are kind of discarded and I feel like I am helping them a little bit .... As long as I have a home, they are going to have a home."
Nordbo said Mischief isn't much for cuddling, but when the mood strikes her she will arrange herself just so in the crook of her foster mother's arm and purr up a storm.
"I pet her and tell her how sweet she is and how beautiful she is," Nordbo said. "She loves that."
Indeed, when The Forum met her she was relaxed, inquisitive and oh-so-happy when Nordbo broke out the treats.
"She is just a spicy gal looking for the right home," Klefstad said.
Neither cat is the type to push for excessive physical attention, Klefstad said, but they show their love in other ways.
"He is a good cat," Klefstad said of Fury. "He's just not going to be your overly affectionate fellow. He's a great companion."
Nordbo describes Fury as a loyal and dependable companion who delights in bags and boxes of all sorts.
"There has got to be that person out there" for him, Klefstad said. "I want people to keep in mind that they truly are great cats," she added, who deserve their chance at a forever home.
Anyone interested in adopting Fury or Mischief should call Homeward Animal Shelter at 701-239-0077 or visit www.homewardonline.org