David Cook named next NDSU president
The University of Kansas administrator will take over for President Dean Bresciani, who has been at NDSU since 2010.
We are part of The Trust Project.
FARGO — David Cook has been chosen to be the next North Dakota State University president.
The State Board of Higher Education voted unanimously to hire the University of Kansas vice chancellor of public affairs and economic development Wednesday, Feb. 23, during a meeting at the NDSU Memorial Union. Cook will start as NDSU's leader no later than July 1.
His salary will be determined at a later date.
"This is a very good day for me, and that's an understatement," Cook said during a news conference after the vote.
The decision comes after a search committee whittled down the pool of 47 candidates to five who visited campus. The committee then named Cook, Marymount University's Hesham El-Rewini and Mary Holz-Clause from the University of Minnesota Crookston and Morris campuses as finalists.
The three sat down with the higher education board on Wednesday for individual hourlong interviews. Because of this weekend's blizzard, Cook was unable to fly into Fargo but appeared via videoconference.
El-Rewini and Holz-Clause took questions in-person before the higher education board went into executive session for nearly two hours to discuss the finalists.
All candidates did well, Board Chair Casey Ryan told The Forum in a phone interview.
"His experience was significant with everything that he has been involved in," Ryan said when asked why Cook rose to the top.
The State Board of Higher Education will interview the three finalists Wednesday, Feb. 23, before choosing who will replace NDSU President Dean Bresciani.
NDSU stakeholders gave Cook overall positive reviews on feedback forms, with some saying he was the top choice, according to documents obtained by The Forum through an open records request. Cook was criticized for his lack of expertise in the agricultural field.
He noted he has experience in public health services and serving rural and vulnerable communities. He said he believes his experience in other fields can complement NDSU's agriculture focus.
Cook will receive a tenured position in health professions at NDSU.
The administrator told reporters he first wants to get to know stakeholders and their needs through listening sessions, and he wants to address the challenge of NDSU's declining enrollment.
The university has taken input on its academic priorities. That could include offering more online and hybrid degrees, setting minimum enrollment requirements for classes, directing research faculty toward more instructional efforts and reducing the need for adjunct and part-time faculty, according to a report from Huron Consulting Group.
When asked about the report's recommendations, Cooks said he would like to take time to speak with academic leaders to determine next steps.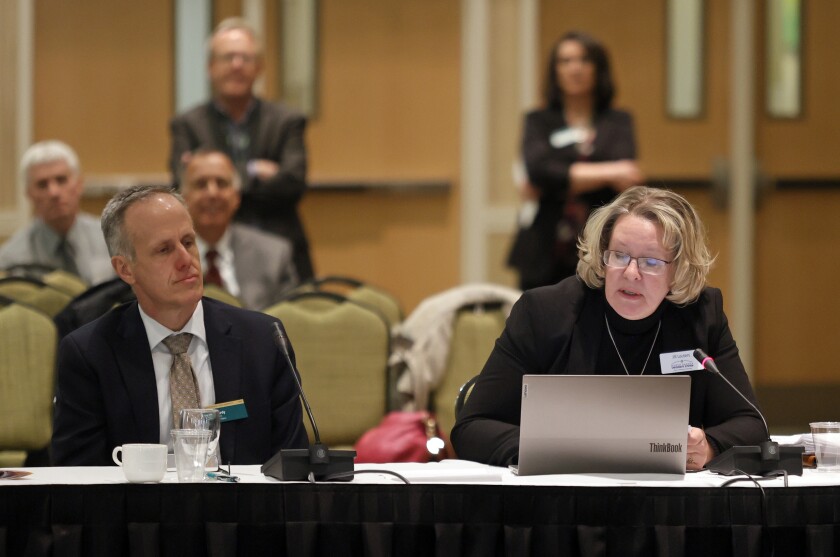 During his interview with the board, he asked about the perception and appetite in the state and at NDSU for online education. He told reporters his school "bumbled through" online classes during the pandemic but did great work, as well.
He said he learned more can be done with distance learning.
"I need to learn and better understand what works best for NDSU and the state in that space," he said, adding there are opportunities to reach nontraditional students and others across the state. "I think it's one of the many kind of tools in the toolbox that we should be considering and thinking about."
In a news release, University of Kansas Chancellor Doug Girod said he was thrilled for Cook's achievement but called it a loss for KU.
"As a university, we can be proud that his time at KU enabled him to refine his leadership skills and move on to the presidency of another outstanding institution," Girod said in the statement.
Cook will take over for President Dean Bresciani, who has been at NDSU since 2010. Bresciani agreed to step down by the end of this year after an evaluation criticized how he chose leadership, a claim was made that NDSU research was eroding compared to the rest of the country and declining enrollment.
NDSU regained its R1 status this school year from the Carnegie Classification of Institutions of Higher Education, meaning it has "very high research activity." That status was lost in 2015.
The NDSU Foundation also announced last week it had raised nearly $587 million during a six-year campaign that ended in December. "In Our Hands" set a statewide record for fundraising efforts, a feat foundation leaders said was not possible without Bresciani.
Bresciani has been offered a distinguished professor position in health sciences and education at NDSU once he steps down from his presidency. He announced in October plans to leave his estate to the school, though the exact amount of his worth has not been made public.