Fargo City Commission wrangling over police chief as police department turnover continues
Commissioner Dave Piepkorn: "I believe that what (Chief David Zibolski has) brought in is a toxic culture."
FARGO — Fargo City Commission wrangling over Police Chief David Zibolski and turnover in his department continued Monday, Jan. 24, with Commissioner Dave Piepkorn suggesting staffing issues at the department warranted the chief's immediate dismissal.
At Monday night's meeting of the commission, Piekporn said his phone has been ringing non-stop since information about police department turnover was underscored in recent media reports, noting that 45 department employees have left since Zibolski was hired about a year and a half ago.
"I believe that what he's brought in is a toxic culture," Piepkorn said, adding that he has heard officers are sometimes asked to respond to high-risk situations like domestic calls by themselves.
"This is grounds for immediate dismissal," Piepkorn said.
Commissioner Arlette Preston took issue with Piepkorn's statements, asserting that commission meetings were not the time nor place for such talk.
"None of us up here should be doing that," she said, describing Piepkorn's statements as unprofessional and bordering on neglect.
A motion presented by Piepkorn to suspend Zibolski while an outside party was brought in to review police department issues failed for lack of a second.
Instead, the commission, with Piepkorn the lone dissenter, voted to establish a review process and police department performance action plan suggested by Commissioner Tony Gehrig.
The plan outlined areas that will be reviewed, with the expectation that Zibolski's performance in addressing any concerns identified will be watched closely.
Gehrig said one part of the process should be a survey of police officers early in the process followed by another survey at the end in order to get staff perspective on how the process was conducted.
Responding to Piepkorn's comments, Zibolski said that during the time period when 45 employees, both officers and civilians, left the department, a total of 33 people were hired, for a difference of 12.
Zibolski said five new officers were sworn in Monday, leaving the current vacancy number for sworn officers at 20, with three of those vacancies representing three new positions approved by the commission in 2022.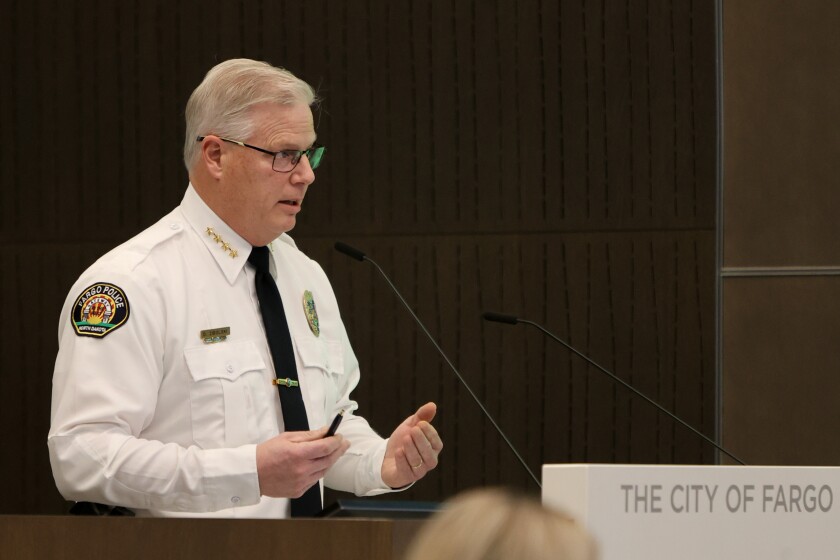 On the question of whether officers are sometimes expected to handle a high-risk situation on their own, Zibolski said: "We're always going to send two. If there's not another officer available, that (responding) officer would wait for a backup, or, if it was a significant situation ... call for mutual aid."
However, he added, sometimes an officer may walk into a situation that needs immediate action, even if they are on their own.
"There are situations that are out of our control," he said.
Commissioner John Strand stressed to Zibolsk that he and the entire police department are appreciated.
"You're not alone in this, we're partners with you," Strand said.
"We need to be careful and yet we need to be responsible," Strand added, telling Zibolski: "It's on us to learn what your needs are to better fulfill your agreed-upon goals."
In introducing the review planned for the police department, Mayor Tim Mahoney said the commission should be focusing on managing facts, not rumors, stating, "It's time to get the facts."
The commission also heard Monday from Desi Fleming, director of Fargo Cass Public Health, who said individuals who are interested in getting free at-home COVID-19 tests can do so by visiting www.covidtests.com .
She added that 2,400 to 4,600 people a day have been getting tested for COVID-19 at a Fargo testing center.