Fargo man tried to hide evidence in fatal attack of 14-year-old, prosecutor claims
After two-and-a-half days of jury selection, testimony began in the murder trial against Arthur Kollie. He is accused of killing Jupiter Paulsen in a nearly 30-minute attack near Party City in Fargo.
We are part of The Trust Project.
FARGO — A Fargo man accused of killing a young teenager last year took deliberate actions to hide evidence related to the attack, prosecutors alleged Thursday, Sept. 8, in Cass County District Court.
After two-and-a-half days of jury selection, the state on Thursday called its first witnesses in its case against 24-year-old Arthur Prince Kollie . The Fargo man is charged with murder, robbery and aggravated assault in connection to the June 2021 death of 14-year-old Jupiter Paulsen.
Kollie's attorney, Eric Baumann, is expected to argue the defendant lacks criminal responsibility in the case, but details on that argument have not been disclosed in court or public documents. Baumann, a public defender from Minot, has hinted at using an insanity defense.
Kollie has said he has an alter ego named Prince who takes over. He also told police he ingested meth the day before the assault and doesn't remember the attack.
In opening statements, prosecutor Kate Naumann argued Thursday that Kollie knew what he was doing when he allegedly assaulted Jupiter for nearly 30 minutes early June 4, 2021, in the Party City parking lot. Video footage shows Kollie following Jupiter around the corner of the store to the east side of the building, Naumann said.
He then attacked her within seconds of rounding the corner, Naumann said. Kollie stabbed Jupiter 25 times, as well as kicked and strangled her, according to the prosecutor.
The wounds were superficial, but evidence suggests Kollie strangled Jupiter to the point that she lost her pulse, the prosecutor said, adding medical staff were able to get that pulse back, but loss of oxygen to her brain led to her death days after the assault.
Fargo city sanitation worker Patrick Peterson testified Thursday how he found Kollie kneeling over Jupiter.
Kollie was pinching the girl's nose and holding her neck, Peterson said, noting he couldn't tell if Kollie was applying pressure and initially thought Kollie was helping the girl.
Peterson added Jupiter and Kollie were covered in dried blood, and Kollie didn't respond when he asked the defendant what was going on.
Kollie started to walk away when Peterson began talking with a 911 dispatcher, according to Peterson, adding the defendant ran when he was told to wait for police to arrive.
"As soon as I said the word 'cops,' he was gone," Peterson said.
Naumann summarized Kollie's alleged actions after the attack. Video footage is expected to show Kollie walking to a gas station, where he took a shower, according to court documents. Kollie also turned his pants inside-out to hide bloodstains, Naumann said.
It's unknown why Peter Tefft could be called to testify in Arthur Kollie's trial, but the local associated with white supremacists visited the defendant, who is Black, in jail.
Police found Kollie's bloodstained shirt, a knife and Jupiter's ID in apartment complex dumpsters near Home Depot, according to court documents. Police believe Kollie dumped those items, Naumann said.
Surveillance footage also showed Kollie walking into Walmart, grabbing clothes off a rack and changing into them in a bathroom, according to police reports. That included a hoodie that he put over his head and sunglasses he put on as he left the Walmart, ditching his bloodstained pants and shoes in the store's bathroom, Naumann said.
He then tried to get a free bus ride before going to the federal courthouse to ask for money and to be taken into protective custody, Naumann said. He was arrested June 4, 2021, in downtown Fargo.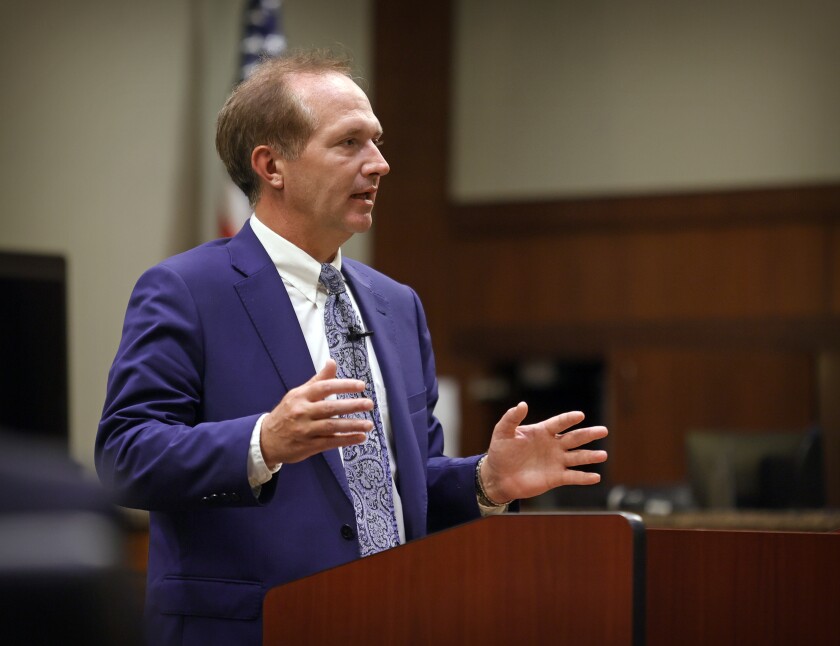 Kollie's actions were intentional, Naumann said.
"He knows someone caught him in the act, rolled up right on him," she said. "He knows law enforcement will be looking for him."
In a brief opening statement, Baumann asked jurors to keep an open mind, particularly about Kollie's state of mind during the attack. He also told them not to get caught up in emotions.
The state will continue calling witnesses Friday. The trial that began Tuesday was scheduled to end Friday, but jury questioning turned lengthy. The trial is expected to go into next week.