Fargo man who stabbed then-wife before she jumped from moving van gets 13 years in prison
Tyler Mollner said he "fell into a blackout rage" when he stabbed his then-wife and sawed at her neck as if trying to decapitate her, prosecutors said.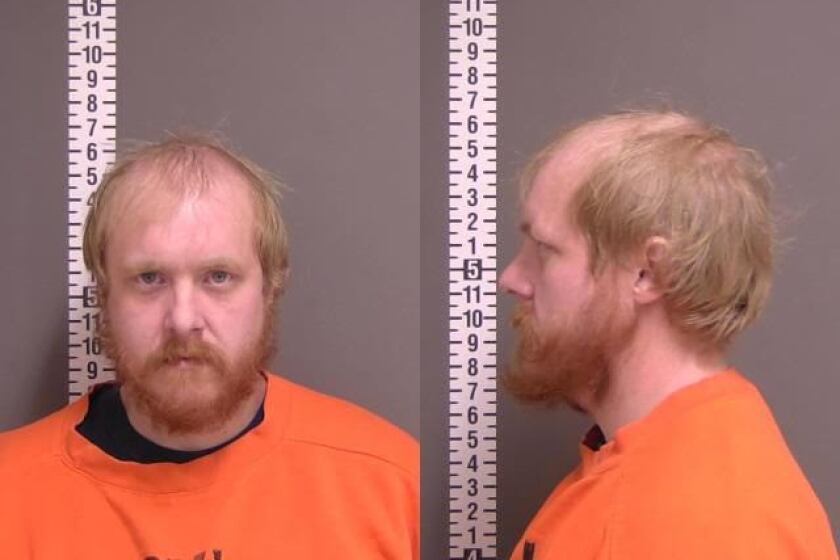 We are part of The Trust Project.
FARGO — A Fargo man is being sent to prison for 13 years after admitting to stabbing his then-wife multiple times in a "blackout rage" before she jumped out of a moving van to save herself.
Tyler Earl Mollner, 28, cried Monday, Oct. 3, in Cass County District Court as he apologized to his family for trying to kill his then-wife in mid-February.
"I have wronged them in every way possible," he said. "I have no one else but myself to blame for my actions."
Mollner has been in jail since the late Feb. 12 incident in the 4700 block of 42nd Street South in Fargo. His wife told police she was sleeping in the passenger seat of the van when Mollner, the driver, started yelling at her, according to court documents.
He then stabbed her multiple times, prosecutor Joshua Traiser said. When she told him to stop, he said, "No, I'm going to kill you," court documents said.
The woman rolled out of the vehicle as it was going about 30 mph, Traiser said. Mollner turned around, but the woman was able to crawl off the road, the prosecutor said.
Several passersby were in the area, Traiser noted. Mollner drove away from the scene and was arrested at a Fleet Farm gas station while driving a stolen vehicle, according to court documents.
"The part that is not resolved is not going to be resolved ever," the victim's daughter said after the sentencing. "He's obviously not going to admit to this at all, whatsoever."
Chad Entzel, 42, was shot twice with a shotgun and died of his wounds in a bedroom of his Bismarck home, according to Dr. William Massello, who was the state medical examiner in 2020.
Shannon Brandt faces up to life in prison for the death of 18-year-old Cayler Ellingson.
Mollner told police his van broke down and he borrowed the vehicle that had been reported stolen, court documents said. The owner of the vehicle said he never met Mollner, according to the documents.
Mollner pleaded guilty in August to felony charges of attempted murder, aggravated assault and theft. His criminal history lacks any violent crimes and contains mostly misdemeanors.
The circumstances of Mollner's attack on his then-wife played heavily in recommending the 13-year sentence, Traiser said. Mollner told police he "fell into a blackout rage" before the attack, and it's unclear what caused it, the prosecutor said.
One wound to the woman's neck was so deep it exposed her spine, Traiser said. Mollner used a sawing motion on the woman's neck as if he was trying to decapitate her, Traiser said.
"He said he was glad that the victim jumped out of the vehicle because if she hadn't, he would have killed her," he said.
The attack was "completely out of character" for Mollner, his attorney Nicole Bredahl said. In noting the joint sentencing recommendation, Bredahl said Mollner should get credit for taking responsibility.
Mollner said justice must be served and he is ready to accept the ruling of the court.