Fargo officer justified in shooting man who drove van toward police, attorney general says
North Dakota Attorney General Drew Wrigley will not file criminal charges against Officer Adam O'Brien for the fatal July 8 shooting of 28-year-old Shane Netterville.
We are part of The Trust Project.
Editor's note: Video of the police shooting contains strong language and footage that may be disturbing to some viewers.
FARGO — A Fargo police officer acted lawfully when he shot a Jamestown, North Dakota, man who drove a van at police in early July, North Dakota Attorney General Drew Wrigley announced Monday, Aug. 29.
Officer Adam O'Brien will not face criminal charges for fatally shooting 28-year-old Shane Netterville the morning of July 8 at a Fargo apartment complex, Wrigley said. The officers who responded showed restraint while Netterville escalated the situation and turned the vehicle into a deadly weapon, the attorney general said.
O'Brien's actions were justified because they were meant to protect himself, officers around him and the public, Wrigley said.
"In total, this situation presented a highly dangerous circumstance for officers and anyone in law enforcement," Wrigley said, adding that O'Brien's decision to shoot was justified.
Body camera and squad car video shown during a Monday press conference showed three officers, including O'Brien, responding to an apartment garage in the 3400 block of 15th Avenue South for a report of three dead men in a van.
Police drew their weapons when they saw a bullet hole in the van's windshield, Wrigley said in explaining that officers thought they were responding to a possible homicide. The officers then saw movement in the vehicle, Wrigley said. The van was facing the opening of the garage.
"They had no way that they could possibly know whether the occupants had been shot, whether there were firearms in the vehicle, whether there were other weapons in the vehicle," Wrigley said.
Netterville, who was in the driver's seat, put his hands up and down as officers repeatedly told him to keep his hands in the air, video showed. Wrigley also said two other men in the vehicle, Derek Stanley and Cody Dunn, heard the commands and pleaded with Netterville to comply.
Netterville started the vehicle at least twice and drove the van out of the garage, at first slowly then accelerating quickly at officers, Wrigley said. Officer O'Brien, who was near the van's front portion of the passenger side, shot Netterville once in the chest before jumping out of the way of the speeding van, video showed.
The two other officers who were on the driver's side also had to jump out of the way, Wrigley said. One was almost hit by a door the officer tried to open in an attempt to get Netterville out of the van, Wrigley said.
The van sped away before crashing into another set of apartment garages across the street. Dunn and Stanley fled the scene, and officers found Netterville in the vehicle. No guns were found in the van, Wrigley said.
Netterville died later that day. O'Brien, a 10-year veteran of the Fargo Police Department, was placed on administrative leave.
Dunn and Stanley were later apprehended and questioned by police. Dunn was charged with possessing meth and refusal to halt in connection to the incident. It's unclear if Stanley will be charged.
Wrigley said he had no information on why Netterville did not comply with the officers' commands. The van Netterville was driving was reported stolen, but police did not say who stole it.
Saying that his office wanted to avoid the perception of a conflict of interest, Cass County State's Attorney Birch Burdick asked Wrigley to decide whether O'Brien should face charges for killing Netterville.
Netterville's family and others previously protested the shooting, with some questioning whether race played a role. O'Brien is a white officer, and Netterville was Native American.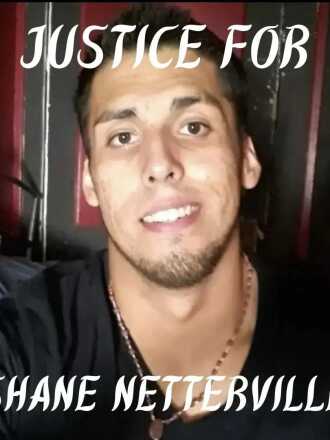 "There is zero evidence that this incident was driven by anything other than the circumstances encountered by those officers," Wrigley said.
Witnesses described the van driving toward officers with an intent to hit the police, Wrigley said. A former military member told police that the van "shot out of the garage like a bullet leaving a gun. If that officer had not jumped out of the way, he would have been done."
The attorney general also said he couldn't think of anything else officers could have done to de-escalate the situation.
When asked if police could have let the vehicle drive away, Wrigley asked, "Why have police officers at all?" Officers could walk away, but they are trained to do the opposite to protect the public, the attorney general said.
"Officer O'Brien wasn't really in a position to walk away," Fargo Police Chief David Zibolski said. "He was about to be run over, and he objectively and reasonably believed that. That's why he used deadly force."
Netterville had opportunities to submit to arrest, which would have led to a safe resolution, Zibolski said. O'Brien acted in self-defense, the chief said.
Wrigley, Zibolski and others met with O'Brien and the Netterville family separately to discuss the attorney general's decision, Wrigley said. O'Brien is expected to return to active duty Sept. 7, Zibolski said.
Zibolski offered his condolences to the Netterville family but noted that officers must protect themselves. The Forum's attempts to reach Netterville's family were unsuccessful on Monday.
The Fargo Police Department is slated to finish an internal review of the incident to see if further training is required.