NDSU president outlines program and faculty cuts, academic college mergers to fix $7.6 million deficit
President David Cook notified an assembly of faculty and staff department heads on Wednesday, Jan. 25, about a merger of academic colleges meant to cut costs.
We are part of The Trust Project.
FARGO — North Dakota State University President David Cook has outlined cuts to academic colleges, programs and faculty to deal with $7.6 million in funding reductions for the 2023-2025 budget biennium.
The proposals include reducing NDSU's seven academic colleges to five, cutting more than 34 full-time positions — including some tenured faculty — and eliminating or "teaching out" as many as 24 degree programs, which will affect around 100 current and 50 prospective students, Cook said.
NDSU Athletics will face a cut of more than $200,000, which amounts to 4.2% of the funding it receives from the university and through student fees.
University funding and student fees make up 27% of the athletic department's total $25 million budget; the other 73% is raised through donors, ticket sales and advertising.
Cook, along with Interim Provost David Bertolini, announced the measures during an afternoon campus assembly of faculty and staff department heads on Wednesday, Jan. 25.
Prior to that, the two spoke with The Forum's editorial board to explain the cuts.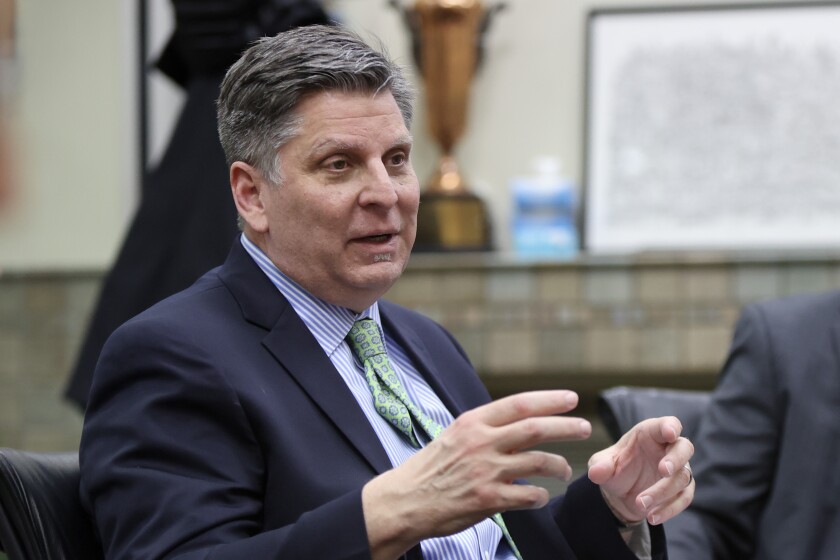 "We have to do it based on the situation we're in, and it's hard to do," Cook said.
To get ahead of the budget challenges, he said, the school will also invest in new programs driven by workforce needs to "help turn the ship around."
Effective July 2023, the university will reduce its seven academic colleges to five, a process first announced in November and led by Bertolini after meeting with deans and gathering campus-wide feedback.
They'll become the colleges of Agriculture, Arts and Sciences, Business, Engineering and Health Professions and Human Sciences.
The previous Science and Mathematics college will be merged with Arts and Sciences, and Human Sciences and Education will be merged with Health Professions and Human Sciences, Bertolini said.
The bulk of the financial savings will come from eliminating the positions of those two college deans, he added.
Strategic reductions in faculty and programs will follow, with a focus on low-enrolled, high-cost programs, he said.
As part of the potential 34.5 faculty position cuts, 26 are people currently in positions and 8.5 are vacant positions in areas including philosophy, business and engineering, Bertolini said.
Some faculty cuts will happen when the new budget takes effect in July, but others could take several years, in order to allow some students to finish their degrees.
"That's what makes this challenging," Bertolini said. "Teaching out is not the most efficient way to do things, but it is possibly the right decision."
As many as 24 academic programs in all could be affected by elimination or "teach outs," meaning the students enrolled in those programs will be able to complete them, but no new students could start the programs.
Fourteen programs have been in the process of being eliminated over the last year, including masters and/or PhD level advanced athletic training, emergency management, food safety, and soil science, and all undergraduate majors and minors in French language.
Ten recently proposed teach outs include majors or minors in hospitality and event management, geology, geography, German and agriculture systems management.
New academic programs to meet workforce needs in the state are also in the mix to cut the deficit, including an executive MBA, cybersecurity, data science, project management, strategic communications, robotics and information technology.
Although Cook said he's proud that 96% of the learning taking place at NDSU happens on campus, there will be a focus in the future toward online classes, something NDSU resisted in the past.
Cook first revealed NDSU's budget challenges in late October, resulting from a decline in student credit hours that form the base of the state funding it receives.
The declining funding for NDSU totaled $10.5 million in two rounds: a $2.9 million reduction for the current fiscal year ending in June 2023, followed by the $7.6 million deficit for 2023-25.
The declines are tied to a steady drop in NDSU student enrollment for almost the last decade, mirroring nationwide college enrollment trends.
NDSU's current enrollment sits at 12,242 students, and Cook said it could remain level or see a 1-2% decline this fall.
While the academic college merger has been finalized, all of the other cuts are proposals only at this time.
NDSU will hold future public forums and gather feedback through an online survey through Feb.15. After reviewing the feedback, Cook said he will finalize and report his decisions by late February.
An earlier version of this story did not specify the levels of 14 programs that NDSU was already in the process of eliminating over the last year. Those programs include masters and/or PhD level advanced athletic training, emergency management, food safety, soil science and all undergraduate majors and minors in French language.