Romantix to appeal denial of downtown move to Fargo City Commission
The city's Board of Adjustment voted 4-1 Tuesday, Sept. 27, to uphold ruling by senior city staffer that the shop was run as an adult bookstore and didn't meet downtown zoning regulations.
We are part of The Trust Project.
FARGO - Romantix will make its case to the Fargo City Commission for its proposed move to the heart of Fargo's historic downtown district from its current location near the bus depot, a couple hundred yards southeast.
The Board of Adjustment voted 4-1 on Tuesday, Sept. 27, to uphold a zoning administrator ruling that Romantix, which wants to move to the Syndicate Building at 74 Broadway, didn't fit the allowed uses for the Downtown Mixed Use zone because it sold adult-oriented products and advertised the local Romantix online as an adult entertainment center.
The City Commission next meets Monday, Oct. 3.
Matthew Hoffer, the lawyer representing Romantix, said the company will make its appeal Oct. 3. (The company had 10 days to appeal the Board of Adjustment decision.)
Hoffer, a partner with the Michigan-based law firm of Schafer & Associates, said if it is necessary, Romantix will "absolutely" take the issue to the courts.
Four of the five Board of Adjustment members voted to uphold the ruling. Board member Jared Heller cast the lone no vote.
Kim Citrowske, a planning department coordinator, made the city's presentation.
The "change of use" permit for 74 Broadway was denied Aug. 15 because the use would be for an adult bookstore, which is not allowed in the Downtown Mixed Use area, Citrowske said.
Citrowske said Romantix described its operation as "retail sales and service," but that city staff determined the products to be sold were typically for adult uses, such as sex toys, which are not typical retail sales and service items. Also, patrons were required to be at least 18 years of age, and a quick internet search found that advertising described Romantix as for adult entertainment. Floor plans and square footages allowed for each product category were also examined, she said.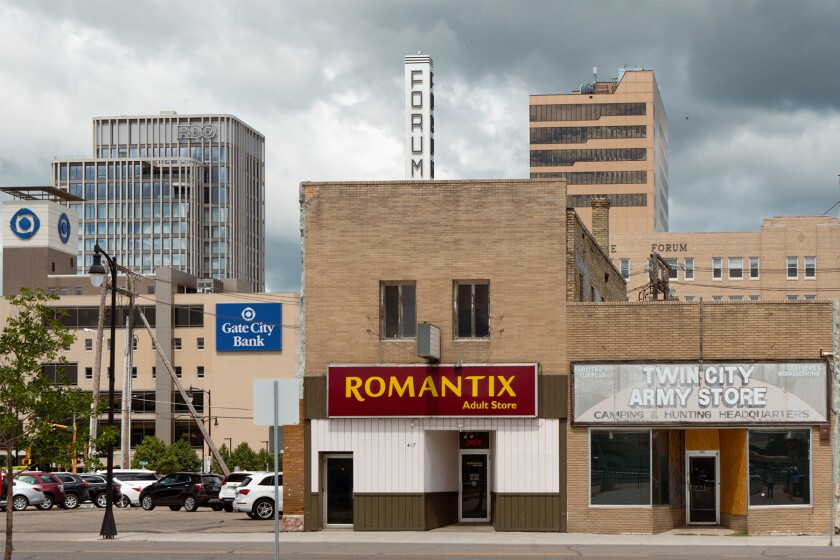 Hoffer countered that the business plan for Romantix in the Syndicate Building doesn't include carrying books, magazines or periodicals that would make it an adult bookstore. Instead the product mix will be lingerie, shoes and other products that meet the definition of retail sales and service.
"The business you're going to see on the street is no different from Victoria's Secret (which has a shop in Fargo's West Acres Shopping Center)," Hoffer said. "We're looking to be good neighbors here."
Hoffer said the products Romantix will sell are similar to those at a competing store, Enchantasys, which has two locations in Fargo. He said neither of the Enchantasys stores would be allowed in their spots if the city applied the definition of adult entertainment center to them. Enchantasys' website advertises sexy lingerie, sex toys, lubricants, bachelorette party items, etc.
Several photos offered by Romantix of a store similar to what the company wants to open at 74 Broadway show lingerie and other items displayed in a clean, modern shop. However, some adult toys were visible in a couple of the photos and were noted by Board of Adjustment members.
"I think it was pretty clear that they didn't understand exactly what the definition was (of an adult bookstore) in front of them, why it was applied differently in a different zone than it was applied to this zone," Hoffer said.
Romantix has been considering moving from its current location at 417 NP Ave. for a while, Hoffer said.
It would be difficult to move on from the Syndicate Building commitment, according to Hoffer.
"I think that the difficulty that we have right now, is that Romantix was very upfront with the city as they have been for years, and as a result, there has been a substantial investment in this particular location. They've already put the money into the build-out and that makes it very difficult for them" to move elsewhere, Hoffer said.
Board members quizzed Hoffer about whether members of the public would readily see adult products that they might not want to see. They also debated the definitions of adult bookstore vs. adult entertainment center, as well as the references to "adult" in Romantix's advertising.
Boreen said it was difficult to make the distinction between what the city called an adult bookstore and what Romantix called a retail center.
"The Supreme Court has literally had the same conversation … I don't know how we can make a determination without knowing where that line is?" Boreen said. "I am at a loss."
A permit to install a Romantix sign at 74 Broadway N. was issued July 26, by the city of Fargo.
Shortly after, an official with Denver-based Progressive Retail Management (PRM), the company that operates the Romantix chain, confirmed to The Forum that PRM planned to move its operations from Northern Pacific Avenue to the Syndicate Building this fall.
Josh Porter, PRM's vice president of operations (who also attended Tuesday's Board of Adjustment meeting) said the current location at 417 NP Ave. would remain open two to three months after the new store opens before it is shuttered.
A change of use permit application for 74 Broadway was filed Aug. 15. But it was denied Sept. 7 by the city's Planning Director and Zoning Administrator, Nicole Crutchfield, who said in a letter that the Romantix proposal met the municipal code definition of adult bookstore, and was not allowable in the Downtown Mixed Use zone.