Veteran 'shows no sign of slowing down' after providing military honors for hundreds since 1963
In total, Marvin Nicklay has performed military honors for 454 veterans.
We are part of The Trust Project.
FARGO — On a chilly spring morning, Marvin J. Nicklay decided to slip a dark Army jacket over his ceremonial Army browns, decorated with medals and a veteran patch. He preferred to keep his short sleeves on, but the wind was a little too strong for the May 17 funeral.
Nicklay, a veteran who served 32 years, four months and one day in the Army National Guard and retired a first sergeant, has been volunteering for Honor Guard work at funerals since 1963. Recently, he was spotlighted by the Fargo VA Health Care System for his decades of service.
Since Fargo National Cemetery opened three years ago, "his team ... has donated a total of 6,766 hours of service to funeral honors. At the age of 81, he shows no sign of slowing down and is an inspiration to volunteers, veterans, and his community," said Steven Sanders of the Center for Development and Civic Engagement in a press release.
In total, Nicklay has performed military honors for 454 veterans.
There are 109 spouses buried at the Fargo National Cemetery, but unless they were veterans they do not receive military honors, he said.
Nicklay began volunteering in 1963 with the Barnesville, Minnesota, American Legion. In those days, they used Springfield bolt action rifles for the 21-gun salutes. "It was just the honor of doing it, and from your hometown, you just know everyone," he said, noting they now use World War II era M1s.
Growing up on a dairy farm near Barnseville, Nicklay said he went off to college in 1961 and looked for work after his studies.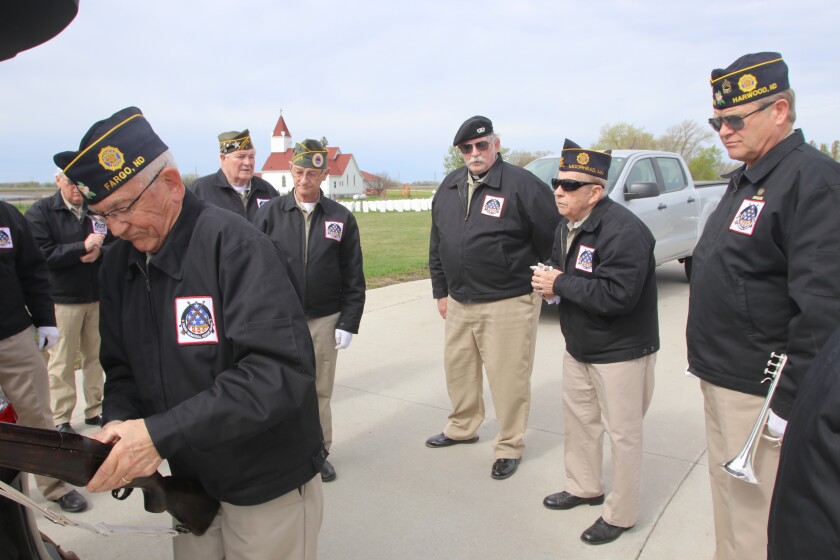 "Back then, they'd ask if you had military experience right off the bat, and if you didn't, they wouldn't want you. Back then, they could do that," Nicklay said.
So, he enrolled in the Army National Guard and went on active duty several times during his career.
Nicklay started as a volunteer ROTC Drill and Ceremony Adviser at North Dakota State University and became responsible for teaching cadets drill and ceremony procedures for an additional 20 years, finally retiring in 2016.
In addition to other positions, Nicklay enrolled as a volunteer with Veterans Affairs and accepted appointment as the Sergeant of the Guard for the Fargo Memorial Honor Guard.
"Of course, just like the Army, I volunteered before I knew what was involved," Nicklay joked.
Smiles come easily to him. Other volunteers joke he's the "little guy" or the "wily little character," but he's quick witted, remembering dates and events most people would have long forgotten.
Rain, sunshine or snow, the Fargo Memorial Honor Guard performs their military honors only at the Fargo National Cemetery, which opened on Sept. 7, 2019. During the first few months, they were busy performing services for veterans being relocated to the new cemetery.
"At first, we were busy burying veterans in the new cemetery. You can only get the flag presented once, but we can do the shootin' and tootin' even if the funeral was performed elsewhere," Nicklay said.
Now, he organizes two to three services a week. Nicklay's duties include creating duty rosters to provide appropriate turnout, presenting the flag and brass shells to the family during the ceremony, and filling in on the rifle squad when needed.
The volunteers of the Fargo Memorial Honor Guard need no training; they're veterans.
"It's second nature by now. At the start, we had a couple meetings, and squad leaders came up with the way to do everything," Nicklay said.