Suspect found dead after shooting mother, baby at Fargo restaurant, police say
The shooting suspect was found dead of a self-inflicted gunshot wound south of Hawley, Minnesota, in rural Clay County, authorities said.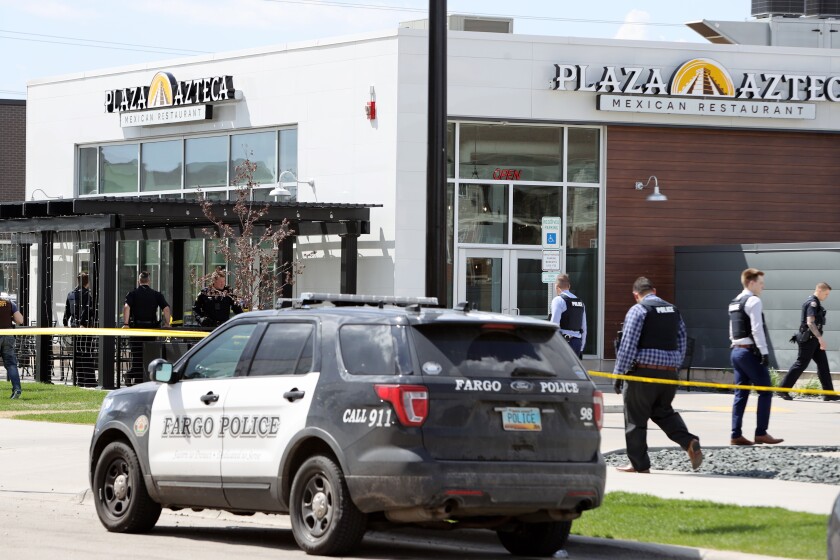 We are part of The Trust Project.
FARGO — A man suspected of shooting and injuring a 21-year-old mother and her baby at the Plaza Azteca restaurant in south Fargo was later found dead of a self-inflicted gunshot wound on Wednesday, May 18, according to city police.
The gunman, identified by police as Malik Lamar Gill, 24, of Moorhead, was reportedly in a relationship with the mother.
The shooting happened about 1:45 p.m. Wednesday. Gill first confronted the mother, a Moorhead woman whose identity has not been released, inside Plaza Azteca with a handgun, police said.
Antonio Magaña, manager of the restaurant at 5505 28th Ave. S., told WDAY the man began shooting at the woman before she ran out, with the shooter continuing to fire at her.
Fargo Police Chief David Zibolski said the mother was holding her 8-month-old boy during the shooting. The chief said Gill shot at the woman who was still carrying the baby in the parking lot before he fled the scene in a vehicle.
The woman was in critical condition at Sanford Medical Center, two blocks from the shooting scene, and had been in surgery for injuries above her waist during the afternoon hours, Zibolski said.
The baby suffered injuries to his left hand and left thigh but was said to be in stable condition, the chief said.
The motive for the shooting was not clear.
Zibolski said his officers did an "excellent job" getting the woman and her child to the nearby hospital.
Several patrons and staff were in the restaurant at the time of the shooting, but police said nobody else inside was hurt. Zibolski said multiple shots were fired inside and outside the restaurant.
Restaurant witnesses were able to get a license number on the vehicle that fled the scene.
Then about 2:25 p.m., there was a report of a stolen vehicle nearby and a license plate number was obtained.
According to Clay County Sheriff Mark Empting, at about 3:30 p.m., the gunman was involved in a high-speed pursuit with the sheriff's department in Clay County after deputies spotted the stolen vehicle on Minnesota Highway 9 about three miles south of the intersection with U.S. Highway 10.
Empting said law enforcement was using OnStar tracking to follow the vehicle.
Deputies used stop sticks to flatten the tires on the vehicle Gill was driving, Empting said.
During the pursuit that reached up to 85 mph, the vehicle later crashed at a lower speed when it drove into a grove of trees near Silver Lake, about three miles south of Hawley, according to Empting.
He said they used a drone and determined there wasn't any movement in the vehicle. When officers approached, they found Gill dead from a self-inflicted gunshot wound, the sheriff said.
Gill was a convicted felon based on a conviction last year in Minnesota and was prohibited from possessing a firearm.
In May 2020, Gill pistol-whipped and injured a party-goer with a handgun at a Moorhead home, according to court documents. He and some others at the party had been taking ecstasy, court documents stated.
In January 2021, he was convicted of one of four charges against him in that incident.
On the assault in the second degree with a dangerous weapon conviction, a five-year prison sentence was suspended, and he was sentenced to 90 days in jail and five years of supervised probation.
There was also an active warrant in Cass County issued last month for Gill related to other charges of simple assault and domestic violence.
After the shooting at Plaza Azteca, the West Fargo Public Schools sent an email to parents letting them know about a threat in the vicinity of Independence, Freedom, Liberty and Sheyenne schools.
Children and staff in those schools were told to stay indoors for their safety. Dismissal at Freedom and Independence elementary schools occurred roughly 15 minutes later than usual.