Health officer says mask mandate expected soon in Grand Forks County
State law allows for county health officers to issue any order toward mitigating the spread of an infectious disease.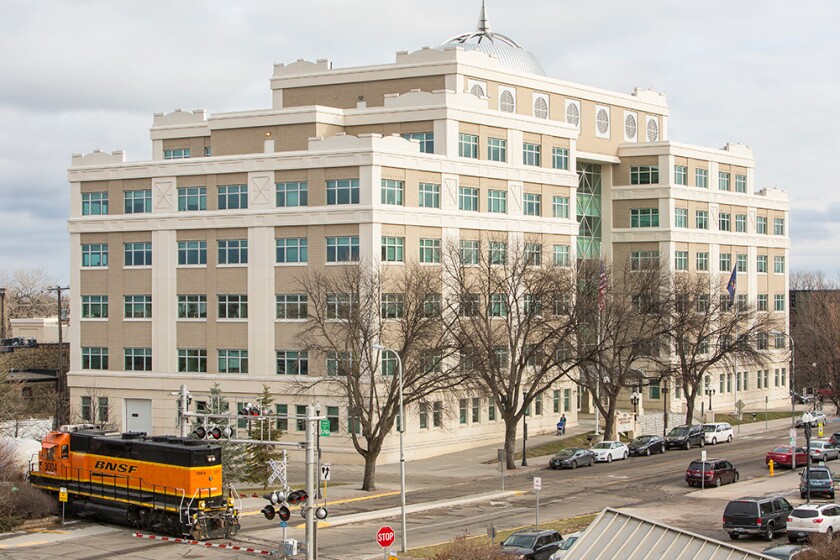 GRAND FORKS — A mask mandate that can be enforceable by law is expected in Grand Forks County in the coming days.
Dr. Joel Walz, the city and county's health officer, told members of the Grand Forks County Commission, along with nearly 20 other invited members who hold leadership positions in the community, that a mask mandate is forthcoming, but he still needs some time to complete it before sending it for review by State's Attorney Haley Wamstad and City Attorney Dan Gaustad.
"I'm here today anticipating moving forward with the mandate, and I'm looking for input, to a degree, but it's very concerning as you all know," Walz said at a special County Commission meeting on Monday evening, Nov. 9.
State law allows for county health officers to issue any order toward mitigating the spread of an infectious disease. The order will have the effect of law, and anyone found to be in violation of it would face a Class B misdemeanor, which, like a DUI, carries the maximum penalty of 30 days in jail, or a $1,500 fine.
According to Wamstad, her office would not seek to impose the maximum sanction on people violating the order, and would ask the court to impose a fine instead, excluding instances deemed to be "egregious." Wamstad said law enforcement officers can use discretion in how they handle such situations, including when to issue citations.
The mask mandate also will likely incorporate components of the state's Smart Restart guidelines, for either the "orange" high-risk, or "red" critical-risk levels. Such components include appropriate social distancing and limiting gathering size. It is not yet clear however, if these components will have the same force of a mandate requiring masks in public spaces. On Monday, Gov. Doug Burgum moved all counties in the state to the orange risk level, out of concern that spiking coronavirus cases will impact health care workers' ability to care for patients across the state.
And those increasing numbers are grim. Michael Dulitz, data analytics leader for Grand Forks Public Health's COVID response team, reiterated numbers that showed the "doubling effect" of cases of the illness that could reach as high as 32,000 people in the county shortly after New Year's Day.
Projections show that by Nov. 23, 19 people are likely to have died of COVID-19. That number increases to 57 projected deaths by Dec. 18 and 133 deaths by Jan. 10. Those figures only represent an outcome that is possible if the virus continues to spread at its current pace.
"This isn't any sophisticated modeling into the future. This is just projecting based off of our previous experience," Dulitz told meeting attendees, most of whom expressed support for Walz issuing a mask mandate.
"Whatever you think is an opportunity for us to help quell this and flatten this curve, which everybody knows we absolutely need to try to do, and might take some serious measures, we will do our best at Altru to help support that regionally as well as in our city," said Altru Health System President Steve Weiser.
Grand Forks Public Schools Superintendent Terry Brenner spoke out in favor of a mask mandate as well. Brenner said more staff members are testing positive for coronavirus, or are identified as a close contact, making it difficult to keep schools open. Principals are constantly having to update plans to keep schools staffed.
"The ability to sustain what we're doing is highly unlikely," Brenner informed the commission.
The meeting continued with participant after participant speaking out in favor of a mask mandate.
"As the community goes, so goes long-term care, and that's been proven over and over throughout the country," said Valley Senior Living President and CEO Garth Rydland. "We would absolutely, wholeheartedly support a mask mandate and anything the county could do to try to slow the spread."
However, one participant, former Grand Forks City Council member Terry Bjerke, questioned why the commissioners have not opened up meetings to the public. County Commission meetings during the pandemic have been held online, after an executive order suspending the physical meeting space requirement was signed earlier in the year by Gov. Burgum. The commission's meeting room in the County Office Building can be expanded by removing a folding wall.
Chairwoman Diane Knauf replied that the special meeting's format is not a debate, and that Bjerke was limited to comments only. Bjerke said such a format "reminds me of China," before questioning the efficacy of a mask mandate in Minnesota, before asking if a mandate would include a religious exemption. Bjerke then suggested the mandate would have an impact on the criminal justice system, and that trials resulting from the mandate could end up in mistrials and need to be redone.
"This is America," Bjerke said. "Liberty is important."