Protesters march in Fargo to stop the hate against Asian Americans
"So many people hurt for no reason, they were all innocent," said march attendee Fan Liying.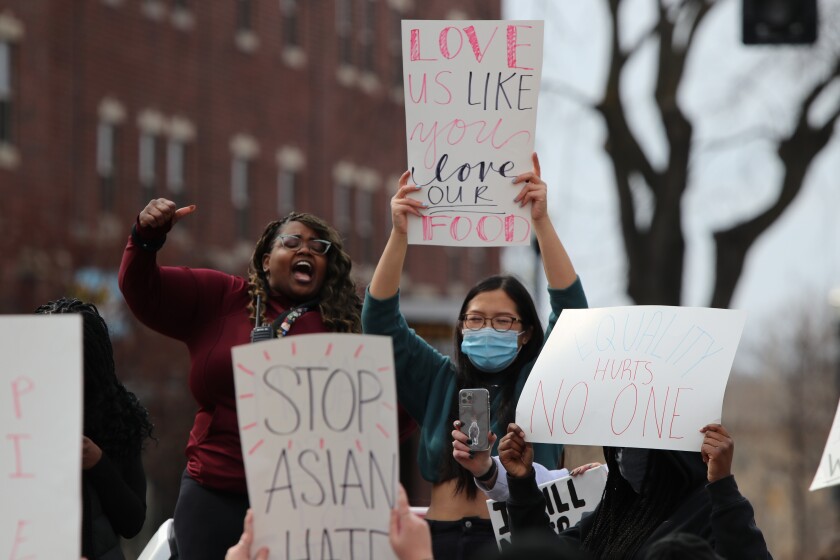 FARGO — More than 80 protesters marched around North Dakota State University on Friday, March 26, to raise awareness about rising hate speech and crimes against Asian Americans during the coronavirus pandemic.
Some protesters, like Andy Tao, a junior at Fargo's Davies High School, got permission to miss classes to join the march. Part Chinese, part Vietnamese, Tao is an American who held a sign saying he and his family were not viruses.
"It's for a very good cause," Tao said. "There is a lot of microaggression and ignorance that my family has had to go through. We get questions like, 'Why are your eyes so small? Do you eat dog?' Overall, it's really sickening."
Many Asian people who attended the rally said locally, they're feeling comfortable. Fan Liying, who is originally from Shanxi Province in China and now lives in Fargo, said she came to the march because the recent violence that has plagued cities like Atlanta, San Francisco and elsewhere must stop.
"So many people hurt for no reason, they were all innocent," she said. "I feel like we need to have their voices heard, even if they are no longer with us."
Lily Chang, one of the march's organizers and a sophomore at NDSU studying nursing, held a sign that said, "Love us like you love our food."
"You know why we're here. We're here because there are too many injustices," Chang said to the crowd. "It is sad that everything has been normalized and that racism is a joke. We are sick of it. You cannot enjoy our food and not support us."
Aeshia Williams, a senior at NDSU studying psychology, said that since marches last December where protesters demanded change to the university's hate speech policies, little has been done.
"We sure do look good, but they sure don't treat us good. We look like money to them. But today, I'm not money," Williams said. "We've asked the nice way, but every time we ask the nice way, their eyes are closed, their ears are closed.
"We're met with fake care, fake empathy."
Protesters, led by a pickup truck, blocked traffic on North University Drive for about 20 minutes. Fargo Police had side streets blocked off and rerouted traffic while organizers gave speeches.
On March 16, NDSU President Dean Bresciani wrote a letter addressing recent hate crimes against Asian Americans across the country, adding that campus flags were flown at half-staff until sunset on March 22.
Referring to a report from the Center for the Study of Hate & Extremism at California State University Santa Barbara, anti-Asian American hate crimes in America's largest cities increased by 149% in 2020, Bresciani said.
"For the Asian and Asian American members of our community, please know NDSU stands firmly against hate, violence and discrimination. We are committed to a welcoming, diverse and inclusive educational and work environment," Bresciani said.
But Williams, and others, said change on campus is too slow. Williams said she experiences prejudice from faculty and fellow students.
"Racism comes with comfort, it doesn't come out of the blue," Williams said. "Our Asian community is often treated with racism and people just treat it like a joke. We're tired of it. Do we see any of that happen to white people?"
"It needs to stop or we need to start telling our Black men and women to take their money somewhere else," said Faith Dixon, an organizer with Black Lives Matter and vice president of the North Dakota NAACP.
Readers can reach Forum reporter C.S. Hagen at 701-241-5535.
1
/
7:
Aeshia Williams, a North Dakota State University student, speaks to protesters Friday, March 26, 2021, on the NDSU campus. C.S. Hagen / The Forum
2
/
7:
North Dakota Sate University students grab posters in front of the Memorial Union before the AAPI anti-hate protest on campus on Friday, March 26, 2021. David Samson / The Forum landscape
3
/
7:
North Dakota State University sophomore Lily Chang writes a message Friday, March 26, 2021, in front of the Memorial Union before a campus protest against hate aimed at Asian Americans. Dave Samson / The Forum landscape
4
/
7:
Protesters blocked North University Drive in Fargo for about 20 minutes on Friday, March 26, 2021. Police rerouted traffic. C.S. Hagen / The Forum
5
/
7:
Protesters march around the North Dakota State University campus on Friday, March 26, 2021, to raise awareness about growing violence against Asian Americans. C.S. Hagen / The Forum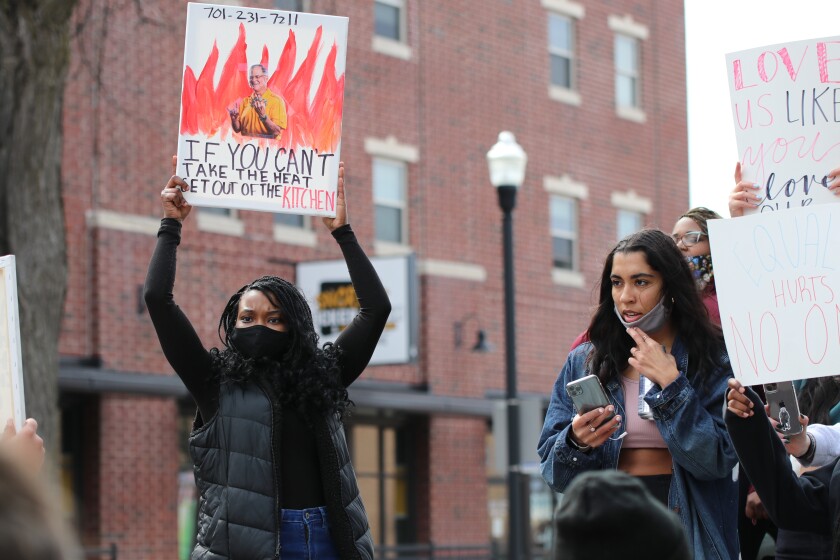 6
/
7:
Aeshia Williams and other organizers lead protesters in chants during a Friday, March 26, 2021, march in Fargo to raise awareness against hate crimes targeting Asian Americans. C.S. Hagen / The Forum
7
/
7:
North Dakota State University sophomore Malery Selberg (left) makes a sidewalk chalk selection from junior Megan Schmidt in front of the Memorial Union before the AAPI anti-hate protest on campus on Friday, March 26, 2021. David Samson / The Forum