Cirrus supports pilots flying animal-rescue missions
Volunteer pilots have banded together to transport dogs and other animals to save them from euthanization.
We are part of The Trust Project.
DULUTH — In aviation circles, the term "dogfighting" usually conjures images of pilots engaged in close and often deadly mid-air combat. But Duluth-based Cirrus Aircraft is encouraging its clients to consider a different form of dogfighting, in the sense of fighting for dogs' survival by transporting animals slated to be euthanized in one place to another location where loving homes await.
Cirrus recently provided a fueled new SR22 G6 turboprop to model and actor Aaron O'Connell, star of "The Haves and the Have Nots" and "Love Accidentally," to help him fly a dog to safety in California. O'Connell has now flown more than 50 missions as a volunteer for a nonprofit called Pilots N Paws.
About 6,000 private pilots around the nation have signed on to assist the 14-year-old organization, which has saved more than 200,000 animals to date, and counting.
"It's amazing. Still, we get so many emails on a weekly basis from new pilots who just heard about Pilots N Paws," said Kate Quinn, the organization's executive director.
She noted that volunteer pilots engaged in flight training while completing a rescue mission have benefited from the tax-deductible status of the work they're doing as they learn.
"It also really enriches the whole learning experience, because they're flying with their instructor, and they're getting real-life experience with weights and ballasts," Quinn said, explaining that maximizing the payload of an aircraft to get as many animals on a plane as possible is "almost like completing a jigsaw puzzle."
O'Connell, who earned his pilot's license in 2013, said he has been flying for Pilots N Paws for the past seven years.
"It was just one of those things where, as a pilot, it was great to have the opportunity to fly. But there's really no greater feeling than saving a life while doing something that you love," he said.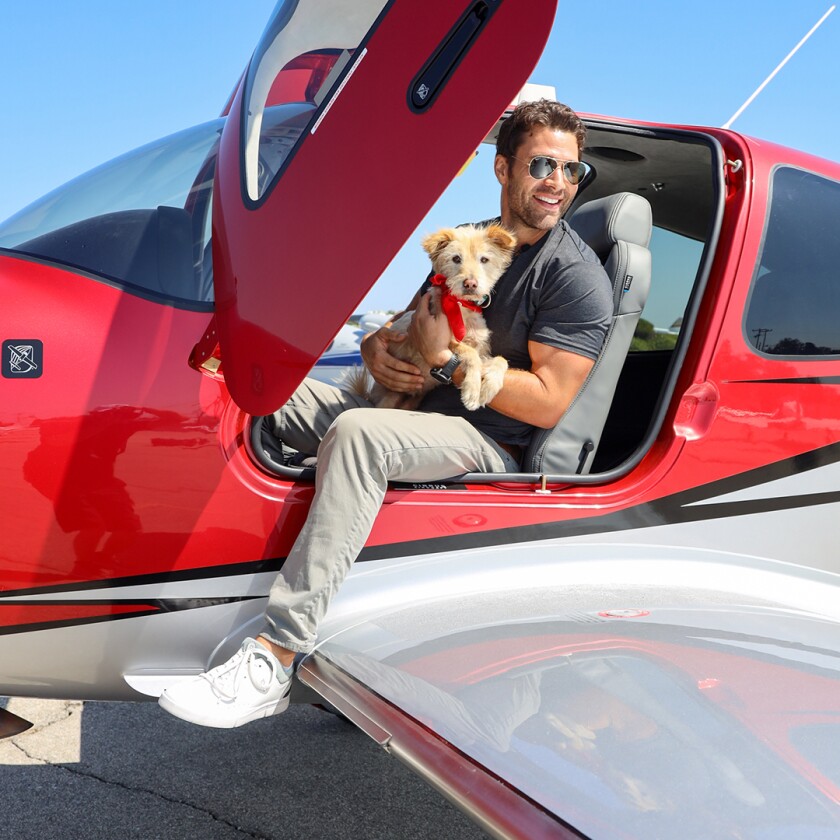 "It's a small thing for a pilot to do. But in the big scheme, if you can add a new member to a family and change an animal's life, it's just a beautiful rewarding experience," O'Connell said.
Quinn noted that many general aviation pilots, like O'Connell, have become enthusiastic volunteers.
"You always hear the adage of the $100 hamburger, because pilots are looking for good reasons to fly. And pilots were eager to join the cause," she said.
O'Connell purchased a Cirrus aircraft in 2014 and said his wife was particularly keen on its safety features, including a whole-plane emergency parachute system. He has been a devoted customer since that time and said he has followed the company closely.
On Aug. 26, a date designated "National Dog Day," Cirrus and O'Connell teamed up to rescue an 11-year-old dog, Delilah, who was slated for euthanization the following day at a shelter in Santa Monica, California, and fly her to a new home in Paso Robles, California.
Each year, more than 1.5 million animals are killed in overburdened shelters, according to the American Society for the Prevention of Cruelty to Animals. But in other parts of the nation, where animals are in shorter supply, those animals can often find welcoming homes.
Delilah had been microchipped, but attempts to track down her previous owner proved futile. O'Connell said the abandoned dog was severely underweight but had an affectionate demeanor. "She's going to be an incredibly sweet family member in her new home," he predicted.
O'Connell praised Cirrus as a partner in the promotion of Pilots N Paws' efforts to save animals. "They've been nothing more than supportive," he said. "They covered the fuel cost and everything that needed to be done to make this mission happen."
Quinn, too, expressed her appreciation.
"Cirrus is helping us shine a spotlight on our accomplishments, and I think that's going to bring more pilots to our cause who want to be involved," she said, noting that Pilots N Paws hopes to grow to a network of 10,000 volunteer pilots in the future.
"The more pilots we can attract, the more animals we will save," Quinn said.
Nadia Haidar, Cirrus' public relations manager, said the company has worked to demonstrate its support for the organization in multiple ways. "Over the years, Cirrus Aircraft employees have voluntarily dedicated their time, aircraft and cost of fuel to save animals through Pilots N Paws. The company has also provided financial donations to the organization," she said.
Some of Pilots N Paws' longer missions involve multiple pilots handing off animals to one another to complete the journey.
Quinn said the organization makes use of an online forum board, where people in the animal rescue community can communicate directly with pilots in the area who may be up to fly support missions.
"It takes a lot of people working together," Quinn said. "There's a lot of coordination involved. The pilots play a pivotal role, but it takes a lot of people to save the lives of these animals. And a lot of people who adopt these animals stay in touch afterwards. They'll send Christmas cards to the pilots and follow up in other ways."
O'Connell said participating in the rescues is rewarding and also helps pilots hone their skills.
"It gives us an opportunity to fly into new airports that we wouldn't have flown into, to continue to work on preflights and weight and balance and weather and all of that stuff that you need to continually work on to be a safe pilot. Ultimately, the No. 1 thing is to be safe, to fly these animals to new homes and to make sure everybody goes to bed safe that night."
For more information about this nonprofit animal-rescue organization or to register as a volunteer, visit pilotsnpaws.org .