Morning headlines: ATF expected to release findings today on suspicious church fire in Harwood, North Dakota
Follow this Fargo-Moorhead news and weather podcast on Apple, Spotify, and Google Podcasts.
Here is your InForum Minute for Friday, June 24.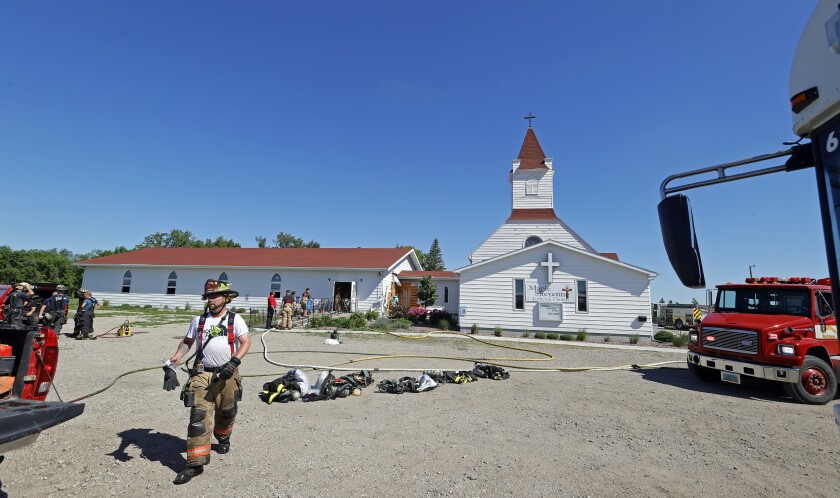 HARWOOD, N.D. — The Cass County Sheriff's Office says somebody apparently tried to start a fire "several times" in a Harwood, North Dakota church.
A fire that damaged Maple Sheyenne Lutheran Church near Harwood Friday morning, June 17, is being investigated as suspicious. Investigators are expected to release more information about the fire today, Friday, June 24. Here's a look back at last week's story on the fire.
Fargo driver could face charges after airplane hangar crash
FARGO — A 32-year-old woman may face criminal charges after she allegedly drove a pickup truck through a private hangar at Hector International Airport and damaged two airplanes.
At about 1:33 p.m. on June 13, Rachelle Slotten of Fargo drove a 2022 Chevrolet SLV into the private hangar north of the Fargo Jet Center, a hub for private planes, according to Greg Schildberger, a spokesman for the city of Fargo.
Slotten then struck an airplane, which spun around and hit a second airplane, according to Schildberger. Full story here.
North Dakota governor requests presidential disaster declaration for spring storms, flooding
BISMARCK — Gov. Doug Burgum has asked for a presidential disaster declaration after spring storms and flooding caused more than $57 million in damage across North Dakota.
The request to President Joe Biden and the Federal Emergency Management Agency would cover 40 counties , including Adams, Barnes, Billings, Bottineau, Burke, Cavalier, Dickey, Divide, Dunn, Foster, Golden Valley, Grand Forks, Grant, Griggs, Hettinger, Kidder, LaMoure, Logan, McHenry, McIntosh, McKenzie, McLean, Mountrail, Nelson, Oliver, Pembina, Ramsey, Ransom, Renville, Richland, Rolette, Sargent, Steele, Stutsman, Towner, Traill, Walsh, Ward, Wells and Williams. Full story here.
More than 5,500 North Dakota deer licenses remain after first lottery, Game and Fish says
BISMARCK – North Dakota's deer gun lottery has been held, and more than 5,500 deer gun licenses remain. Only resident applicants who were unsuccessful in the lottery can apply for remaining licenses.
More than 71,000 people applied for a deer gun lottery license, in addition to over 13,600 gratis applicants. The 2022 deer gun proclamation allows for 64,200 deer gun season licenses.
Unsuccessful applicants can apply online for remaining licenses beginning June 29. The deadline for applying is July 13.
Information on the remaining licenses and type available by unit are here.
Special Olympics North Dakota Summer Games slated for May 14 in Fargo
FARGO — The city of Fargo is set to host the Special Olympics North Dakota Summer Games for the 23rd straight year.
The event is scheduled for Saturday, May 14, at Fargo Davies High School. It will offer competition for 280 athletes with intellectual disabilities from across the state. All competition events are free and open to the public.
Participants will compete in state contests for athletics — powerlifting, swimming and volleyball. Additional events for participants include an opening ceremony and parade of athletes, award ceremonies and Olympic Town activities. Due to USA Games in Orlando, Fla., the outdoor sports will take place on June 25. More on the event here.
Sandy's Donuts locations to close June 27 through July 5 for kitchen updates
WEST FARGO — Get your doughnut fill this weekend, folks.
Sandy's Donuts locations in the metro area will be closed from June 27 through July 5 for kitchen updates.
The popular eatery posted the announcement to its social media sites Thursday afternoon, June 23. Full story here.
North Dakota man wins $1.6 million on slot machine
NEW TOWN, N.D. — A western North Dakota man won $1.6 million on a slot machine this past weekend at the 4 Bears Casino and Lodge in New Town.
Elton Spotted Horse of Mandaree made a $5.88 bet to win the jackpot, according to the casino.
The win came by matching three symbols on the Dancing Drums Explosion slot machine, said Scott Wilson, general manager of the casino.
The casino has been in operation since 1993 and plans to add a gaming riverboat with 50 slot machines and live blackjack tables on Lake Sakakawea.