NDSU to stop offering American Indian Public Health master's degree as UND adds Indigenous Health doctoral program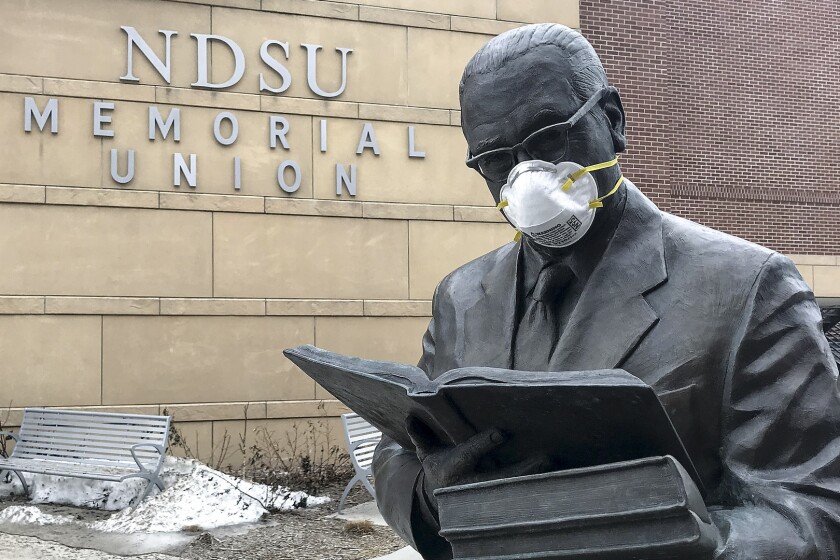 FARGO — When students consider what degree to pursue at North Dakota State University this year, a master's degree related to Native American health will no longer be an option.
Story written and narrated by April Baumgarten / The Forum
The American Indian Public Health program that was meant to train graduate students to help Indigenous populations will stop accepting students this fall. Those enrolled in the concentration will be able to finish the master's degree, bringing an end to a study that started eight years ago.
The decision to end the program was announced in conjunction with news in January that the University of North Dakota would launch a doctoral program titled Indigenous Health.
NDSU and UND, which also has a master's program for Indigenous health, have an agreement that dictates they will not duplicate public health offerings, said Dr. Pamela Jo Johnson, chairwoman and associate professor for NDSU's public health department.
"With UND's strength in American Indian and Indigenous health, … it seemed to be in our interest at this time to suspend admissions into the American Indian Public Health track," Johnson said Tuesday, June 23.
With the coronavirus pandemic still spreading in the U.S., NDSU plans to launch an epidemiology master's program this fall that focuses on disease surveillance, outbreak investigation and health survey research, the health department said. The program will have courses related to Indigenous health and culture.
Described as a first-of-its-kind degree, the American Indian Health master's program at NDSU was created in 2012. Two years later, NDSU opened the American Indian Public Health Resource Center to create a group of experts dedicated to helping Native American communities across the Upper Midwest.
Dr. Donald Warne, a former NDSU public health chairman and the current director of the Indians into Medicine program at the UND School of Medicine and Health Sciences, was instrumental in securing for the center a three-year $1.4 million grant from the Leona M. and Harry B. Helmsley Charitable Trust as well as more than $720,000 from the North Dakota Higher Education Challenge Fund.
Two years ago, Warne left his position at NDSU. This year, he will help launch UND's Indigenous doctoral program, which also has been called the first of its kind.
Nineteen students will enroll in the Ph.D. program in July, Warne told The Forum on Tuesday. UND's master's program, which has 12 students, started last fall, spokesman David Dodds said.
The school has nine faculty members dedicated to the master's and doctoral programs, including five who are Indigenous, he said.
NDSU's program had 16 students enrolled last year, spokeswoman Brynn Rawlings said. The two faculty members vested in NDSU's program will not lose their jobs but will be moved to other concentrations, Johnson said.
Indigenous populations have traditionally seen large gaps in health care services, Warne said. North Dakota needed a doctorate program to help address those disparities while producing doctors who understand Native American culture, he added.
"If anything, by having the Indigenous health focus at UND and the Public Health Resource Center at NDSU, we're casting a wider net to address the health disparities issue," he said.
Related:
The change won't impact the center or the services it offers to Native American communities, Johnson said.
"They are solely grant funded," she said of the center, adding NDSU is in the process of writing applications for future funding. "We anticipate their continued participation in our program."
Both Johnson and Warne said public health faculty and leadership at UND and NDSU are working well in a collaborative effort to make sure content focused on American Indians is a part of the curriculum.
"This is not a competitive situation," Johnson said. "We are working together to provide as much opportunity as possible for American Indian students and for public health students who want to work with American Indian communities."