How a rural North Dakota bank robbery led to the capture of 1 of the FBI's Ten Most Wanted Fugitives
A crime spree spanning seven states in the 1980s met its end in northwest Minnesota after a bank robbery in Drayton, North Dakota.
We are part of The Trust Project.
FARGO — It was 35 years ago Saturday, Feb. 19, that a bizarre bank robbery orchestrated by a notorious criminal took place in an unlikely location.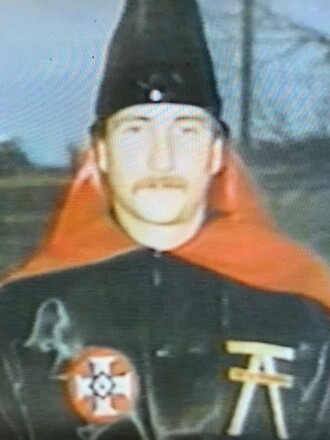 That location was Drayton, North Dakota. The notorious criminal was Thomas Harrelson, 29, who was on the FBI's Ten Most Wanted List. Harrelson, an expert with firearms and explosives, was also a member of "Aryan Nations," a white supremacist group.
Harrelson served time in prison for a 1981 bank robbery in California and was wanted for robbing banks in Michigan, Ohio, Indiana, Minnesota, Illinois and Arkansas.
The armed robbery in Illinois took place at the First National Bank of Rossville on Aug. 1, 1986. Harrelson and another man got away with $50,000. After the holdup, Harrelson and his accomplice started firing at a pursuing police car, leaving it full of bullet holes. The two men escaped, abandoned their car and torched it.
The armed robbery in Arkansas took place on Jan. 13, 1987, at the Worthen Bank and Trust in Little Rock. Harrelson escaped with $11,000. However, during that holdup, he accidentally shot himself in the leg and couldn't walk.
A struggling 22-year-old woman named Cynthia Ehrlich met Harrelson in Little Rock a few months before that robbery. Ehrlich was broke, living in her car, and a single mother of a 2-year-old daughter. She thought Harrelson was strong, considerate and charming. She fell in love with Harrelson and moved in with him. At the time, she didn't know anything about his criminal past.
After the Little Rock bank robbery, Harrelson badly needed medical treatment for his wounded leg. He chose not to go to a hospital because he was wanted by the FBI. So, Harrelson, Ehrlich, and another man — Stuart Skarda, 28, who met Harrelson in prison — drove to the Red Lake Indian Reservation in northern Minnesota because Harrelson had some friends there. His friends were unable to treat or assist him.
They then drove to the Fargo-Moorhead area, where they stayed in several hotels. During that time, they spent all their money from the Little Rock bank robbery. So, with Harrelson unable to walk without crutches and the group out of money, Harrelson and Skarda decided Ehrlich should rob the Drayton State Bank.
They chose that bank because of its remote location, with few law enforcement officers nearby. Drayton, with a population of roughly 800, is located in northeastern North Dakota, about 30 miles south of the Canadian border. Drayton is probably best known for its American Crystal Sugar beet factory.
"I loved him, and I knew we were in a tight spot. I felt like he can't do anything," Ehrlich told me in an exclusive interview for WDAY-TV in 1987. "He was depending on me. I just felt like I couldn't let him down. I felt pressured. I felt like I didn't have any choice."
The night before the planned robbery, the three of them stayed at the Best Budget Inn in West Fargo and rehearsed the holdup.
"Tom and Stuart showed me how to walk and how to act," Ehrlich said. "I would walk out of the bathroom in the hotel room and Tom would be sitting in his chair. I would come all dressed up and hand the bag to him like he was the teller and take out the gun. I practiced that about four or five times."
Feb. 19, 1987, was a very busy day at Drayton State Bank because American Crystal workers got paid that day.
At about 2 p.m., Ehrlich, wearing a white ski mask, entered the bank and walked up to bank teller Cindy French. Ehrlich put a duffel bag on the counter and gave French a note that said, "Open both drawers. Fill the bag."
"She didn't say anything," French said. "She showed me her gun. She had it hidden by the bag on the counter. I gave her the money out of my drawer and the one next to me."
Ehrlich walked out of the bank with $2,807. French was stunned.
"I was in shock. I was very scared," French said. "You just don't expect that, especially in a small town. I went to Kelly's office (Bank President Kelly Dakken) and said we were robbed. I was shaking. He got up, and I said, 'Don't go after them. She's got a gun.'"
Dakken ignored French's warning. He, Bob Merrill and Dave Marciniak chased after Ehrlich. Merrill was an insurance agent who worked in the bank, and Marciniak was a bank customer who just happened to be there at the time.
"I walked out of the bank and turned around in the alley, and the banker was following me," Ehrlich said. "So, I did what Tom told me to do. I turned around and pulled out the gun, and I told him to stop and go back into the bank, and he just stood there."
Dakken stopped moving. Ehrlich then headed to the getaway car where Harrelson and Skarda were waiting for her.
"I ran into the car and got in, and I started crying," Ehrlich said. "I told Tom I was never going to do this again, and he goes, 'All right. You don't have to.' He said, 'Just shut up and get down.' And he pushed me down on the floorboard."
Meanwhile, Dakken flagged down passing motorist Rita Westerson, of Drayton.
"I had been up at the phone company, and I saw Kelly Dakken running down the alley and I thought, 'what in hell is he doing,'" Westerson told the Grand Forks Herald. "I pulled up, and this red car came from behind me and went around me. Kelly jumped in and said, 'Follow that car,' so we did."
Without hesitation, Westerson stepped on the gas of her 1974 Mercury Cougar and sped off. She and Dakken pursued the getaway car, a Ford Grenada, for about 20 miles on blacktop roads at speeds of up to 125 miles per hour.
"I had a bald tire. I never told Kelly," Westerson told the Associated Press. "I never thought that old bomb would go that fast, but I stayed right with him."
"She's a good driver. She's very spunky," Dakken told the Grand Forks Herald. "Sure, I'd ride with her again."
Inside the getaway car, Skarda gave Harrelson and Ehrlich some of the stolen money in case they got separated.
On Minnesota Highway 220, south of the Drayton area, the Grenada left the road and got stuck in a ditch. Dakken ran into a nearby farmhouse to call authorities while Westerson stayed in her car to watch the three suspects.
Skarda got out of the car and waved down a grain truck driven by Clayton Pokrzywinski from Lankin, North Dakota. Also in the truck were Clayton's wife, Janet, and their two granddaughters, ages 3 years and 6 months. The Pokrzywinskis were unaware of the bank robbery in Drayton. Skarda asked Clayton Pokrzywinski to tow him out of the ditch, which he agreed to do.
At that point, a police car appeared in the distance.
Harrelson brandished a handgun, and he, Skarda and Ehrlich got in the truck. Harrelson ordered Clayton Pokrzywinski to start driving, and off went the crowded truck.
"I was really afraid for the little girls," Janet Pokrzywinski told WDAZ-TV. "I tried to get the girls out, at least. I said, 'Let me out with the girls and you take the truck and go.' They wouldn't hear of it. They said, 'We can't do that.'"
"I was wondering who they were and what they did," Clayton Pokrzywinski, now 85, said. "They had a map and knew where they were going. … What bothered me was something might happen to my grandchildren. I was scared for them."
Clayton Pokrzywinski came upon two roadblocks but drove around them.
"They said, 'Just keep driving. Don't stop. We'll tell you when to stop,'" he said. "They said if I tried to get away, they would kill all four of us."
With seven police cars in pursuit, Clayton Pokrzywinski kept driving for nine tense miles over 20 excruciating minutes. Four miles west of Argyle, Minnesota, police officers shot out the rear tires of the truck, and he drove the vehicle into a ditch.
Police surrounded the truck and the three robbers surrendered without incident. Nobody was injured.
Harrelson and Skarda each threw a gun into the snow, but police found those weapons. Police searched Skarda and found in his pocket a box of 50 live cartridges for a .22-caliber weapon. Also recovered was the $2,807 stolen in the bank robbery.
"This could have turned out a lot worse," Clayton Pokrzywinski said. "I felt so good for my wife and granddaughters."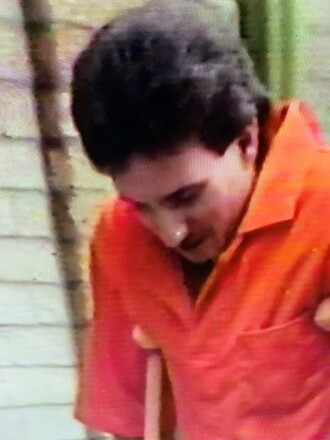 Harrelson pleaded guilty to the Drayton robbery and robberies in five other states. He was sentenced to 34 years in prison but was released in 2003 after serving 16 years.
Skarda pleaded not guilty to the Drayton robbery and went on trial in Federal Court in Fargo. Harrelson testified that Skarda had nothing to do with the bank robbery. Ehrlich testified that Skarda planned and participated in it. After 13 hours of deliberations, the jury found Skarda guilty of armed bank robbery, taking hostages, assault and possession of a firearm by a convicted felon. He was sentenced to 19 years in prison.
Ehrlich pleaded guilty in Fargo Federal Court to armed bank robbery and was sentenced to six years in prison.
"I'm very ashamed of what I did," Ehrlich said. "I let so many people down. I let my little girl down. I let my parents down. … I don't think Tom ever loved me. He was just using me."
"I was pretty lucky," said French, the bank teller who was robbed. "I will never forget this incident. It's something I hope I will never go through again. Once in a lifetime is plenty."
Dakken was stunned to find out that one of the bank robbers was on the FBI's Ten Most Wanted list.
A few days after the robbery, he said, "As far as I was concerned, I was chasing some young girl with a gun. If I had known who was in the car, or else a little more details, I certainly wouldn't have been chasing them."
The Drayton State Bank is now called KodaBank. Dakken died from cancer in 1994 at age 47. Karen Schumacher was a part-time employee working at the bank when it was robbed. She still works there and is now Senior Vice President.
"It was very unnerving at the time," Schumacher said. "We were thinking Kelly was a little crazy for chasing the robbers, but he was also a hero to us."
Now, 35 years after he and three other close family members were held hostage at gunpoint, Clayton Pokrzywinski has a special appreciation for how everything turned out.
"We were very, very lucky," he said. "I will never forget this experience. It's something I never expected. It will never leave my mind."