Minot native, NDSU graduate earns US Army general rank
Brig. Gen. Rebecca B. McElwain was promoted to that rank during a ceremony at Shaw Air Force Base in Sumter, South Carolina on Jan. 9.
FARGO — There are just 30 female general officers in the U.S. Army and now, a rural Karlsruhe native and North Dakota State University graduate is among them.
Brig. Gen. Rebecca B. McElwain was promoted to that rank during a ceremony at Shaw Air Force Base in Sumter, South Carolina on Jan. 9.
McElwain, 49, known by her family name Bradwisch while living in North Dakota, is a 28-year veteran with experience ranging from Army tactical-level commander to national strategic-level work with Congress, Department of Defense and Department of State.
During a recent interview by phone from Shaw AFB, McElwain told The Forum the new position means legacy for her family, for North Dakota and for the nation.
"When you think about getting promoted to general, it's now written into congressional history," she said. "I feel truly honored to be able to be part of the legacy aspect."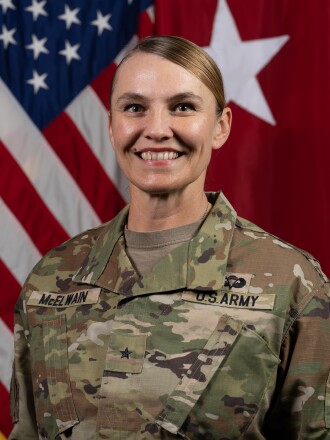 McElwain is assigned to U.S. Army Central, where she serves as the assistant chief of staff, G8 comptroller and is responsible for the command's budgeting and resource management.
In essence, McElwain is tasked with ensuring all Army operations in the Middle East are properly funded and resourced, in order to protect U.S. interests.
Her path has taken her from childhood on the rural Karlsruhe family farm, to graduation from Minot High School in 1992, into the North Dakota Army Reserve in 1994 and Minnesota Army National Guard in 1995, to graduation from NDSU in 1997 and active duty Army that same year.
While her first time on an airplane was to attend basic training, military service has since taken her to many locations across Asia, Europe, Australia and the Middle East.
The very first female Army general officers received their pins in 1970, McElwain said, representing less than a half-percent of all general officers at the time.
Now, the female general officer figure is around 11%.
"It really speaks to just how the Army continues to evolve," she said.
Born in Minot, McElwain was raised a 40-minute drive away near Karlsruhe, on a now-fifth generation family farm started more than 120 years ago by her ancestors who were immigrants from Germany, Russia and Norway.
A dairy operation when she lived there, with many extended family members helping out, the farm is now run by an uncle who raises crops.
It was a sustainable life, she said, where they rarely went to town to buy groceries.
"We pretty much had everything we needed," she said.
Food scraps were fed to the animals, tin was recycled and paper products were burned — a good foundation for someone who became a military financial manager.
"I often say that I am the perfect example of what you need for the Army because I am so frugal and mindful of taxpayer money," McElwain said.
Out of high school, trying to navigate college was difficult because no one in her family had ever attended.
She first went to a community college in Wyoming with plans to transfer to Colorado State, but then her father became ill and she returned to Minot to be with him. Her mother had died years prior.
It was during that time caring for her dad that she got a "patriotic bug" and joined the Army Reserve.
"Corporate America wasn't my thing. It was more, 'How do I serve others?'" she said.
After her dad recovered, she left for NDSU and transitioned from the Army Reserve out of Minot to an ROTC unit in Fargo. She also served with the Minnesota National Guard in Moorhead.
While at NDSU, she lived alone in a small apartment in downtown Fargo across the street from a restaurant, whose name she can't recall and where she worked as a waitress.
"I felt very independent," she said.
To start her military career, McElwain intended to join the Air Force, but when she couldn't be guaranteed a job as a medic there, she switched to the Army where that position was assured.
Since then, her focus has been on the money side of military operations.
McElwain has led contingency and operational banking missions, partnering with German, Macedonian, Thai and Iraqi banks to ensure availability of cash during military operations.
She deployed with her unit to Iraq in support of Operation Iraqi Freedom, disbursing over $1.2 billion in cash support for operations throughout the region.
Along the way, she met her future husband, Army Ordnance Officer James McElwain, when both were deployed to Kosovo.
The introduction happened on a rugby pitch. She'd tried without luck to put together a team of women, so ended up playing on a men's team.
"I always say it was love at first tackle," McElwain said with a laugh.
Both returned to where they were stationed in Germany and ended up eloping to Denmark.
Their now 19-year-old son Andrew is a sophomore at the University of Mary Washington in Fredericksburg, Virginia, where he's on the rugby team.
James McElwain is now a private chef who's pursuing a career in Holistic Health and Holistic Nutrition. He also volunteers as a mentor for veterans wishing to join the culinary industry.
James had the honor of promoting his wife during the informal Jan. 9 ceremony.
A formal event for family and friends will be held at the Military Women's Memorial in Arlington, Virginia, possibly in March. There, McElwain will wear the "fancy" military uniform rather than her combat uniform.
The U.S. Army, she said, has given her so much.
"Now it's my turn to keep reinvesting into the Army," McElwain said.