North Dakota Gov. Burgum signs bills to aid pregnant women in wake of abortion ruling
The dozen or so pieces of legislation are aligned with a call last year from the North Dakota Catholic Conference tabbed "responding with love."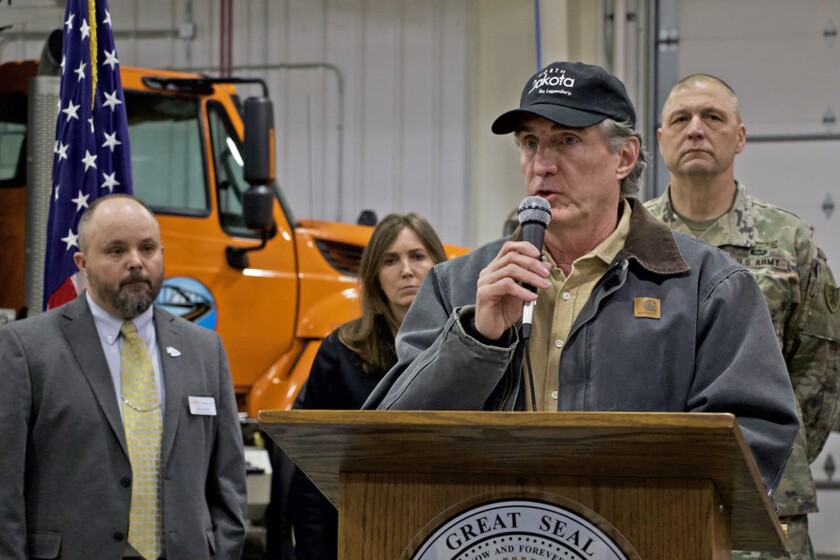 BISMARCK — North Dakota lawmakers sent a raft of legislation to Gov. Doug Burgum for aid to pregnant women in the wake of the U.S. Supreme Court's Dobbs ruling.
The ruling overturned the constitutional right to an abortion, prompting a lawsuit over North Dakota's 2007 trigger ban. The dozen or so pieces of legislation are aligned with a call last year from the North Dakota Catholic Conference tabbed "responding with love."
"Building a culture of life means making abortion unthinkable," the organization said in a statement last year. "This will require all parts of society to reexamine and address what they can do so that no woman ever feels that the death of her child is the answer to any situation. Businesses, families, churches, charities, and governments must support and implement policies and practices that are pro-family, pro-woman, and pro-child."
The Legislature passed bills to:

Gov. Doug Burgum has signed all of these bills except Senate bills 2129 and 2181. He has until May 19 to act on all remaining bills from the session.
Burgum last week signed Senate Bill 2150 , revising North Dakota's near-total abortion ban, including provisions that aim to address doctors' fears of prosecution and to respond to a recent state Supreme Court ruling .
The bill took effect as law immediately, and is bound to become part of an ongoing lawsuit over the state's ban.
"This bill clarifies and refines existing state law which was triggered into effect by the (U.S. Supreme Court) Dobbs decision and reaffirms North Dakota as a pro-life state," Burgum said in a statement.
Under the initial abortion ban, doctors could be charged with a Class C felony for performing an abortion during medical emergencies and in cases of rape or incest, but they could argue in court that the affirmative defenses for rape, incest and protection of the life of a mother outlined in the law protect them from criminal liability.
The revised law changes the ban's affirmative defenses into exceptions, which supporters say would take the legal burden off medical providers.
The law also allows for abortions for rape and incest, but only before six weeks gestation. Sen. Janne Myrdal, R-Edinburg, one of the Legislature's most ardent anti-abortion lawmakers, has said "this was already law, no changes."
Democrats and some Republicans in the Legislature opposed the six weeks provision as insufficient for women and girls who might not know they are pregnant after being raped.
The law allows for treatment of ectopic pregnancies, a dangerous, nonviable scenario in which a fertilized egg implants outside the uterus, and molar pregnancies, a nonviable, rare complication involving a tumor forming in the uterus.
The Red River Women's Clinic is challenging the trigger law. The clinic was North Dakota's sole abortion provider before moving last summer from Fargo to neighboring Moorhead, Minnesota, where abortion is still legal.
The lawsuit continues in North Dakota District Court after the state Supreme Court's March ruling upholding a judge's temporary block of the trigger law.
Chief Justice Jon Jensen wrote in the court's majority opinion that "The North Dakota Constitution guarantees North Dakota citizens the right to enjoy and defend life and the right to pursue and obtain safety, which necessarily includes a pregnant woman has a fundamental right to obtain an abortion to preserve her life or her health."
The law creates a new chapter in statute for its provisions, and redefines a "medical emergency" as a "serious health risk."
Molar pregnancy treatment and "serious health risk" were amendments in response to the ruling.