North Dakota WWII veteran's family hopes to find closure from remains of 39 soldiers disinterred in Manila
Remains of U.S. service members who died in a Tokyo military prison fire in 1945 are undergoing DNA analysis at a laboratory in Hawaii.
We are part of The Trust Project.
FARGO — War heroes in 39 caskets have been brought back to American soil after 77 years, and Lon Enerson hopes his North Dakotan uncle's remains are among them.
U.S. Army Air Forces Staff Sgt. Irvin C. Ellingson was among 62 American service members held captive at a Japanese military prison during World War II. They died when the prison caught fire in May of 1945 as a result of an American B-29 bombing raid.
Relatives of Ellingson, who lived in the tiny community of Dahlen in northeastern North Dakota, have been trying to have his remains brought back home.
"It's been a really long haul … but every success, every step forward is worth that wait," said Enerson, who grew up near his uncle and now lives in St. Cloud, Minnesota.
The Defense POW/MIA Accounting Agency disinterred the remains, which had been buried as "unknowns" in the Manila American Cemetery in the Philippines.
Twelve of the 39 unknowns were disinterred in March and the remaining 27 in mid-April.
The remains were delivered in caskets, or transfer cases, in an honorable carry ceremony to Joint Base Pearl Harbor-Hickam, Hawaii, on April 14 and taken to a Defense POW/MIA Accounting Agency lab in Honolulu for analysis.
"With new DNA advancements they have now, it's going to help identify these remains for various families, and I hope we're one of them," Enerson said.
As patient as Enerson and other family members have been, however, they'll have to go even deeper into their fortitude reserves.
In a letter sent to families, they were given no timetable for this next step.
"It is impossible to say how long the identification process will take or whether it will ultimately be successful," wrote Greg Gardner of the U.S. Army Casualty & Mortuary Affairs Division.
Complicating the work is the commingled aspect, in that each person's remains could be spread throughout two or three different caskets, Enerson said.
After the war, remains were recovered from the fire at the Tokyo prison site, and more than two dozen were identified as American service members.
But remains of at least 37 other Americans, which might include Ellingson, could not be identified and were buried in the Manila cemetery.
With news that today's DNA technology could be used to try to identify remains, Enerson and dozens more submitted DNA samples.
Because the remains are commingled, the Department of Defense requires at least 60% of those veterans' families to provide DNA samples or similar identification in order for disinterment to happen.
But as documented in an October 2021 story in The Forum, the figure for the Tokyo prison fire families stood at 59.68% for some time.
The families and 17 U.S. senators, including John Hoeven and Kevin Cramer of North Dakota and Amy Klobuchar and Tina Smith of Minnesota, asked for an exception to the disinterment rule.
In January of this year, approval was granted after the percentage of families submitting DNA jumped to 64%.
"You reach hurdles like that, and you can't figure out how you're going to get over … but somehow, you just do it," Enerson said.
Two others from the Midwest were among those who died in the Tokyo military prison fire.
Cpl. Allen L. Morsch, of Enderlin, North Dakota, was identified; but like Ellingson, 2nd Lt. Harold J. Nelson Jr., of Duluth, was not.
Ellingson has one living sibling, brother Leland "Bud" Ellingson, 89, of Crookston, Minnesota.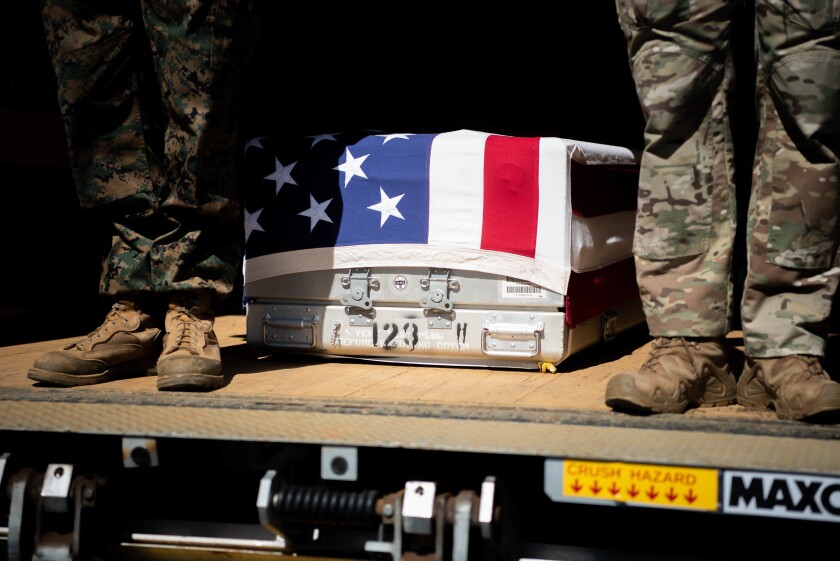 Enerson said he'd love to be able to tell Bud that his brother had been identified and that his remains could finally be buried in rural Dahlen.
There were times Enerson said he felt like abandoning this quest.
"With the love and support that my family has given me these past few years, that's the last thing that I would do," he said.