Parents pressure Fargo schools to allow families at graduation ceremonies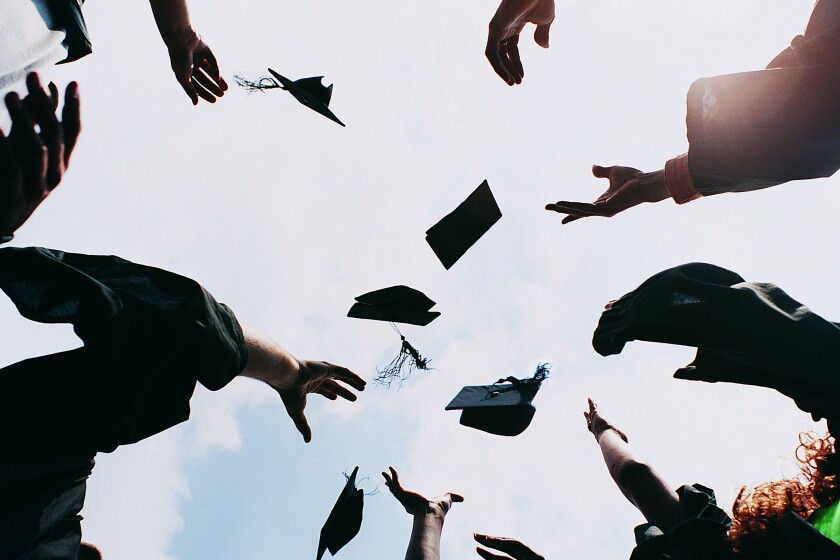 FARGO — Citing concerns over COVID-19, Fargo and West Fargo public schools are only allowing students and a limited number of staff members to attend commencement.
But for Lori McClary and some fellow Fargo parents, watching their children graduate on YouTube would be "just not the same."
She and a group of about 25 or 30 parents got together at the Fargo North High School parking lot Monday, May 18, to plan a way to convince Superintendent Rupak Gandhi and the Fargo School Board to allow parents to attend their children's graduation ceremony.
The effort started with a Change.org petition which had garnered more than 450 signatures as of 7 p.m. Tuesday. Its goal is 500.
"I have triplets graduating, two girls and a boy," said McClary, mother to seniors Kaylee, Shawn and Andrea. "I have been active in their schooling since kindergarten. I was a homeroom mom and always brought treats for their birthday. I've always been there for my kids and I've been waiting for this day to get to see this big accomplishment of theirs."
Fargo Public Schools announced Friday, May 15, it would hold in-person ceremonies with only graduating seniors and limited staff in attendance, accompanied by a YouTube broadcast so families could watch at home. Moorhead Public Schools is conducting a virtual ceremony.
Gandhi said he is sympathetic to the parents being denied the opportunity to see their children graduate in person.
"I recognize the fact that a graduation ceremony without parents, loved ones, and the broader community isn't ideal," the superintendent said. "I would love to be able to hold our typical graduation ceremonies if it did not pose an additional safety risk. We are bound by the ND Smart Restart guidelines and rely on our community health organizations to help assess the risk and threat associated with COVID-19."
Gandhi said the school district originally planned to allow two guests per graduate at the ceremony, but when it shared its plan with local healthcare agencies, the district was "highly encouraged" to take a more conservative approach for the ceremonies.
"Fargo Cass Public Health and Sanford Health recommend no guests at the graduation ceremonies," Gandhi said. "During this time of a global pandemic, I must take the guidance from our healthcare partners. It is never our intention to exclude parents and families, as we fundamentally recognize the role they have played in helping seniors throughout their K-12 careers. However, we have a responsibility to our broader community and helping to slow the spread of COVID-19."
West Fargo Public Schools also decided to limit graduation to students and staff members, basing its decision on advice from Essentia Health.
"Allowing two guests for each student would have put us at more than 1,000 people in attendance," district spokeswoman Heather Leas said in a statement. "Regardless of how large the venue chosen for graduation is, the number of participants is truly our greatest limiting factor in this decision."
The group organizing the petition is attempting to arrange a meeting with the Fargo school board and Gandhi at Fargo North High School at 6 p.m. Wednesday. Organizers are asking attendees to park every other parking space in the south parking lot. The parents hope Gandhi, Fargo North principal Andy Dahlen and members of the school board will show up to have an in-person discussion about letting them attend.
"We just want to meet with him because we think it would be easier to meet in person to tell him our ideas," McClary said. "But if we just keep emailing, we feel like it would be easier to say no."
The parents want to see if school officials are willing to hold graduation on the football field, with two parents per student.
McClary said it is frustrating that Fargo is one of the few school districts in North Dakota not allowing parents to attend graduations. Both the Minot and Bismarck school districts are allowing two guests per graduate at their ceremonies, she said.
Cass County, which includes Fargo and West Fargo, however, has been hit especially hard by the COVID-19 pandemic compared to other parts of the state. Fifty-six of the 63 new cases reported in North Dakota Tuesday were in Cass County. Over the course of the pandemic, nearly 70% of the cases and 34 of the state's 45 deaths have been in the county.
McClary said she has heard from other parents that if they are not allowed to attend the graduation ceremony, they will stand on the sidewalk outside the football field.
"I have had so many moms say they're going to the field and will stand on the sidewalk," she said. "That is not going to be a controlled atmosphere. We want us on the field, doing our social distancing."