Topic of refugees raises citizen voices in St. Louis County
Public contact with the County Board made a dramatic comeback Tuesday at the St. Louis County Board meeting.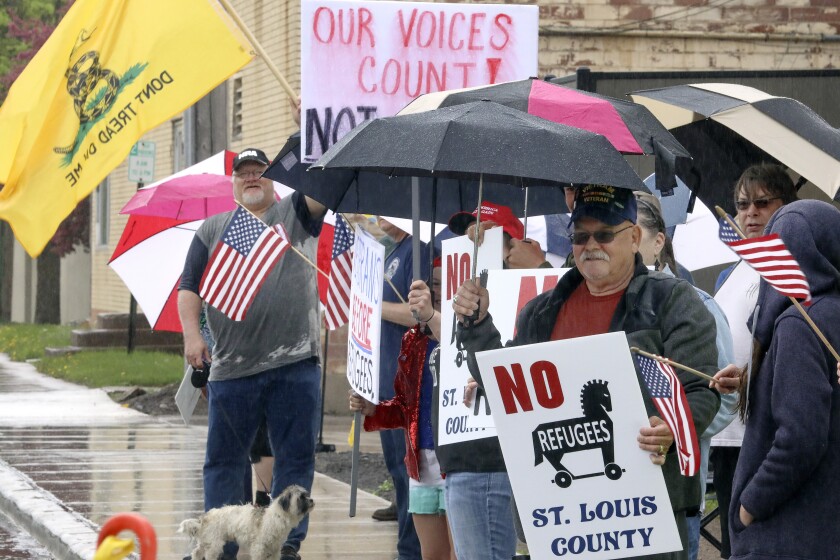 VIRGINIA, Minn. — Throughout most of April and May, only one person who wasn't previously scheduled to do so spoke on record to the St. Louis County Board.
As the board had gone straight to web-based conferencing once COVID-19 emerged, constituents held back, mostly emailing and voicing their opinions privately to commissioners.
But that changed Tuesday as calls poured in to the site of the board's remote meeting at the Virginia Government Services Center.
An unofficial count of 94 residents spoke or left voicemails that were aired during the daylong meeting.
"I thought we'd have more calls — I expected more," board chair Mike Jugovich said, still pleased people seized the opportunity.
The callers were fueled by months of anticipation around the topic of refugee resettlement consent. And while the board voted to file the issue away with county administration , citing a federal court injunction nullifying a President Donald Trump executive order, people were heard.
"A vote against refugees symbolizes a closed door," Leah Rogne, of Gheen, said. "Refusal to take sides on a moral issue is a decision in itself."
"I'd like to express my disdain for refugees coming to St. Louis County; they can go elsewhere," said one Mountain Iron caller.
"It's a disgrace they're being shoved down our throat," another woman said. "Nobody wants them here; put them in Minneapolis."
The voicemail option sometimes failed to leave a solid impression of names and hometowns. But for the first time since moving online for public health precautions, the technology worked effectively in the manner of a radio call-in show.
Among the nearly 100 voices, opinions included personal experiences, good and bad. Different races of refugees were both targeted and defended. Some people talked about "assimilation," English skills, manners, crimes and even graphic stereotypes.
Duluth Mayor Emily Larson weighed in late Tuesday on Facebook, writing that the county board's decision to turn back the matter to administration was "a full misalignment with the very values we have claimed to hold as Minnesotans. As Americans."
"If you are a refugee you are welcome here," Larson said.
Among the 59 people who opposed resettlement, many framed their argument around what one man called "common sense" economics. So while proponents countered the Iron Range could use any new people it could get, opponents cited hurting and out-of-work residents, mining and hospital layoffs, the closing of AAR in Duluth, and uncertainty surrounding the pandemic. They worried, too, that focus would be taken off the ongoing opioid epidemic.
"At this time, our county can't afford refugee resettlement; we're tax-strapped," Guy Holmes, of Virginia, said. "To think we could be welcoming refugees at this time or any time in the future is just unconscionable."
Lisa Westby doubted the vetting of refugees — an internationally identified group of people numbering into the tens of millions who flee their country due to violence and oppression.
"I don't think that's fearmongering," Westby, of Britt, said. "I think it's sensible to protect citizens of the United States."
Commissioner Beth Olson refuted doubts about vetting, saying refugees were vetted by nine agencies, including the U.S. Department of Homeland Security and the Secret Service.
"It's not lost on me the refugees people have such a problem with have black and brown skin," Olson said.
A lot of Mountain Iron residents weighed in, including Mayor Gary Skalko, who was one of the few there in favor of resettlement.
"It saddened me this topic was even brought up," Skalko said. "We're all products of immigrants or refugees unless we are of Native American background."
Among the large cast involved in Tuesday's discussion, Commissioner Paul McDonald countered attempts to refer to refugees often as Muslims.
"In 2019, 79% of refugees were Christian," McDonald said in one of several attempts by commissioners and others to set the record straight. "I don't think that message was solid enough in the discussion."
McDonald said there was only one refugee resettled in St. Louis County since 2011. But he added that the issue "hit me in the heart," since he's recently had visits to his office by the family members of "people with possible refugee status."
Commissioner Keith Nelson defended the dozens of vocal opponents, saying it wasn't "irrational" to fear uncertainty.
"They showed up," he said. "They're not bad people. They're good people. They get up in the morning, go to work in the morning. They love their kids and grandkids."
County Board candidate Ashley Grimm was a caller, describing her work experience with refugees.
"I'd be hard-pressed to find people who work harder or build community more," she said.
A lot of speakers conflated the definition of immigrant and refugee — and not always in a kind way. But combat veteran Joshua Williams, of Duluth, said the county can't go back on promises.
"The history of our country, the entire framework of this country is immigrants," he said. "Without immigration we would not recognize the world today."
Many callers came to say resettlement was a "moot point," because a resettlement agency isn't nearby and the entire United States is capped to 18,000 refugees this year anyway.
Conjecture about filling an old Iron Range school with refugees? "Not true," Jugovich said.
"I believe the vociferous reaction against refugees is based on ignorance," Kathleen McQuillan, of Cook, said.
Charlotte Frantz, a retired minister representing the local Interfaith Committee for Migrant Justice, made up of several area church leaders, chose hope — but not before added hurt.
"I believe there is a desire to find a way to work together without dismissing those who disagree with whatever position each commissioner holds," Frantz said. "I also believe that we will not heal our social wounds until we see just how deep they run."