Trait for easy-keeping cows may be the path to more sustainable beef
West Virginia University for about 20 years has been working on tracking feed and water intake of animals. What they've learned is some cattle have traits that make them more efficient than others.
Jerry Yates recounts the story of a bull that was at West Virginia University's Reymann Memorial Research and Education Outreach Center. He wasn't, Yates said, a "front-of-the-pasture" kind of bull — nothing special to look at, nothing you'd want people to see when they pull in your yard.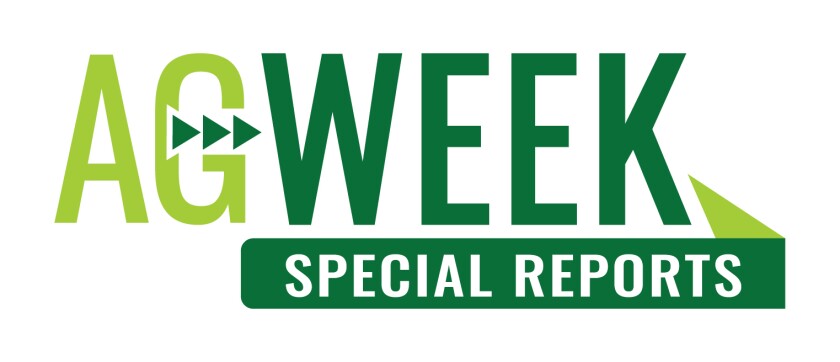 No matter what separates us, we all have at least one thing in common — we all eat.
Agweek and our partners at Forum Communications Company are thinking about the Future of Food. This reporting series looks at the techniques and technologies that are advancing agriculture and the science around our foods and food production.




However, the bull proved that looks aren't everything when it comes to things that really matter — things like feed and water intake efficiency. And that makes him a very valuable animal both for ranch profitability and environmental sustainability.
Reymann Memorial Research and Education Outreach Center since 2003 has had an individual animal intake and behavior monitoring system in their bull performance station. It was only the second such unit in the U.S. and the first at a bull test, which measures bulls against each other for things like weight gain and genetics.
The purpose of the monitoring system is to see which animals are easier keepers — the ones that eat less but produce at a rate similar or higher than other animals. Yates said that easy-keeping trait is heritable and isn't linked to other traits, so producers can breed for it without it impacting other traits. For example, having the trait doesn't coincide with something else, like milk production or weaning weight, so having the trait doesn't mean not having some other desirable trait.
Yates, the farm manager at Reymann, was at North Dakota State University's Central Grasslands Research Extension Center in Streeter in September, helping them secure what they need to install a feed intake unit like the one used at Reymann. Yates said North Carolina State University also is doing feed intake research, and numerous other systems are being added at land grant universities and private feedlots across the country.
"We're very excited about the future," Yates said.
The research may be vital in places where drought continues to impact feed and water availability for livestock. According to the Dec. 22 release of the U.S. Drought Monitor, 91.35% of the Monitor's High Plains region — which includes North Dakota and South Dakota — was abnormally dry or worse, as was 91.34% of the West region — which includes Montana — and 65.11% of the Midwest region — which includes Minnesota and Iowa. Compare that to 9.51% of the Northeast, which includes Yates' home state of West Virginia.
When it comes to cattle genetics, one can choose a wide variety of traits among breeding animals on which to focus. Expected progeny differences, or EPDs, predict how future potential offspring of breeding animals are expected to perform compared to others of the same breed. So, one rancher might choose bulls with low birth weight EPDs if they want to minimize the chances of their cows having hard labors. Another rancher who sells his calves when they're about a year old could look to the yearling weight EPD as a guide to the best bull to maximize production at the right time.
In the same way, research into residual feed intake, or RFI, will allow ranchers to choose breeding animals that are more feed or water efficient. And that matters a lot when feed or water are hard to come by.
"Sustainability is going to be the most effective, efficient utilization of natural resources we have," Yates said.
In West Virginia, water tends to be in abundance — at least more so than in the Plains. However, even in West Virginia's more moist climate, Yates said the importance of fresh water continues to grow. And when the public and agriculture are at odds over water use, agriculture tends to lose, he said.
"We must become more efficient in our total water cycle footprint from an efficiency standpoint both biologically and lifecycle," he said.
Basically speaking, showing that animals can thrive on less water or less feed is an important facet of sustainability.
Efficient cattle are important for three reasons, he said. First, they are a direct link to profitability on the ranch, which leads to sustainability of the operation.
Feed efficiency is a big part of profitability for a feedlot.
When corn is at $3.70 a bushel, Yates said the feed-efficient cattle post a net gain of $68 a head more than the regular cattle after 150 days of feeding. That means a lot for profitability in the feedlot, but for a cow-calf producer it can mean even more. A feed-efficient heifer that will be kept for 10 years and is 10% more efficient than other animals means big returns over her lifetime. A rancher could feed 11 cows that are 10% more feed efficient in place of 10 less efficient cows — meaning one more calf to market each year on the same inputs.
"That is a tremendous, tremendous value," he explained.
Next, consumers need to understand that ranchers are good stewards of the land and resources. Being able to show that they are doing more with less resources is a positive story for consumers to know, Yates said.
"We are doing the best we can with the limited resources we're provided," he said.
And the third reason for efficient cattle is one that affects everyone: "It's just better for the planet," Yates said.
Overall, more efficient cattle lead to more profitable and efficient operations that can survive into tomorrow.
"If we can be profitable, and we're sustainable, then we get to put the next generation back on the farm or ranch, and that to me is sustainability, because the greatest crop — the greatest set of anything — we raise on the ranch is the next generation," Yates said. "And anything we can do to allow our children to come home or allow a young person to come into our operation and continue that, then we're successful. And that's the future."