Two charged in Moorhead teen's fatal beating; one suspect still on the run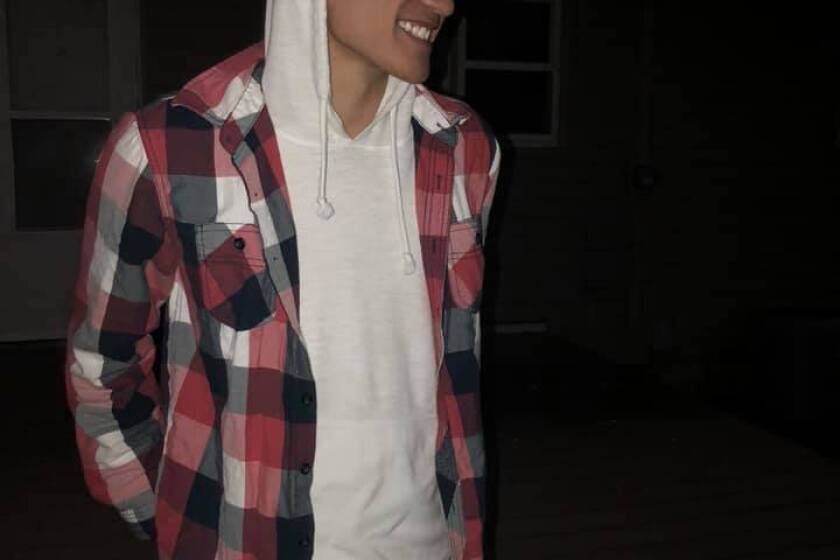 FARGO — Fargo police say the death of a Moorhead teenager was murder.
Cameron Camacho, 18, died Wednesday afternoon, Aug. 5, after being on life-support for 24 hours. His mom posted on a GoFundMe site that several of his organs have been donated.
Larry Darnell Evans Jr., 25, faces charges of murder and terrorizing in connection with the teen's fatal beating, and Jonathan Patrick Hunt, 31, has been charged with terrorizing and accomplice to murder. Both men are from Fargo.
According to court papers, a person listed as Joe Doe No. 1 brought Camacho with him to fight another person (Joe Doe No. 2) about the price of some marijuana.
That person claims Joe Doe No. 1 and Camacho jumped him as he came out of an apartment on Westrac Drive in south Fargo.
The fight spilled into the parking lot, where Joe Doe No. 2 claims Camacho hit him with a rubber mallet two times in the leg, court papers stated.
Police say Joe Doe No. 1 and Camacho tried to run away to their pickup truck, but Joe Doe No. 2 and his brother caught up with them and the fight continued.
That's when police say Hunt and Evans came out of the apartment. Hunt was allegedly carrying a baseball bat.
Police say Hunt struck Joe Doe No. 1 twice in the back with the bat. A witness reported that Evans punched Camacho three or four times through the passenger side window of the pickup he was sitting in, according to court papers.
Joe Doe No. 2 told police both Hunt and Evans were beating Camacho before he got back into the truck. He also said that's when Hunt started smashing the truck with the bat.
Joe Doe No. 2 said Evans punched Camacho four to six times, and stopped when Evans' mom yelled at her son to stop, court papers stated.
A maintenance man told police a similar story, saying Hunt smashed out the windows so Evans could assault Camacho, according to court papers.
Police were dispatched to the scene of the fight at about 12:30 a.m. Tuesday, Aug. 4. Medics took Camacho to a local hospital where he later died, police said.
In Cass County District Court on Friday, Hunt told the judge he was not present for the fight and that it's a case of mistaken identity. He was ordered to be held in the county jail on $500,000 cash bail.
Police say Evans is wanted for murder. He was not in custody as of Friday evening.
He is described as 6-foot-5 and 300 pounds with short black hair. Police said he may be driving a gold 2005 Pontiac G6 with North Dakota plates 073-DBU.