Ukrainian family arrives in Fargo to stay in Pelican Rapids
A family that escaped the war in Ukraine is now calling Otter Tail County home. The family of four left Ukraine and arrived at Hector Airport on Thursday night, March 10.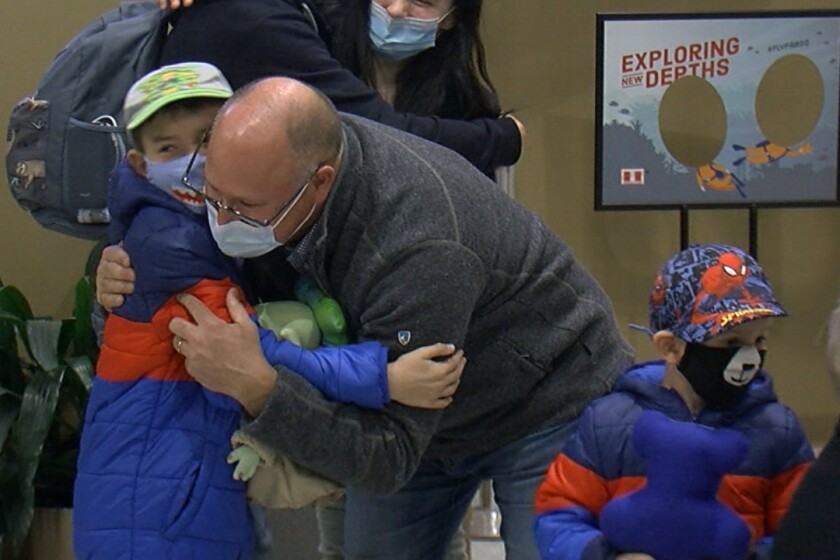 We are part of The Trust Project.
FARGO — Gina Nelson, of Pelican Rapids, Minnesota, came prepared with a bag of balloons and a bouquet of fresh flowers.
"It's been a whirlwind. (...) I'm sure they're so excited. They're safe," Nelson said.
Gina has been to Ukraine three times, most recently in January. Visiting a young Ukrainian they once hosted here. While in Ukraine, they became close to the Zlochevskas. Their city, Chernihiv, has been shelled and attacked even this week. The Russians destroying their hometown.
"(T)heir city has been decimated," Nelson said.
Complete strangers who gathered at Hector International Airport Thursday, March 3, to welcome the Ukrainian family cheered as they walked off the plane.
It has been tough on nine-year-old Artuer and five-year-old Roma. They have been traveling for days. But now the journey ends, here, with a new place near Pelican Rapids to call home.
"We were worried because this has been such a long journey, that we can't believe we're finally here. This was just unbelievable," said Olesya Zlochevska, through an interpreter.
"When we were coming near here, when the plane was almost ready to land, I told my wife, 'I can't believe this is happening,'" said Vova Zlochevska, through an interpreter.
If you would like to help the Zlochevska family can donate at https://fundrazr.com/91xV87?ref=ab_cB4Mo4_ab_1hXVRcvxpYW1hXVRcvxpYW .