Potential costs for new West Fargo City Hall, police headquarters upwards of $55M
Early estimates presented to the Building Exploratory Committee vary based on whether the city wants to build to 10-year or 30-year population estimates.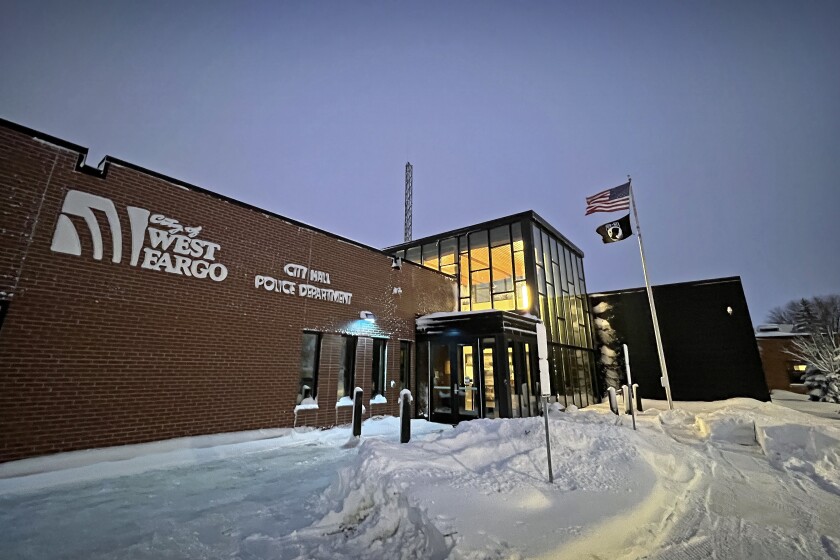 WEST FARGO —As West Fargo's number of public employees continues to grow, city officials seeking to add several building projects will have to decide how to move forward after potential constructions costs were unveiled for a proposed new City Hall and police headquarters.
The West Fargo Building Exploratory Committee this week received numbers from Wold Architects & Engineers John McNamara regarding the proposed project, which could cost the city upwards of $55 million.
McNamara unveiled varying totals based of whether the city decides to build to 10-year or 30-year population estimates.
Using McNamara's estimates of roughly $400 per square foot, a 10-year build would cost the city around $58.8 million, while construction on a facility planned to accommodate growth through 2050 would cost around $67.2 million.
Inflation adjustments would have to be accounted for, McNamara noted.
Staff needs are based on population projections released by Metro COG, which suggests West Fargo will have a population of around 42,500 and 44,000 in 2030 and 63,000 and 69,000 in 2050.
"This group has said they want to look at the larger end," McNamara said of the build-out plans.
West Fargo's current population is about 38,600.
Commissioner Mandy George asked Assistant City Administrator Dustin Scott if it is feasible to undertake such a large project without raising the mill levy to do so.
With multiple potential funding avenues the city could pursue, Scott said it's possible. The city could consider using some of its capital improvement sales tax money for the project and scaling back on other projects such as street overlays being delayed from a schedule of every 10 years to every 12 or 15 years instead, he said.
"There are funding models out there, and there are implications of those as well," Scott said. "We would have to do the due diligence to put it back into our financial model and see where the impacts trickle down."
The building committee has narrowed down a list of these potential sites for a new City Hall and police headquarters facility:

The Lodoen Center, 109 3rd St. E.
Decommissioned waste lagoons, near 12th Avenue Northwest.
The Red River Valley Fairgrounds .
The current Public Works center, 810 12th Ave. NW.
Sheyenne Street, where Sandy's Donuts and the Westgo Center is now, near 405 Main Ave. W.
Brookwood Estates in the 800 block of First Avenue South to Fourth Avenue South.
The Sheyenne Street, Red River Valley Fairgrounds and Lodoen Center have garnered the most interest thus far from committee members.
West Fargo School District officials, in a recent meeting with Scott and Commissioner Brad Olson, expressed interest in working with the city to create additional space for both entities.
The building committee has previously considered the current Lodoen Education Center, which is owned by the school district but also houses the West Fargo Library, as a potential site for a new City Hall and police headquarters.
The school district has created a long-range facilities task force that is currently meeting once per month to discuss its future building needs. It is expected to return suggestions to the school board in March.
"We're interested in what they come back with as far as conceptual layouts," Scott said.
West Fargo City Commission will now likely hold a special meeting in February to address next steps.
Readers can reach West Fargo editor Wendy Reuer at wreuer@forumcomm.com or 701-241-5530 . Follow her on Twitter @ForumWendy .