Trail of firings, meetings, emails detail events preceding West Fargo administrator's abrupt departure
After her resignation, former West Fargo City Administrator Tina Fisk sent an email to two commissioners alluding to a severance request and expressing disappointment in Mayor Bernie Dardis.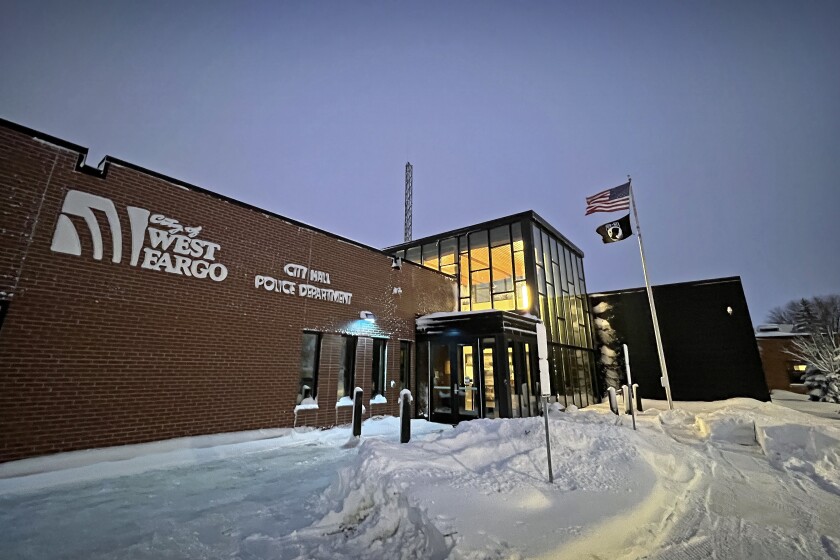 WEST FARGO — When City Administrator Tina Fisk left her resignation letter on the desk of Mayor Bernie Dardis the morning of Wednesday, March 15, for some, the resignation seemed abrupt.
Others, including elected city leaders, had voiced concerns about her performance, and one had told her he was ready to call for her termination.
Less than 10 days earlier, when Commissioner Mark Simmons requested the city reinstate annual performance reviews of all employees at the March 6 commission meeting, he said it would potentially prevent what recently happened in the finance department.
Simmons and other commissioners refused to elaborate on that comment at the time, but information obtained by The Forum indicates the firing of several finance department staff members is part of what prompted Fisk's departure.
West Fargo Communications Director Melissa Richard said no formal complaints had been filed in the past few months against anyone in the finance department or against Fisk.
Commissioners Simmons and Roben Anderson requested a Zoom meeting with Fisk and Assistant Administrator Dustin Scott the morning of Tuesday, March 14. Anderson said the call was to discuss Fisk's future with the city.
During that meeting, Simmons told Fisk that he and other commissioners lost confidence in her ability to carry out the commission's policies, and she no longer seemed to respect all commissioners.
Anderson said he found Fisk's assistance and communication with him to be lacking.
On the call, Simmons notified Fisk that he would ask the commission to vote on her termination due to poor performance, and he believed a majority of the commission would approve such a motion.
"First of all, I couldn't terminate her on my own even if I wanted to," Simmons said. "I said I believe I have the votes to do it, but there's no guarantees."
In Fisk's letter of resignation, she said, "Members of the commission informed me that the city needs to go in a different direction and my type of leadership is not what they are looking for."
Dardis said he was aware that Simmons intended to tell Fisk he wanted her to leave her post.
Commissioner Mandy George said she was not notified of the meeting between Simmons, Anderson and Fisk. However, she has voiced concerns of mounting frustration with Fisk.
George said Fisk's communication with her as a commissioner deteriorated, and Fisk became more difficult to work with, especially if George wanted to explore the potential for a policy Fisk didn't support.
Commissioner Brad Olson declined to comment, citing it as a personnel issue. Simmons said Olson was not aware of the meeting.
Fisk did not respond to multiple requests for comment on her resignation.
The Forum obtained an email Fisk sent to Dardis and Olson on Saturday, March 18, from her personal email address. In the email, she reflected on her time working for the city fondly and requested the two commissioners consider a few things ahead of their next meeting, during which the commission unanimously approved her resignation.
Fisk said the discussion with Simmons and Anderson via a virtual call was unprofessional and lacked respect. She said Simmons has "a list" of department heads he will "get rid of" once a new administrator is in place.
Simmons said he has no such list. He said he spoke to some department heads to assure them it's "simply time to move forward."
Fisk also took issue with Dardis' inaction in her email.
"Through this quick process, I didn't even get the dignity of you as Commission President being present but had two other commissioners, one without a year of service tell me you were going to go in a new direction," she wrote.
"President Dardis after working with you all these years, I was hurt and surprised that you would allow this kind of treatment. You knew what the meeting was going to be about with him and you did not stop him," she wrote.
Fisk said Dardis previously asked her if she decided on a retirement date but did not ask again. She told him that she planned to retire at the "end of 2023" and asked to be paid with benefits until then as retirement had not been offered by Simmons.
Fisk referenced former Police Chief Mike Reitan and Public Works Director Chris Brungardt, two department heads terminated with cause but given a severance package of some kind. She said the difference between her and them was that she is a woman. She said there was no evidence of her not doing her job.
"If she would have been terminated, it is standard procedure to figure out some sort of severance package at that time," Dardis told The Forum. "But when somebody resigns, they are never given a severance package."
He said he proposed the idea of Fisk continuing to work until a certain date to another commissioner, but it was unequivocally rejected.
"So, yes, there was a discussion about that, but when she offered her resignation, it goes away," Dardis said.
Finance department firings
Through a series of open records requests, The Forum found Senior Accountant Tracy Johnson was fired on Jan. 31, followed by Utility Billing Supervisor Theresa Prudhomme and Accounts Payable/Payroll Specialist Stanna Flom on Feb. 6 after meeting with Fisk and Human Resources Director Jenna Wilm.
Flom, who worked for the city for 11 years, confirmed staff were terminated without warning but declined to discuss the matter further.
Dardis said he was not made aware of the multiple terminations in one department beforehand. Because it is a personnel matter, he said he could not discuss the issue in depth. However, he said he understood the terminations were due to performance issues.
Flom and the other women did not have any written reprimands in their personnel files, but Flom had two letters of commendation attributed to her.
Anderson said he was not given substantial reasoning for the multiple firings before they occurred.
The remaining finance staff are a utility billing specialist, an accountant and Finance Director Judy Afdahl.
Afdahl, who was not present at the terminations, was hired in late August to replace Finance Director Jim Larson, who left the city for a private sector position. Larson replaced Aaron Mitchell in 2019.
On Monday, March 20, Afdahl emailed city staff notice that she is vacating her position.
"I have decided my last day with the City will be Friday, April 7," she wrote. "I will continue to work on my list of items and assist in any way I can with the transition."
Communications Director Richard said Afdahl informed the city of an intent to leave in January but did not give a date of departure until this week. When asked why Afdahl was leaving, Richard said the city does not discuss personnel matters.
Afdahl could not be reached for comment.
In October, Simmons suggested the commission consider reprimanding Fisk after she abruptly left the commission chambers during a meeting. Her departure followed Simmons' amendment that shaved five items off her proposed 2023 budget, totaling around $209,500 or about 1 mill.
She was followed out by Wilm who later said she left in support of Fisk.
"There is no push to terminate the city administrator," Simmons said at the time, but he suggested the commission consider reprimanding Fisk for her actions. Fisk explained her behavior at the following commission meeting, but she pointedly did not apologize.
Dardis and Olson had nothing but praise for Fisk before they accepted her resignation on Monday.
Olson called Fisk "genuine and caring" and a "true leader," noting they would meet every Tuesday over hot chocolate.
Many city staff have offered positive comments about Fisk at past public meetings including fellow female leaders such as West Fargo Public Schools Superintendent Beth Slette and Park District Director Barb Erbstoesser.
But some staff have leveled hefty criticism at Fisk. In a 2018 letter to the commission and the human resources coordinator, former Finance Director Mitchell, who replaced Fisk when she was promoted to city administrator in 2015, alleged favoritism to certain staff, especially Wilm, and a refusal to consider new ideas he presented.
In July 2018, Mitchell said, he appeared for what was scheduled to be a routine performance review. Instead, he was told he was receiving a written reprimand from Fisk with an Ohnstad Twichell attorney in attendance.
In his letter, Mitchell outlined a number of instances in which Fisk seemed to be offended or reprimanded him for discussing topics he felt were necessary for government transparency. He said the written reprimand alleged he brought "negativity to the position," which he denied.
"I cannot dispute that there is a haze of negativity around city hall due to the toxic work environment that Mrs. Fisk and Mrs. Wilm have created," Mitchell wrote. " ... Because I scrutinize financial policies and practices and ask 'why,' Mrs. Fisk seems to think that those are examples of insubordination. I am merely doing my job within the scope of responsibility towards the citizens of West Fargo."
Mitchell said Fisk also demanded he not speak to commissioners who he voted for without her express permission.
Kim Bjoralt with Human Resource Management, an independent consultant, investigated Mitchell's complaint based on the allegations Fisk and Wilm violated the city's bullying or harassment policy. In a letter to city attorney John Shockley, Bjoralt wrote that she did find not find evidence specific to bullying or harassment as defined by the city policy.
The city of West Fargo is led by the majority vote of five elected commissioners, including Dardis, the commission's president. The commission directly supervises the city administrator, who is expected to carry out the commission's directives as passed and discussed in public meetings.
As administrator, Fisk also served as the city auditor and direct supervisor of all department heads. The administrator recommends final candidates for those department leaders and is responsible for presenting the city's annual budget to the commission and making requested changes.
Readers can reach West Fargo editor Wendy Reuer at wreuer@forumcomm.com or 701-241-5530 . Follow her on Twitter @ForumWendy .