West Fargo accepts city administrator's resignation, peg interim as search for replacement begins
Assistant City Administrator Dustin Scott will fill in as interim administrator after city leaders unanimously accepted Tina Fisk's resignation.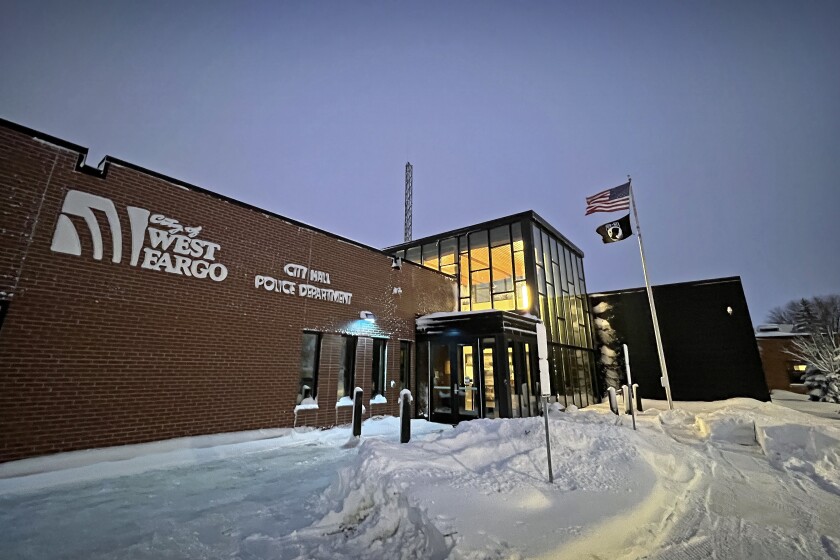 WEST FARGO — The West Fargo City Commission on Monday, March 20, agreed to accept the resignation of City Administrator Tina Fisk after she abruptly stepped down last week.
Assistant City Administrator Dustin Scott will fill in as interim administrator after city leaders unanimously accepted Fisk's resignation.
"This past week has been a bit of a whirlwind, very challenging," Scott said Monday. "But I have to say our department heads have stepped up. They've been supportive and tried to fill the gaps where we need help."
Fisk resigned on Wednesday, March 15, and in her letter that Mayor Bernie Dardis read to the commission on Monday said, "members of the commission informed me that the city needs to go in a different direction and my type of leadership is not what they are looking for."
Dardis then thanked Fisk for her service to the city over the past 11 years, calling her institutional knowledge of the city invaluable.
"When I became commission president, she quickly brought me up to speed," Dardis said.
Commissioner Brad Olson called Fisk "genuine and caring" and a "true leader," noting he and Fisk would meet every Tuesday over hot chocolate.
City Attorney John Shockley said the resignation acceptance on Monday was necessary to allow the city to continue its business. In West Fargo the city administrator also serves as the city auditor and is responsible for signing contracts, bills and other final documents.
Shockley will now draft a process for hiring the next city administrator, which he will return to the City Commission at its April 3 meeting.
"Make sure you're opening up the position to as many people that are interested in applying for the position as possible," Shockley added.
Earlier in Monday's meeting, and without elaboration on what prompted Fisk's exit, the City Commission voted 4-1 to approve a policy proposed by Commissioner Mark Simmons on March 6, which would require two commissioners to interview department head candidates and do so in a public meeting.
Calling the motion a "formality," Simmons said the city had already been following such a rule, but it wasn't recorded in the city's policies.
Olson challenged the policy, noting if interviews were conducted in public meetings other candidates would be able to sit in on each others interviews.
Shockley, who represents other cities along with West Fargo, said other entities simply ask candidates to leave the room, and while they can't be forced out, candidates generally leave voluntarily.
Simmons called it a matter of transparency.
"You're trying to say it needs to be private when every other government entity has it open," Simmons said. "I think our standards have to be the same (as other cities). It is what it is."
Simmons, Dardis and Commissioners Mandy George and Roben Anderson voted in favor of the policy draft. Olson voting against.
As Monday's meeting neared its end, Olson requested Dardis to consider ending the ability for commissioners to attend city meetings virtually.
"I'd have to give that some thought," Dardis said. "I don't believe the commission has a policy regarding that."
George, who was present Monday, is a corporate pilot and sometimes attends meetings virtually. Simmons attended Monday's meeting virtually while in Arizona, which he also did at the March 6 meeting.
"We all know he's picking on me right now," Simmons said.
"I adamantly disagree with that," George said before pointing out that Olson is aware she works full time and must travel for work. "It's an insult and it's vindictive."
George and Anderson serve as city commissioners while working full time. Olson, Simmons and Dardis are primarily retired.
The City Commission was forced to hold virtual meetings as a result of the COVID-19 pandemic. Since city officials have returned to in-person meetings, commissioners are still able to attend virtually. The same rule applies to other public meetings such as the building exploratory committee
The attendance policy went unchanged after the commission voted down Olson's request 4-1.
Readers can reach reporter Wendy Reuer at wreuer@forumcomm.com or 701-241-5530 . Follow her on Twitter @ForumWendy .