Where are the girls? West Fargo athletic directors watching girls' sports participation decline
West Fargo Schools activity directors gave an update on participation to the school board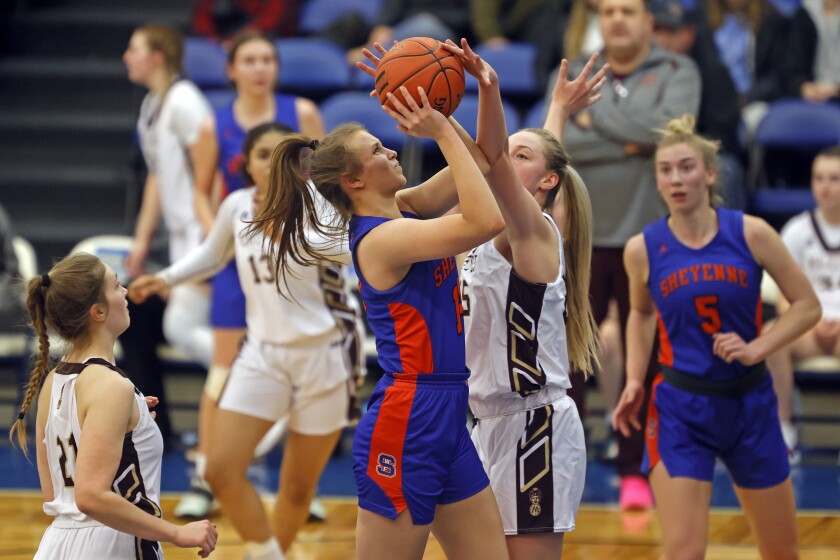 We are part of The Trust Project.
WEST FARGO — As activity directors at West Fargo Public Schools look at participation numbers for varsity sports and activities, two trends appear to be shared by the three high schools: a decrease in female athletes and a desire to increase pep band performances.
At the West Fargo School Board meeting Monday, March 28, West Fargo High School Activities Director Jay DeCann said what looks to be a decrease in sports participation by girls is something seen not just locally, but at districts across the region and nation.
"When you talk to activities directors around the region, they're fighting the same battle," he said.
Sheyenne High School Activities Director Cory Herrmann said he, too, has seen the decrease in girls' sports. The two said it is difficult to pinpoint what may be causing the decrease in girls' participation, but they and other officials believe many teams that are organized outside of schools, such as club teams and travel teams, may be a factor.
DeCann said the prevalence of extra teams that have a specific focus may also be behind fewer multi-sport athletes in schools. He said he has seen fewer boys and girls who are involved in more than one sport throughout the school year, whereas only a few years ago, the majority of top athletes played more than one sport.
Board Member Patti Stedman agreed the extra teams may have an impact on school sport participation.
"They really discourage playing at any other activity other than your activity," Stedman said.
"I would like to see more multi-athletes participating," Hermann said. "I truly feel like it is that club pressure from some of those outside agencies."
DeCann and Hermann, along with Horace High School Activities Director Logan Midthun, said they hope to focus on efforts that will encourage more female athletes in the future. But lower sports teams numbers are not the only concern for Hermann, who said he wants to increase performances of the school's pep band.
Hermann said when the pep band performs at a football or basketball game, it helps grow school spirit and tends to cause more students to stick around to watch the game.
"I'd really like to see more participation from our student section," he said. He noted it was disappointing to see the student section at the recent state basketball tournament empty after the boys team played, although the Sheyenne girls basketball team played shortly after.
Hermann said he would like to find a way to incorporate more activities into the school day for students who have to work part-time while attending high school. He said many students cannot afford to cut time working for an activity or sport.
As West Fargo High School and Sheyenne High School activity numbers fluctuate, Midthum is also monitoring participation at the growing Horace High School. Along with sports, Horace High School also offers opportunities for the same clubs and activities as the two larger high schools such as student council, key club, band, orchestra, debate, speech, FCCLA, DECA, one act play and drama.
Midthun said the majority of Horace students participate in an activity. This year, Horace has its own teams for football, volleyball, girls swim and dive, girls basketball, boys basketball, cross country, track and field, baseball and boys golf.
"Eighty-five percent of our kids register for a sport, club or activity," Midthun said. "It's a nice number to have."
Horace High School co-ops with Sheyenne High School for boys tennis, girls golf, boys soccer, hockey, boys swim and dive, wrestling, dance, girls soccer, softball, girls tennis and cheerleading.
However, West Fargo won't have a three-way cross town rivalry anytime in the near future.
Since West Fargo Public Schools' newest high school, Horace High School, is considerably smaller than West Fargo High School and West Fargo Sheyenne High School, the school's sport teams will be playing at the Class A level rather than Class AA.