Woman dies in crash with semi on Highway 71 in Kandiyohi County
An 82-year-old Belgrade woman was killed in a two-vehicle crash after her vehicle collided with a semi Friday morning, five miles south of Belgrade on U.S. Highway 71. The highway has reopened.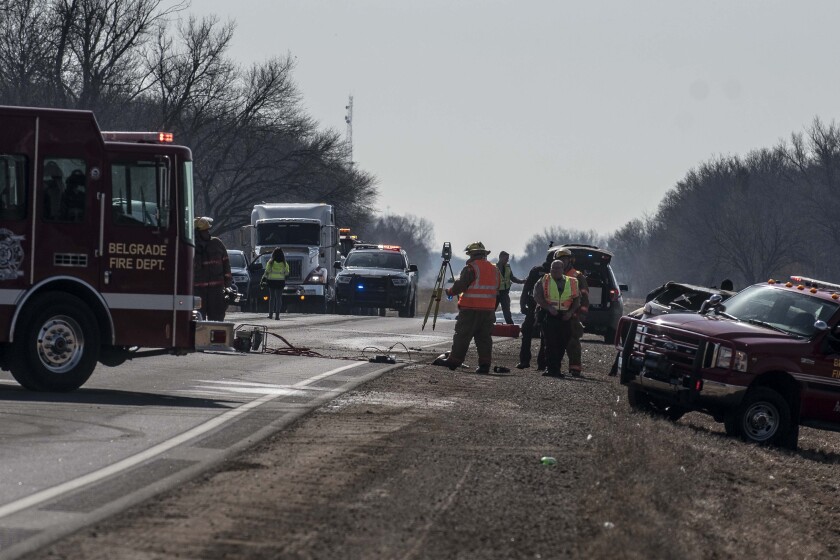 BELGRADE, Minn. -- A Belgrade woman was killed Friday morning in northern Kandiyohi County after the vehicle she was driving collided with a semi on U.S. Highway 71.
The victim was identified as Marilyn Joan Hagen, 82, of Belgrade.
The accident was reported at 10:18 a.m. on Highway 71 at Kandiyohi County Road 34, about five miles south of Belgrade.
According to the State Patrol Hagen was driving a 2018 Chevy Equinox south on 71 when it crossed the center line and collided with a 2000 Kenworth semi driven by Bruce Frederick Bruns, 54, of Pittsburgh, Pennsylvania. Bruns was taken to Rice Memorial Hospital in Willmar with non-life-threatening injuries, according to the State Patrol.
The accident resulted in the temporary closure of Highway 71. It reopened to traffic around 2:30 p.m. Friday.
1
/
2:
Road closure signs block off U.S. Highway 71 northeast of New London after an accident Friday morning that occurred south of south of Belgrade. The road was closed sometime after 10 a.m. Friday and reopened about 2:30 p.m. Erica Dischino / West Central Tribune
2
/
2:
U.S. Highway 71 south of Belgrade is closed due to an accident Friday morning beginning at the intersection of Kandiyohi County Road 34 to State Highway 9 northeast of New London. Erica Dischino / West Central Tribune
1
/
2:
Road closure signs block off U.S. Highway 71 northeast of New London after an accident Friday morning that occurred south of south of Belgrade. The road was closed sometime after 10 a.m. Friday and reopened about 2:30 p.m. Erica Dischino / West Central Tribune
2
/
2:
U.S. Highway 71 south of Belgrade is closed due to an accident Friday morning beginning at the intersection of Kandiyohi County Road 34 to State Highway 9 northeast of New London. Erica Dischino / West Central Tribune