5 things to know today: Oxcart Fire, Keystone wildfire, Vaccine eligibility, Ten Commandments, Pot legalization
A rundown of some of the best stories found on Inforum.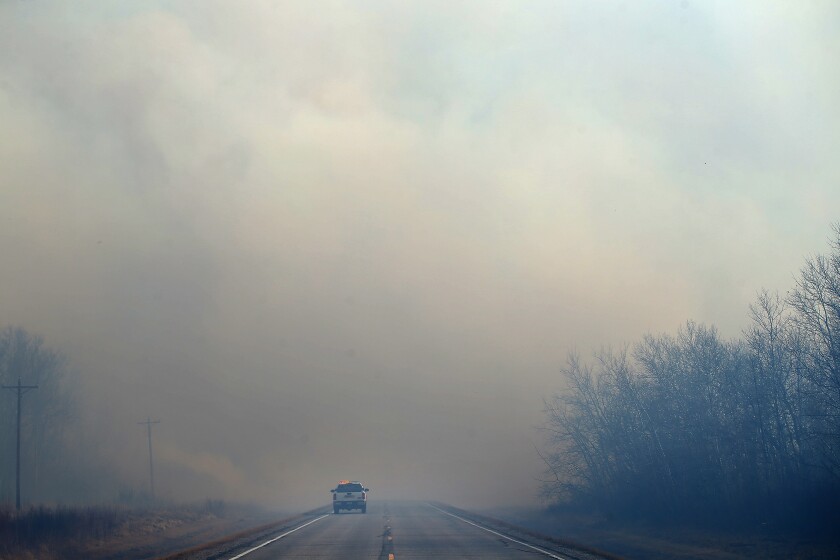 1. Incident command team brought in as 10,000-acre Oxcart Fire burns near Mentor, Minn.
A 10,000-acre prairie fire that shut down a portion of Highway 2 on Monday continued to burn into Tuesday, March 30.
Tuesday morning, crews were still assessing the damage that occurred overnight, but firefighters' focus was expected to be on the fire's eastern edge, which was approaching the city limits of Mentor, Minn.
Minnesota Interagency Fire Center spokesperson Leanne Langeberg said that the most recent estimates placed the blaze, dubbed the Oxcart Fire, about a mile and a half from the edge of Mentor, a town of about 230 people 24 miles east of Crookston.
Read more from Forum News Service's Hannah Shirley
2. Black Hills Schroeder and Keystone wildfires grow on Tuesday
The Schroeder wildfire burning near Rapid City, S.D., has grown to 1,900 acres and is still uncontained as local, state and federal emergency crews continue to battle the blaze that has closed roads, destroyed structures and forced evacuations.
Officials reported Tuesday morning, March 30, that the overnight crews working to fight the fire continued to provide structure protection and monitor the fire, which has been more demanding than anticipated due to rapidly changing weather conditions and strong gusts of wind. Wind gusts of up to 80 mph were reported Monday, and sustained winds of up to 24 mph were expected in the Rapid City area Tuesday. Very low relative humidity also contributed to the spread of the wildfire.
Overnight, the Schroeder fire crossed into the Cleghorn Canyon and Nameless Cave areas, where an effort to save a structure was unsuccessful.
Read more from Forum News Service's Erik Kaufman
3. Vaccinations in North Dakota, Minnesota now open to those 16 and older, but appointments still required
The eligibility for vaccination against the coronavirus has greatly expanded in North Dakota and Minnesota to now include all who are 16 and older.
The expanded eligibility took effect in North Dakota on Monday, March 29, and in Minnesota on Tuesday, March 30.
As before, those who want to be vaccinated must first register with their health provider in the case of Sanford Health, Essentia Health, Fargo Cass Public Health and Clay County Public Health.
Read more from The Forum's Patrick Springer
4. North Dakota House OKs Ten Commandments bill despite lawsuit warnings
The North Dakota House approved a proposal Tuesday, March 30, to authorize public schools to display the Ten Commandments in classrooms.
The proposal sailed through the House in a 76-16 vote in spite of recent warnings from legal experts, state education groups and several lawmakers on the chamber floor that it would be unconstitutional and likely to prompt federal court challenges to the state or local school districts.
Lawmakers endorsing Senate Bill 2308 argued that an amendment requiring other historical documents be displayed alongside the Ten Commandments ensures that the proposal is constitutional, arguing that the effort is consistent with the principles of the country's founders and would help to instill moral qualities in students.
Read more from The Forum's Adam Willis
5. North Dakota lawmakers may put pot legalization on ballot
The North Dakota Senate overwhelmingly killed a bill to legalize recreational marijuana use in the state last week, but the issue may not be settled just yet.
The upper chamber's Delayed Bills Committee voted on Tuesday, March 30, to move forward a resolution to put pot legalization on the ballot in 2022. The proposal will still have to make it through the Senate and House before landing on the ballot. If voters eventually pass the measure, the Legislature would be constitutionally compelled to create the framework of an adult-use pot program.
Senate Majority Leader Rich Wardner, R-Dickinson, said many lawmakers fear that "a loud minority" of North Dakota voters will approve a citizen-initiated ballot measure to legalize recreational marijuana next year. Two pot advocacy organizations have stated their intentions to gather signatures and put measures on the ballot in 2022, including one that aims to cement legal cannabis in the state Constitution.